BT's de-duplication effort accelerates with more than two thirds of EE's operations staff being swallowed up by its parent Group since April 2019.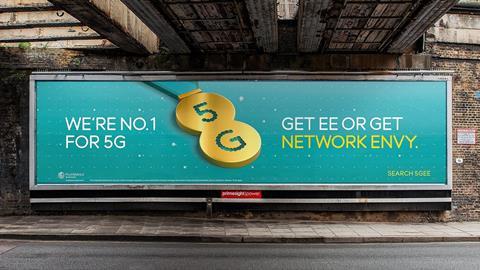 BT looks to have ramped up the integration of EE's head office and other functions as part of ongoing efforts to extract value from the transformative 2016 buyout.
EE's latest annual results filing, for the year to 31 March 2020 (FY19–20), shows a steep drop in the operator's average workforce size during the twelve months. At 9,654 employees, its staffing level was 13%-lower than the previous year, and a 20%-reduction on its average employee base in the twelve months to 31 December 2015 — just prior to its early-2016 buyout by BT (BTwatch, #273).
Within EE's broader slim-down was a dramatic, 68%-reduction in operations staff during FY19–20, from 930 to just 293, as support functions were melded within BT's business. More than 1,000 operations positions have now been moved (or removed) by BT from the EE structure in the last two fiscal years.
Other employee categories — selling and distribution, and customer care and administration, saw significant but less drastic falls during FY19–20 (-6% and -11%, respectively).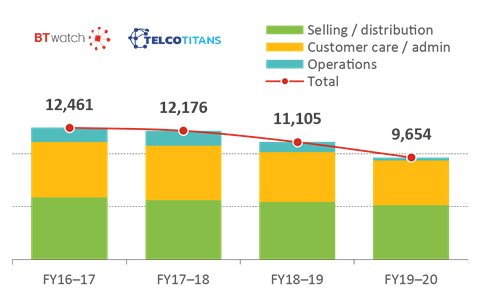 Two become one
BT indicated that the leaning out of EE's workforce forms part of its ongoing integration plan for the formerly independent operator, despite being quite far out from the acquisition's completion.
A spokesperson for the operator said the "reason for the reduction in headcount in EE was due to the planned and consulted movement of our colleagues within our head office functions from EE into BT. This follows BT's acquisition of EE". He added that "EE's headcount reduced and BT's headcount increased", although without disclosing whether the two flows balanced out.
The telco set out a target of creating £3bn (€3.3bn) in net synergies when outlining its vision for the £12.5bn takeover (BTwatch, #264), with operational savings forming its main pillar. This was presented at the time as a four-year effort, post-deal, so activity in the year to 31 March 2020 would fall within that timeframe (albeit with a sense of 'just-in-time' execution).
While data is partial, there is nothing in BT's public headcount numbers to suggest many of these redeployed EE workers did not end up in BT-based roles. BT reported a fall in its overall average headcount for FY19–20 (-1,100, to 105,400), as part of its ongoing efficiencies programme, but staff numbers at EE's parent Consumer division grew (+700, to 19,700).
Plusnet being clutched tighter, too
Following the 2016 buyout, BT has positioned EE's offerings within a "multi-brand" strategy, also featuring BT- and Plusnet-labelled services (plus Openreach at arms-length), and the reduction of EE's headcount adds to the sense that these entities are gradually being morphed into customer-facing marques within BT, rather than distinct businesses.
Recent months have also seen some dismantling of the senior management layer at Plusnet, with Consumer taking on more explicit control over the business — as well as the Transfer of Undertakings migration of Plusnet's corporate staff to direct employment by the BT division (BTwatch, #308 and #310).
The integration process is not all one-way, however. While EE staff are being swallowed up by BT, the Consumer division's management has experienced something of a reverse takeover by the mobile operator, with the Chief Executive (Marc Allera), Chief Financial Officer (Stephen Harris), Chief Technology & Information Officer (Nathalie Vafiadis), and other top positions all held by EE veterans.
The Hatfield question
As EE's standalone headcount dwindles, a question mark continues to hover over the operator's Hatfield headquarters, which is not yet on the list of 'safe' centres BT has flagged it will retain under its Better Workplace real estate rationalisation plan. BT is looking to exit around 270 properties under the overhaul, which is due to complete in 2024.

Richard Agnew is Group Editor at TelcoTitans.