Connecting the most challenging premises not viable under the USO.
Openreach, backed by government infrastructure committees, wants to look beyond FTTP for gigabit access.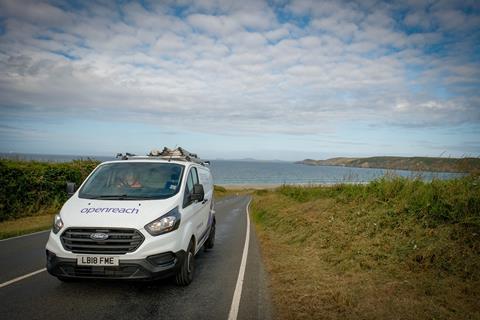 Kim Mears, Managing Director of Strategic Infrastructure Development at Openreach, told the Welsh Affairs Committee that deploying fibre-to-the-premises (FTTP) to some rural parts of Wales "may not be financially viable" and called for alternative technologies, such as mobile and satellite, to be explored.
BT Group's Policy and Public Affairs Director of Networks Richard Wainer, who was also present at the virtual meeting with the Committee, said there were 50,000 homes in Wales without fixed-line access to speeds of at least 10Mbps, of which 18,000 do not have access to 4G.
These sites would be entitled to require Openreach to deliver a "decent" broadband connection under BT's Universal Service Obligation (USO). However, the USO only obliges BT to cover installation costs of up to £3,400, and Wainer said the price of connecting many remote properties was "often … well above the USO cost threshold". He added that "we are going to have to think creatively about how we serve them", suggesting the use of alternative technologies such as mobile and satellite, alongside the Shared Rural Network (BTwatch, #311). This rethink, he said, would need to be accompanied by a change in "public policy … potentially looking at different models other than a single universal service provider".
Wainer also defended BT against allegations that it was falsely inflating quotes for broadband installations under its USO obligations following Ofcom's recent launch of an investigation into alleged false price inflations for the scheme (BTwatch, #318). Wainer said the USO was "working well for those premises that sit below or perhaps just above the cost threshold", but was "not really designed" to connect more expensive hard-to-reach rural premises.
According to data from thinkbroadband, 18% of premises in Wales can now access full fibre, rising to nearly 26% when gigabit-capable cable is included, while 95% can receive 'superfast' 30Mbps+ speeds.
NICW backs Openreach view with calls for taskforce
A week after the Openreach meeting with the Committee, the National Infrastructure Commission for Wales (NICW) published a report recommending that the Welsh government should "urgently establish a 'barrier busting' taskforce" to support investment in broadband in the country.
The report warned that "too much attention" was being paid to full-fibre deployment, "and not enough on improving mobile broadband provision" in rural Wales, where "population density is lower, demand weaker, and the topography more challenging".
The NICW added that it did not believe the UK government's target (now abandoned — BTwatch, #318) of deploying fibre to every home in the country by 2025 was "realistic". However, mobile broadband was described as a "good, low-cost option for business and homes in rural areas, on a permanent basis or until fibre-to-the-home arrives".
Openreach's expanded contract with the Welsh government was recently confirmed as being on track to deliver fibre to underserved areas, as part of the £52.5m Superfast Cymru Phase 2 programme (BTwatch, #317). The devolved state issued a Q3 2020 progress update on the Phase 2 scheme in early-December 2020, flagging that FTTP had been rolled out to 14,698 premises as at September 2020, as part of an overall objective of deploying full fibre to an additional 39,000 premises in rural areas of Wales.