Tech-led transformation of telco's procurement operations continues via adoption of IBM-backed Trust Your Supplier system.
Group joins Vodafone, DT, and Verizon in backing new scheme.
Move support category‑aligned setup of standalone ProcureCo in Dublin.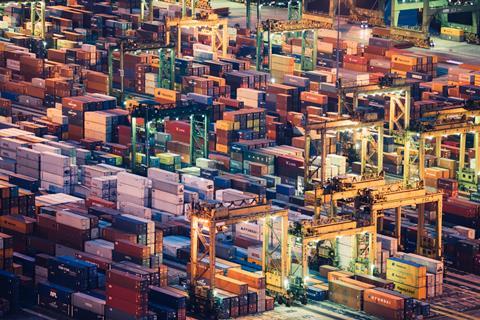 BT's Procurement division continued to flaunt its new-found digital smarts by signing up to seed Trust Your Supplier, a blockchain-based system for vendor validation, throughout its partner ecosystem.
An update on the IBM‑backed venture's website says BT is "transitioning to TYS for supplier information management" and "inviting" suppliers to get involved in the scheme — suggesting they can benefit from faster onboarding and qualification by BT and other "global buyers" if they establish a digital identity on the Trust Your Supplier network.
Subsequently, however, the note suggests participation could become more of an actual obligation for those that want to do business with BT, calling Trust Your Supplier a "pillar of our digital strategy required by all BT suppliers". Those accepting the "invitation" will "create a TYS corporate profile: a single global identity that is controlled by you and accessible to all permissioned customers", it adds.
In a "welcome" video posted on the scheme's website, Cyril Pourrat, Chief Procurement Officer at BT, claimed the benefits for participating suppliers will be "massive", reducing the time and cost of qualification, validating, onboarding, and information management. Pourrat — who is leading a major revamp of BT's legacy-encumbered buying process — added that "onboarding and qualifying suppliers for us is a manual and complex process — one that we wanted to simplify and streamline as part of our transformation journey".
BT joins part-owner Deutsche Telekom and operator peers Telstra, Verizon Communications, and Vodafone in getting involved in the Trust Your Supplier scheme, which was unveiled in August 2019. Cisco Systems, Lenovo, and Nokia are among other participants (Vodafonewatch, #193 and passim).
With supply chains in turmoil from the pandemic, Trust Your Supplier is one of a number of digital initiatives that are pitching themselves as a way to make major business' purchasing processes run more smoothly through decentralised monitoring of vendors' identities and reputations.
It purports to enable "digital passports" for individual suppliers to be created and updated in real-time, helping buyers reduce fraud risk and cut down the overheads of beginning collaboration with new partners (and hence presented by diversity-seeking telcos as a way to spread love to new, smaller suppliers and startups). Passports are created and updated by the suppliers themselves, but checked by third-party validators. The network is operated by Chainyard, a North Carolina-based blockchain services and consultancy specialist led by former IBM executive Sai Nidamarty.
Group transforming to follow the money
A post by Pourrat on LinkedIn tied the adoption of Trust Your Supplier with the creation of new procurement arm BT Sourced, which went live on 6 April 2021, operating at arms-length from BT's UK core via an office in Dublin (BTwatch, #323 and passim).
Masterminded by Pourrat, the new business is framed as a "standalone procurement company within the BT Group" and has made much of its desire to use digital tools, such as artificial intelligence (AI), big data analytics, and machine learning, to transform how BT goes about identifying, contracting, and settling up with its partners.
It has already highlighted use of AI‑powered procurement and supplier acquisition software from specialist provider Globality. The Smart Sourcing Platform is said to be providing BT with a speedier way of sourcing (and selecting) suppliers using "AI-driven matching" technology.
Also tied in with BT Sourced's creation is the Group's Digital Procurement Garage, which works with a handful of smaller players to help make the telco's buying processes more effective and efficient. These include: New York-based macro risk consultancy PRISM; fintech player Paid, whose platform enables freelancers and small businesses to speed up invoice settlement, while also offering automated task handling for enterprise buyers; and Cambridge University spin out Versed AI, whose software is being used to help BT identify new suppliers.
BT has also recently talked up use of Suplari software to gain better "spend intelligence", having historically appeared hamstrung by fragmented data and legacy tech when assessing its outlay with individual vendors.
Quad-play for BT Sourced as 'super category' focus mapped out
Operationally, BT has indicated to TelcoTitans that BT Sourced will employ a "category‑aligned" model in its ambition to transform traditional procurement in BT Group, with "super categories" set up to develop Group‑wide sourcing strategies.
A spokesperson mapped out the organisational make‑up of the company, which will help manage the Group's claimed third‑party spend of £13bn. BT had previously said it was hiring for "more than 70" positions at BT Sourced, all of which will be based in the business' Dublin office, across a number of procurement categories.
The spokesperson confirmed that BT Sourced will focus on four so‑called "super categories", led by umbrella teams dedicated to filling specific needs. These are Connectivity, IT, Networks, and Services. Together, the four departments will "work to develop the category strategy and oversee their implementation globally", said the spokesperson.
Additionally, a Business‑to‑Business (B2B) & Customer Solutions practice will focus more specifically on supporting the operator's BT Enterprise and BT Global units. Further, three teams will provide "specialist services" to the super category and B2B & Customer Solutions teams, based around: Negotiation Analytics; Procurement Excellence; and Transformation.
It is not clear exactly which elements of the Group's sourcing remain operational with BT's legacy procurement division, but the spokesperson confirmed that the Group retains a "global procurement presence who will work fully aligned with BT Sourced colleagues".
Procurement on the operating table
BT Sourced will "dissect every aspect" of the traditional procurement model, wrote Tony Joyce, Director of Services Procurement at the newly‑established business, in a late‑April 2021 blogpost. "We're exploring uncharted territory", he added. "There's no blueprint for what we're doing".
Since its heavily trailered early‑April 2021 launch, the most noise BT Sourced has made has been from its ongoing recruitment drive. Since the company was first announced, vacancies have been advertised across the super categories as well as in procurement analysis and transformation disciplines.

Richard Agnew is Group Editor at TelcoTitans.