Two platforms aim to create full-fibre marketplaces for altnets and resellers.
Signs of confederation among the UK's 80-plus altnets, as wholesale competition heats up.
Platforms facilitate Project Gigabit wholesale mandates and One-Touch Switching.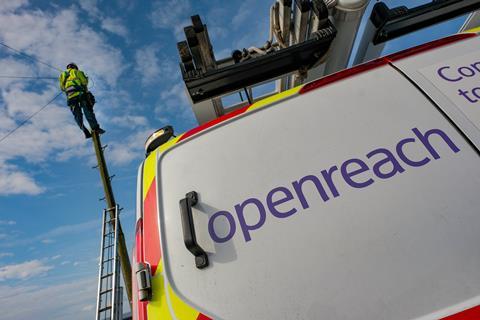 A new front in full-fibre wholesale competition is emerging for Openreach as alternative network operators develop common platforms to join forces and attract more resellers to their networks.
Two wholesale platforms are expected to launch in early 2022 to provide marketplaces that aim to make it easier for altnets and communication provider (CP) resellers to buy and sell full-fibre network products. The offerings arrive as more altnets are expanding into wholesale to supplement fibre network business plans and face regulatory obligations, including providing wholesale access for Project Gigabit contracts, and Ofcom's new One-Touch Switching (OTS) rules.
The moves also suggest a shift among the country's more than 80 different independent altnets to embrace confederation models amidst industry rumblings of what some see as inevitable consolidation for upstart fibre builders.
Altnets will invest around £12bn in full-fibre connectivity from 2021 to the end of 2025, according to the Independent Networks Cooperative Association's (INCA) latest market report. Their gigabit infrastructure is expected to reach 6.6 million premises by the end of 2021 with 1.1 million live connections. By the end of 2025, altnets expect to reach 30 million premises with 6.2 million live connections.
Altnets create a Common Wholesale Platform
The Common Wholesale Platform (CWP) is a member-owned and -operated, not-for-profit organisation established by four altnets: Airband, County Broadband, ITS Technology Group, and Wight Fibre. It links altnet fibre operators to CP resellers to provide wholesale and One-Touch Switching (OTS) services in a neutral environment.
CWP soft launched in early November 2021 and plans to launch fully in the first quarter of 2022 with altnets and resellers on board. The company is currently in discussion with about six ISPs "of significant scale" and a dozen network operators. The platform technology provider has been selected, but not yet named, after reviewing 15 suppliers that responded to a request for proposal (RFP).
"By combining forces in the way we have, we've created a nationwide network with commonality so that resellers and operators can cross sell across platforms", said Lloyd Felton, Chief Executive of County Broadband, likening the model to the London Internet Exchange (LINX).
Network operators will have flexibility to choose how they participate in the platform. They can offer their own products as well as join a "common reference product set". Likewise, CPs can resell a specific network operator's product or select from the reference products.
"That allows commonality to remove geographical barriers … A national reseller can sell with confidence across any other operator's network", said Felton.
And it is clear the platform has Openreach in its sights. Nobody wants a "monolith that rules the market", and now "as a group of disparate altnet operators, we have the opportunity to present ourselves as a common solution", he said.
By standardising technical integration and business processes, CPs can integrate once with the platform to engage with multiple altnets rather than having to contract individually with each one. CWP is also designed to integrate with other wholesale platforms. "It's a way to offer what is otherwise very isolated networks as one network", said Felton.
CWP not only aims to facilitate take up on altnet networks, but also help them to meet upcoming OTS obligations and wholesale access requirements for Project Gigabit contracts.
UK regulator Ofcom launched the OTS process in September 2021, which enables broadband and landline customers to change provider "in as little as a day" (BTwatch, #329). The rules mean that customers will not need to speak to their current provider before switching to a new one. Providers must have the process in place by April 2023. CWP expects to be the first OTS-compliant platform available in the UK.
BroadbandHUB channels Swedish FTTP experience
Another new fibre wholesale platform on the UK scene is BroadbandHUB, which has a different commercial approach. It is a private limited company that was registered in April 2021, jointly owned by UK-based Hubbub Group and Hubory AB, which provides access aggregation to municipal fibre networks in Sweden. BroadbandHUB is bringing the Swedish software platform to the UK to create an independent wholesale fibre aggregation platform.
Wholesale access mandates attached to Project Gigabit along with altnets' need to fill their full-fibre networks are driving the demand for a neutral wholesale marketplace, according to Toby Treacher, Managing Director of BroadbandHUB. Many altnets are vertically integrated and funded based on the assumption of achieving 50% retail customer penetration on their fibre networks, which will be difficult for many, he explained.
"At some point in the future when [altnets] stop thinking purely about passing homes and start thinking about sales and customer penetration, they will need to consider wholesale if they're going to keep their investors happy and put traffic on their networks", he said.
BroadbandHUB is currently in a beta phase. The platform will provide service availability (where altnets publish their products and network availability, including future build plans), order management, and fault management. Altnets and service providers can connect to the platform via application programming interface (API) integrations. The platform is hosted in the UK on Google Cloud Platform.
Buyers and sellers pay a transaction fee based on the volumes they use as well as an annual subscription to be part of the platform. "Our view is that we are saving you money by not having to connect to 20 people or ten people or five people. And that has value straightaway", said Treacher.
Treacher said BroadbandHUB's neutrality was valuable. "We don't have an operator play from a retail or network building point of view. We just sit in the middle … all you need to do is connect your sales platform into our marketplace and that will immediately give you access to all the network operators that are also connected into our marketplace on the same sort of rules", he said, adding that "the challenge is, can we all agree on what services we want to make available?"
Should Openreach be worried?
Treacher said there was room in the UK market for more than one marketplace. CWP and BroadbandHUB may not be the only games in town. CityFibre, for one, is also understood to be considering a platform service for other altnets.
It is early days for the fibre wholesale platforms. The fundamental challenge for CWP, BroadbandHUB, and any other offerings is attracting enough network operators and resellers to build scale.
Openreach did not seem too concerned about the scale of smaller altnets at its recent Business Briefing. BT's infrastructure services division expects to pass four million premises annually on its way to its target of 25 million premises by December 2026. It has passed two million in FY21, taking its tally to 5.8 million premises passed.
Richard Allwood, Chief Strategy Officer at the access services unit, said Openreach has twelve "large" fibre-building competitors, Virgin Media O2 and CityFibre chief among them, and a further 83 smaller challengers.
The introduction of fibre wholesale platforms could add a new dynamic in the UK full-fibre market.

Michelle Donegan is an experienced telecoms writer and has been contributing as a reporter and news analyst for TelcoTitans since July 2020.