Diminishing cash wiggle-room reflected in dividend cutback.
Reliance on Liberty deal increasingly in focus, as Group continues pivot towards struggling Europe Region.
Questions starting to increase around lack of a growth platform.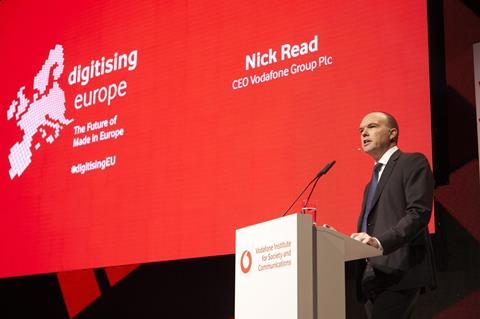 The difficult start being experienced by Vodafone's refreshed leadership team did not get any easier, as their first annual results presentation, for the year to 31 March 2019 (FY18–19), saw an admission they had been forced to "rebase" the Group's famously generous dividend policy to address rising cash pressures.
There was no major outcry from City analysts attending the briefing, but the Group's already-depressed share price plumbed new depths in the run-up to and days following the dividend announcement. This was evidently highly awkward for an executive team that had not warned shareholder remuneration could be tightened when presenting H1 FY18–19 figures, in November 2018 (Vodafonewatch, #170).
"Twelve months back we had a good degree of headroom, by November we had sufficient headroom, and the headroom has been compressed in the last six months", explained Chief Executive (CEO) Nick Read. He pointed to depressed revenue trends in key markets and Germany's expensive 5G auction as the key factors behind the decision, which sees the Group's total FY18–19 dividend drop by 40%, to €0.09 (£0.08)-per-share.
Read's Digital Colao play may not be as big an update as Vodafone needs
The dividend cutback complicates a personal and political conundrum for Read as he seeks to stamp his own mark on Vodafone, and help it regain its mojo, following his accession to the CEO spot in October 2018 (Vodafonewatch, #165).
He knows he must put some distance between himself and popular predecessor Vittorio Colao — who diverted the best part of €100bn back to shareholders during his decade in power (Vodafonewatch, #164), but left little fertile ground for future propagation of growth (as well as a net debt pile of over €30bn, despite having sufficient proceeds for the shareholder bounty).
The path Read appears to have settled on is to portray himself as a 'Colao for the digital age', with fresh commercial and operational ideas, while still cut from the same cloth as his former boss, and thus solid and trustworthy as a cash machine.
During the presentation, he sought to reinforce that, through accelerated digital transformation initiatives and an increased focus on customer loyalty, Vodafone is "transforming our business model as well as our business". But in reality, this strategy is no reinvention of Vodafone, and the impression remains that Read is in many ways just siphoning off fuel from the same (increasingly dry) tank as Colao, with cost-efficiency, tangential asset sales, and a defensive commercial and strategic mindset still underpinning Group direction.
While Colao had the option of swapping the Group's base of uncontrolled, minority investments for cash, to keep stakeholders onside while performance deteriorated, Read is being forced to extract value from more strategically important assets, such as towers (prospectively) and peripheral OpCos (the latest being Vodafone New Zealand, whose proposed sale was announced the day before the FY18–19 briefing, no doubt timed to soften the blow of the dividend cut).
At the same time, though, it is possible that Read has not yet revealed his full hand, and that his focus on tidying house is not just about preserving cash flow but helping enable a more dramatic (and perhaps M&A fuelled) transformation of the business, especially with AT&T recently re-entering the Vodafone sphere via an Internet of Things partnership.
Recent Board of Directors changes, and now-confirmed reports suggesting the ground is being prepared for Chairman Gerard Kleisterlee to depart Vodafone, adds to the sense that pressure is coming on for injection of fresh thinking and approaches at the top of the Group, and not just a 'digital update' to previous years' strategy (Vodafonewatch, #174 and passim).
Vodafone Q4 FY18-19
1

Currently reading

Options tighten for Vodafone's new top team as slump goes on

2

3

4