Little cause for cheer in top-line trends.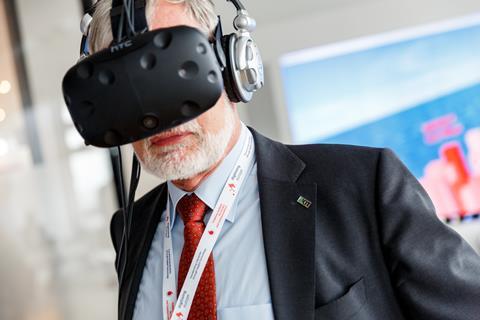 Vodafone's headline data for FY18–19, and corresponding results for the last quarter of the year, did little to help make the presentation easier for Read and Chief Financial Officer Margherita Della Valle, although the leadership duo never appeared overly under pressure during the discussion.
Vodafone's main service revenue line dipped into reverse gear again in Q4, seeing a 0.7%-drop to €9bn — if viewed through the favourable lens of the Group's latest custom trend measure of "organic growth excluding the impact of settlements".
Merely "organically" — i.e. just erasing M&A and currency movement impact — service revenue fell 1.8%. At full face value, it was down 5.1%, thanks largely to further weakening of key currencies in emerging markets (one of the reasons for leadership's hurry to extricate itself from non‑European territories). For the full‑year, on this 'reported' basis, service revenue dropped 4.5%.
Vodafone Group, revenue summary, Q4 FY18–19
Notes: * The Group revised its reporting segments on 1 October 2018, to reflect changes to its organisational structure. The former Africa, Middle East and Asia-Pacific Region now comprises separate Vodacom Group, Turkey, and Other Markets reporting segments, all aggregated under a "Rest of the World" umbrella. Prior numbers have been restated accordingly. Organic growth is said by Vodafone to present performance "on a comparable basis, both in terms of merger and acquisition activity and foreign exchange rates".
Sources: Vodafone and Vodafonewatch.
Q4 FY17–18
Q4 FY18–19
Change(y-on-y reported)
Change(y-on-y organic)
Revenue by geography

€11,316m

€10,820m

-4.4%

-1.9%

Europe

€8,181m

€7,903m

-3.4%

-3.7%

Rest of the World *

€2,818m

€2,582m

-8.4%

3.9%

Other and eliminations

€317m

€335m

5.7%

–

Service revenue by segment

€9,520m

€9,037m

-5.1%

-1.8%

Mobile

€6,937m

€6,629m

-4.4%

-1.0%

Customer revenue

€5,948m

€5,731m

-3.6%

-0.2%

Incoming revenue

€486m

€424m

-12.8%

-8.6%

Other revenue

€503m

€474m

-5.8%

-3.6%

Fixed-line

€2,583m

€2,408m

-6.8%

-4.0%
Awaiting Liberation
Weakness extended down the P&L.
Across FY18–19, earnings before interest, taxation, depreciation, and amortisation (EBITDA) rose 3.1%, to €14.7bn — enabling leadership to meet guidance and maintain its narrative of success in generating margin improvement during difficult times.
However, again, this growth figure was based on the Group's highly selective view of what exactly represents a 'one-off' or 'uncontrollable' factor in curtailing its business (a "headwind", in Group parlance). Nor was the EBITDA expansion sufficient to ensure full profitability. Factoring in costs including capital expenditure (capex) and the €3.5bn in goodwill write‑downs recorded at H1 FY18–19 for Vodafone Idea, Vodafone Romania, and Vodafone Spain (Vodafonewatch, #170), Vodafone recorded a €7.6bn loss for the fiscal year.
Across Regions and OpCos, the picture remained largely consistent with other recent quarters. Europe Region fortunes continued to rest on a challenged Vodafone Germany (VfD), and the Europe Cluster of smaller OpCos, to balance out competitive pain in Italy, Spain, and the UK, and the division remains in the waiting room for a tune-up via the Group's four-country Liberty Global cable asset acquisition, still in the hands of the European Commission.
In the diminishing Rest of the World Region, most businesses continued to produce decent levels of growth, at least in local currency terms. Regional trends are discussed in more depth elsewhere in this report.
FY17–18
FY18–19
Change (y-on-y reported)

Vodafone Group, financial highlights, FY18–19

Notes: Following the adoption of IFRS 15 accounting standards on 1 April 2018, the Group's subsequent results (i.e. for FY18–19) are reported on that basis, but prior numbers (FY17–18) remain on an IAS 18 basis, as previously reported. According to Vodafone, any comparison between the two reporting schemes is not meaningful and its chosen system is consistent with how the business is managed, operated, and reviewed by management.
Sources: Vodafone and Vodafonewatch.
Revenue

€46,571m

€43,666m

-6.2%

Service revenue

€41,066m

€39,220m

-4.5%

Adjusted EBITDA

€14,737m

€14,139m

-4.1%

Adjusted EBIT

€4,827m

€4,474m

-7.3%

Free cash flow pre-spectrum

€5,417m

€5,443m

0.5%

Free cash flow

€4,044m

€4,411m

9.1%
Vodafone Q4 FY18-19
1

2

Currently reading

Vodafone Q4 FY18-19 headlines: headwinds and data fog

3

4