Group ups ante on waste reduction with launch of recycled SIM chips.
'Eco‑SIMs' to be rolled out in 15 territories.
Available in UK from spring next year.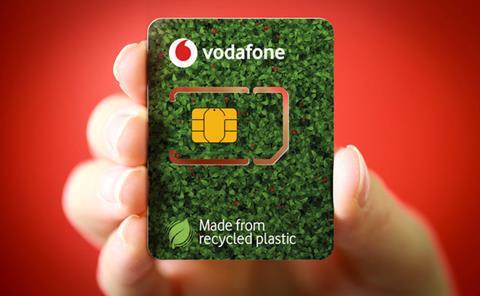 Vodafone announced it is to introduce "Eco‑SIMs", a chip made of "100%" recycled plastic, in 15 Group territories. This includes the 'big four' markets of Germany, Italy, Spain, and the UK, as well as EU Cluster markets, Egypt, and South Africa.
Vodafone's EU Cluster incorporates eight OpCos and VodafoneZiggo, the Group's Dutch joint venture. Operations in Albania, the Czech Republic, Greece, Hungary, Ireland, Portugal, Romania, and Turkey make up the rest of the segment.
The launch of Eco‑SIMs is expected to save the telco 320 tonnes of plastic waste per year (the equivalent of an estimated 1,280 tonnes of emitted carbon), while reducing manufacturing and production costs.
Eco‑SIMs will be introduced "in different countries at different times", the operator said. It is expected to be rolled out in the UK from April 2022, while OpCos in Germany and Spain are due to launch Eco‑SIMs this month.
Eco-SIMs take the form of a "half‑size" chip, so they fit into the new, smaller SIM card carrier the Group introduced across its footprint in early‑2020, as another waste reduction measure.
Vodafone said it anticipates that embedded SIMs (eSIMs), which replace physical SIM cards with a programmable chip, will one day eliminate the need to supply plastic SIM cards altogether. "Most mobile customers", however, still require a physical chip for their device, it noted, so Eco‑SIM is a means of accelerating Vodafone's plastic savings push in the meantime.
eSIM is an important flexible tool that is also increasing the commercial appeal of M2M solutions. The Group began a broad roll out of eSIM‑equipped devices from late‑2017 (Vodafonewatch, #158–#159 and passim).
Waste reduction is a key facet of Vodafone's wider sustainability drive. "Most" Vodafone OpCos now offer device exchange and buyback schemes to encourage the reuse and repair of old devices, for example (Vodafonewatch, #189). The Group also joined four other European telcos, including Deutsche Telekom, in launching the pan‑industry Eco Rating scheme for handsets in May 2021 to provide customers with information on the environmental impact of smartphones "across their entire lifecycle".
Internally, the operator has implemented numerous resource efficiency and "waste disposal management" programmes in all of its markets to reduce the environmental impact of redundant networks and outdated IT equipment. The Group aims to recycle, resell, or reuse 100% of its network waste by 2025.
Vodafone hopes to become a carbon‑neutral business by 2040 (Vodafonewatch, passim).

Sam Patterson is a Staff Reporter for TelcoTitans, contributing telecoms news analysis since September 2020 as part of the TelcoTitans Editorial team.