Former Vodafone Portugal investment Celfocus has taken on its fourth cognitive automation project for the Group Network Operations (GNO) organisation.
Further solutions and use-cases are already being explored to reap benefits of automation throughout the Group.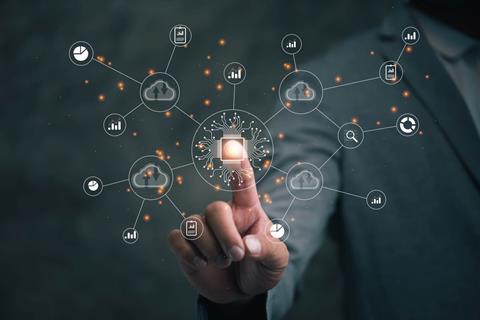 Former Vodafone Portugal investment Celfocus revealed it is supporting a fourth project for Vodafone that aims to use its cognitive automation solution to deliver next‑generation monitoring for Internet of Things (IoT) services.
Speaking during a TM Forum webinar, Bruno Santos, the provider's Account Executive, Vodafone Group Networks framed the project as building on three previous and ongoing Celfocus‑supported automation programmes, focused on the "path towards zero‑touch networks":
2017: the design and implementation of the Video Insights Platform for Vodafone TV (Vodafonewatch, #174 and passim);
2018: the deployment of the Cognitive Intelligence and Automation Suite in network operations centres (NOC) from 2018 (Vodafonewatch, #196);
2019: the "multi‑opcode scripting tool" (MOST) project begun in 2019 that aims to increasing network configuration automation.
Then, in 2020, "Vodafone trusted us again and our cognitive automation solution to deliver the next‑generation monitoring for their IoT service", Santos said.
Going fourth with IoT
Celfocus collaborates with Vodafone's Group Network Operations (GNO) organisation on the projects.
With regard to the IoT service incident monitoring and platform project, Santos said Celfocus is "using the same principles, but with a deployment in a public cloud". "We are delivering an integrated solution that can detect, communicate, create tickets, send SMS, resolve service impact on anomalies faster, in a way to increase Vodafone's IoT service quality and customer satisfaction — which was the main purpose of this project", Santos explained.
Santos said the solution makes use of real‑time data streaming and machine learning to detect service incidents and determine the most probable root causes of those incidents. "Later on, we will be also using automation to increase efficiencies, speeding up anomaly detection, diagnosis, dispatching and healing," he added.
More to come
Both Santos and Simon Norton, Head of OSS Operations & Digital Transformation in GNO, indicated that more, related projects lie ahead.
As explained by Norton, "as we move forward and continue to execute those zero‑touch operations, it's absolutely vital that we scale our level of ambition, and that we deploy solutions like this and various other complementary solutions… to make sure that we are reaping the benefits of automation through every layer of our operations".
Santos also noted that new use‑cases are already being worked on, especially in relation to the demand driven by 5G, IoT, and network virtualisation. "It is all about creating highly intelligent and flexible networks that can dynamically adapt to the demands not only of the customer, but also the operator", he said. "And we do believe from the experience that we have with previous projects, and the experience we have with the projects we're running in Vodafone, that using machine learning and predictive algorithms is the way to achieve it".
Santos provided three examples of use‑cases that Celfocus is exploring:
Smart networks, "where we use predictive algorithms to avoid congestion, optimise service levels and support dynamic network slicing";
Smart energy management, "by leveraging on predictive to optimise energy consumption";
Predictive maintenance, making this "a common practice across the board, tracking performance over time to anticipate failures and also to prevent them from happening".
Celfocus was formed by Novabase and Vodafone Portugal (VfP) in 2000 and is said to have around 650 employees. In early-2020, VfP sold its 45% stake to Novabase for €20m (£17.5m) — although it was said at the time that a further €7.5m may be added on in the form of services to Vodafone. Despite the sale, Celfocus clearly remains a key partner for Vodafone. The systems integrator has had a significant hand in the IT estates of numerous Vodafone OpCos, Group functions, and Partner Markets. At the time of the transaction, Nuno Periquito, who served as Head of Marketing at Celfocus until June 2021, said Vodafone would remain the business' "biggest and most strategic" customer.

Anne Morris is a freelance journalist, editor and translator. She has been working as a reporter and news analyst for TelcoTitans since 2016.