Vodafone Ireland's wholesale broadband JV gets €620m funding boost.
Phase two envisages additional 320,000 homes and businesses passed with fibre, but no timeframes given for completion.
Phase 1, at 400,000 premises passed, steadily nears 450,000 target.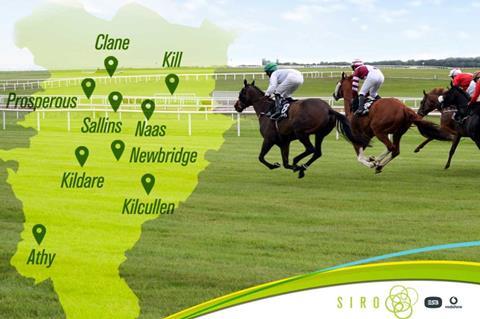 SIRO, Vodafone Ireland's wholesale fibre joint venture with the country's Electricity Supply Board (ESB), unveiled new funding to the tune of €620m (£525m).
The extra cash enables the JV to enter its second phase of FTTP rollout, which, said SIRO, "will see us almost doubling our footprint to 770,000 homes and businesses [over 2.1 million people] and reaching 154 towns across Ireland". No timeframe was provided for phase-two completion, however.
The additional funding is provided by a syndicate of Irish and international lenders, as well as a €170m contribution from the European Investment Bank. EIB participation, said SIRO, was in line with a digital investment programme backed by the EC.
Both Ireland's Prime Minister Micheál Martin, and John Keaney, Chief Executive at SIRO, tried to frame the development as a benefit for Ireland as a whole, rather than solely a competitive leg-up for SIRO in the country's wholesale broadband market.
"Creating a fully connected Ireland is a fundamental objective of government, achievable through partnership between public- and private-funded operators, such as SIRO, working together to reach this goal", remarked Martin. Keaney maintained the funding deal was a "landmark announcement not just for SIRO, but also for Ireland, as our network will play a fundamental role in a regional renewal and helping households be more sustainable".
Anne O'Leary, Vodafone Ireland CEO, also stuck to macro-economic themes. The announcement, she said, was "not just a commitment to delivering high-speed connectivity; it is a commitment to our economy and society — and to future generations".
Phased approach
The phase-two funding announcement comes at a time when phase one is not yet complete. Although SIRO reiterated its phase-one aim of passing 450,000 homes and businesses on news of the additional funding, it remains coy about committing to a date when this will happen. As of October 2021, SIRO said it had passed more than 400,000 premises with fibre. According to The Irish Times, SIRO has invested €450m to get to this point.
If the current rate of rollout continues, TelcoTitans calculates the first phase may well be wrapped up by around mid-2022. According to the ESB, SIRO managed to pass an additional 61,000 premises with fibre during 2020 (Vodafonewatch, #195). This took the number up to 360,000. On the assumption SIRO currently has about 400,000 premises passed with fibre, the JV seems set to match 2020 rollout figures in 2021. If this rate continues, a mid-2022 phase-one completion looks on the cards.
Aside from extending the SIRO footprint by a further 320,000 premises, the JV is aiming to offer a 2Gbps service, which doubles the initial 1Gbps offering. The upgrade, which has already gone live in Kilkenny, is expected to be extended to "SIRO's existing 400,000 premises by early-2022". Phase-one and phase-two premises, 770,000 in total, will "ultimately have access" to the 2Gbps service said SIRO, but, again, no timeframes were given.
SIRO resells broadband to residential and business customers through 19 retailers. Speaking to Ireland's Independent in early-January, Keaney said there were 80,000 connected customers on the SIRO network.

Ken has been writing about developments in the fixed and mobile markets for over twenty years. He has been a contributor to TelcoTitans since 2015.