Operator unveiled as host partner for Oracle Cloud Madrid Region.
Highlights (again) importance of using in‑country data centres to ensure compliance with national data sovereignty regs and help business continuity.
Telefónica Tech to offer Oracle Cloud Infrastructure services and boost PaaS offering.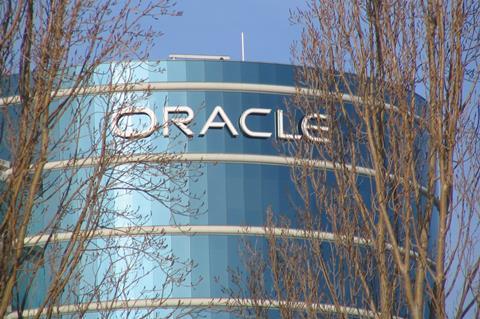 Telefónica España extended its on‑premises partnership with Oracle. The operator is to use its own data centre facilities in the country's capital to host Oracle Cloud Madrid Region. The arrangement appears to build on a "multi‑year" deal announced by the two companies last September, which aims to migrate a range of services and databases onto Telefónica's data centres (see below).
Expected to come online "over the next six months", the Madrid region will offer Oracle Cloud Infrastructure (OCI). OCI, according to the official statement, is a "next‑generation cloud infrastructure". It is designed for "mission‑critical and cloud‑native workloads in large enterprise and public sector environments". The aim is to provide Spanish business and public sector customers with a "broad and consistent set of cloud services with low latency, high performance, and the highest security standards".
Telefónica España also maintained that by using data centres located on their home turf, customers can address "in‑country data residency and compliance requirements", as well as help out with business continuity.
Albert Triola, Country Leader, Oracle Spain, asserted that Spanish businesses and public sector entities will have access to a "secure and scalable cloud services platform", which will "help accelerate the adoption of AI, machine learning, and other new technologies in organisations of all sizes and sectors".
The Madrid region was billed as Oracle's "first" cloud region in Spain and one of seven new commercial and government cloud regions the US cloud provider is planning to open across EMEA, Asia‑Pacific, and Latin America "over the next six months". Oracle says it is planning to open "at least" 44 cloud regions around the world by the end of 2022. It was not clear if any of that number will be in Spain, either in partnership with Telefónica España or other Spanish operators.
Telefónica Tech consults the Oracle, too
In parallel with the Madrid region announcement, Telefónica Tech — which has the expansionist Telefónica Cybersecurity & Cloud Tech (TC&CT) division under its wing — signed a "global partnership" deal with Oracle.
The agreement envisages them jointly offering platform‑as-a‑service (PaaS) and applications, and will enable Telefónica Tech to offer OCI services to clients within its footprint. Telefónica Tech will support OCI delivery through its own professional and managed services.
Oracle pointedly noted that its hybrid‑ and multi‑cloud strategy "aligns closely" with Telefónica's goal of ensuring that all customer data is hosted regionally or in‑country where possible, providing customers with a cloud solution that meets their data sovereignty needs. It was not clear from the announcement, however, if Telefónica will host any of the planned Oracle 'regions' outside of Spain.
" This agreement with Oracle will allow us to expand our cloud services and strengthen our strategic positioning in PaaS, as well as reinforce our value proposition in databases and middleware applications with one of the market leaders. "

— María Jesús Almazor, Chief Executive, TC&CT.
Oracle on‑prem migration
Last September, Telefónica said it would migrate the "bulk" of its Oracle database systems to Oracle Exadata Cloud@Customer, an on‑premises deployment option of Oracle Exadata Cloud Service delivered as a managed cloud service in Telefónica's data centres.
The multi‑year collaboration is aimed at accelerating the operator's cloud adoption and development of "new" communication services for businesses and consumers.

Ken has been writing about developments in the fixed and mobile markets for over twenty years. He has been a contributor to TelcoTitans since 2015.