Telefónica Tech launches evolved flexWAN proposition, addressing the cybersecurity demands of 'new normal' hybrid working.
Longstanding security partner Fortinet tapped for updated offering.
Spain first, rest of Telefónica footprint to follow.
Fortinet ups engagement with telco players.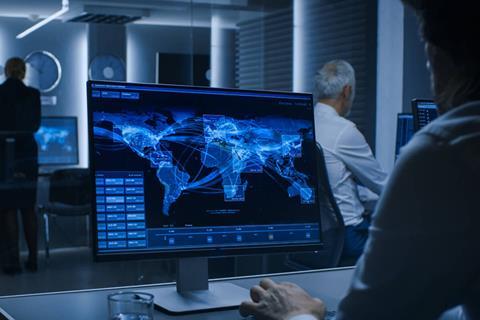 Telefónica Tech expanded its strategic alliance with cybersecurity specialist Fortinet to launch an updated version of its flexWAN security proposition, seeking to enable the "hybrid work era".
The new managed service, flexWAN by Fortinet, is described as "security‑driven networking" for SD‑WAN. It aims to build cybersecurity into SD‑WAN infrastructure, enabling Secure Access Service Edge (SASE) to support the cloud‑centric, work‑from‑home models prevalent since the outbreak of COVID‑19.
It will first be launched in Telefónica's home market of Spain, before extending across the Group's footprint in the Americas and Europe.
flexWAN by Fortinet is effectively a combination of the Fortinet Secure SD‑WAN enterprise security solution and Telefónica Tech's managed security and cloud services.
SASE is a security cloud architecture model that melds security functions with SD‑WAN and delivers them as a common cloud service to provide enterprise users with secure access to their cloud applications wherever they are. Interest in SASE has surged recently driven by the rise in remote working. According to a recent research paper by Gartner, "by 2024, at least 40% of enterprises will have explicit strategies to adapt SASE, up from less than 1% at year‑end 2018". Telefónica is not the first to respond to this surge. Deutsche Telekom B2B Europe launched a partnership with Versa Networks to add SASE to its Telekom SD‑WAN Services proposition in early‑2021.
Fortinet Secure SD‑WAN was also integrated by BT Security earlier in the year to bolster BT's Managed Firewall Service. Fortinet was named among BT Group's Critical Partners roster in August 2020.
Fortinet in the flexWAN fold
The flexWAN marque was first used for a 2017 service developed by Telefónica. It built software‑defined network technology to support "flexible" enterprise connectivity, and was among the Group's first foray into business‑to‑business SD‑WAN after an initial partnership with Nokia‑owned Nuage Networks (Telefónicawatch, #117–#118).
Telefónica Tech also offers flexUSER (unified communications and collaboration tools) and flexCOMM (a combination of flexUSER and flexWAN).
Hugo de los Santos, Chief Product & Technology Officer at Telefónica Tech's Cybersecurity & Cloud unit, said the partnership with "great ally" Fortinet builds on "long experience" of working together since 2001. Fortinet's Telefónica relationship has largely been via ElevenPaths — the cybersecurity unit brought into Telefónica Tech last year.
Fortinet was named a strategic security infrastructure partner in 2016 when Telefónica integrated its Security Fabric architecture into ElevenPaths' services. In 2019, Telefónica Business Solutions launched a virtual firewall service underpinned by Fortinet technology, which offers enterprise SD‑WAN protection in virtualised environments.
In mid‑2020, Fortinet expanded its relationship with ElevenPaths to provide security for IT, operations technology, and IoT enterprise environments (Telefónicawatch, #107, #136, and #145).

Joseph Purnell is a Staff Reporter for TelcoTitans, contributing telecoms news analysis since 2019 as part of the TelcoTitans Editorial team.