AT&T and Verizon Communications complain to FCC that TMUS has excessive amount of low- and mid-band spectrum.
Sievert accuses 'big two' of dissembling.
CBRS auction draws little interest from the NatCo.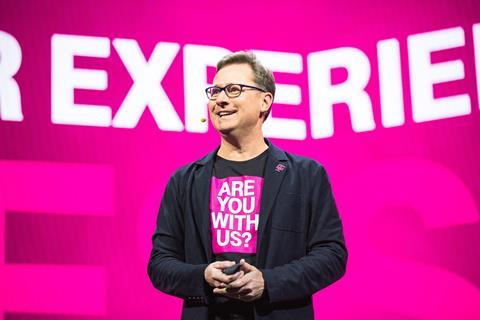 Mike Sievert, Chief Executive (CEO) of T‑Mobile US (TMUS), saw a marketing opportunity that he thought too good to pass up after AT&T and Verizon Communications filed a complaint to the Federal Communications Commission (FCC).
Their gripe is that TMUS holds an "anti-competitive" amount of low‑ and mid‑band spectrum following its merger with Sprint. Both AT&T and Verizon urged the FCC to impose limits on TMUS's ability to obtain more spectrum licences.
Sievert claimed in a blog that the 'big two' teamed up — even though they made separate petitions to the FCC — because "AT&T and Verizon are facing real competition from a company that is committed to shaking up the status quo and bringing true choice to consumers".
He added that TMUS's disruptive Un-Carrier play "scares the heck out of these two huge, entrenched industry incumbents", and that the "duopolists are scrambling to block this new competition any way they can".
Sievert has previously riffed on the theme of AT&T and Verizon as a duopoly that is scared by the scaled‑up New T‑Mobile, claiming earlier in 2020 that the two operators had sought to block the Sprint merger behind the scenes, despite appearing ambivalent in public (Deutsche Telekomwatch, #93).
AT&T cries foul…
AT&T maintained in its filing that the "combination of Sprint and T‑Mobile has resulted in an unprecedented concentration of spectrum in the hands of one carrier".
Its petition had strong echoes of the FCC filing submitted by Verizon in August 2020, which called upon the agency to reconsider accepting leases from venture capital firm Columbia Capital, which gives TMUS another 10MHz–30MHz of spectrum in the 600MHz band in 204 counties across the USA.
To underline its point about what it saw as wrongful TMUS spectrum dominance, AT&T and Verizon referred to the FCC's "spectrum screen", which is designed to review secondary market transactions. The screen is supposed to act as a benchmark to determine reasonable levels of spectrum holdings, and is used to assess mergers, spectrum swaps, or other similar transactions.
According to AT&T, the TMUS–Sprint tie‑up exceeds the spectrum screen "often by a wide margin", in cellular market areas representing 82% of the US population. The operator thought this warranted an explanation from the FCC.
TMUS acquired its large 600MHz platform after spending aggressively in the FCC's 2017 auction of rights in the band (Deutsche Telekomwatch, #62). It is using the low-band frequencies as a broad base for 5G network rollout, as well as to gain differentiation to AT&T and Verizon's more-narrowly-focused 5G platforms — so it is significant that AT&T and Verizon are showing concern over the strength of its holding in the range. In early-October 2020, TMUS claimed progress in integrating 600MHz with another key part of its 5G "layer cake" — the copious 2.5GHz resource it secured through the April 2020 Sprint takeover. Working with Ericsson, LG, and MediaTek, said it had completed a 5G standalone New Radio, and carrier aggregation-based data call across bonded 600MHz and 2.5GHz frequencies. It described 600MHz and 2.5GHz as adding up to "crazy fast and crazy far" 5G.
… as does Verizon
Even without the Columbia Capital 600MHz leases, Verizon complained that TMUS "already holds licences for 311MHz of low‑ and mid‑band spectrum nationwide". Its FCC filing added that this is "more than the low‑ and mid‑band spectrum licensed to Verizon and AT&T combined".
TMUS accused Verizon of dissembling. In response to Big Red's petition, TMUS argued that Verizon did not have any grounds for complaint as it chose not to participate in the FCC's 600MHz auction, and that it "currently touts its massive millimetre‑wave spectrum holdings as support for 5G superiority".
TMUS added that it was "simply disingenuous for Verizon to now complain that T‑Mobile's addition of 600MHz spectrum to its portfolio is somehow anticompetitive".
… but Sievert laps it up
Sievert appeared to gleefully lap all this up in his blog, accusing both AT&T and Verizon of misdirection. He took a familiar line — developed and honed when John Legere was CEO — that TMUS was firmly on the side of the consumer.
"While these industry incumbents claim this is to protect competition from one company having too much spectrum, this rings hollow as evidenced by their immediate efforts to block T‑Mobile from leasing unused 600MHz spectrum from a company called Columbia Capital. This is spectrum that Columbia Capital is not using, and is now being deployed by T‑Mobile for the benefit of American consumers, including in rural areas where this low‑band spectrum is particularly impactful. 

"In the category of 'you can't make this stuff up' — AT&T had won at auction the spectrum that Columbia Capital is now leasing to T‑Mobile and — guess what — AT&T decided it didn't want it and sold it to Columbia. Verizon, the ringleader in opposing this lease, never bothered to even show up and bid for any 600MHz spectrum. In short, we have AT&T and Verizon seeking to block T‑Mobile from using spectrum that AT&T decided to jettison, and Verizon had no interest in pursuing. Now both companies are seeking to block T‑Mobile from putting this spectrum to use for the benefit of American consumers. "

— Sievert.
C‑Band mind games
Sievert, not unreasonably, thought AT&T and Verizon were positioning ahead of the upcoming auction of C‑Band (3.7GHz–4.2GHz) spectrum, which is planned to start on 8 December 2020.
The "spectrum screen" argument, which he thought a spurious one, was designed in Sievert's view to pressure the FCC into limiting TMUS bidding in what will be the "largest pool of new spectrum expected any time in the near future".
The TMUS CEO adopted a cautious tone on C‑Band spectrum when talking at a Goldman Sachs' investor event in mid‑September 2020. "We're interested, but what you can expect from us is what you've always seen from us: discipline. We're going to be focused on whether … there's a value", he said.
CBRS spectrum doesn't rock TMUS's boat
An auction of airwaves in the 3550MHz–3650MHz ('3.5GHz') frequency band, otherwise known as Citizens Broadband Radio Services (CBRS), failed to ignite much interest from TMUS.
Bidders shelled out a total of $4.5bn (€3.8bn), of which TMUS accounted for a comparatively modest $6m. This is not too much of a surprise, given that Neville Ray, President of Technology at TMUS, previously said that CBRS spectrum provided only "marginal opportunities" (Deutsche Telekomwatch, #90).
The biggest spender in the auction was Verizon ($1.9bn). AT&T kept its CBRS powder dry with no capital outlay.