Appointment shows growing affinity between telecom and automotive sectors.
DT, Daimler face common challenges on transformation journeys.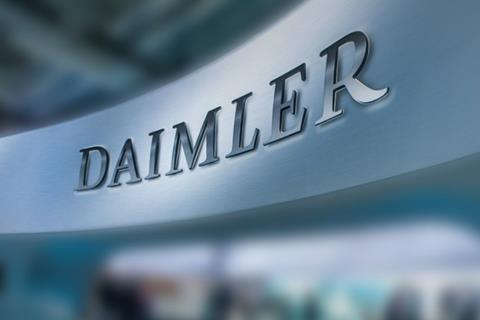 Deutsche Telekom (DT) Chief Executive (CEO) Timotheus Höttges was elected to the Supervisory Board of automotive manufacturer Daimler AG, indicating a growing affinity between the telecom and auto sectors in Germany.
Nominated by Daimler in February 2020, Höttges' appointment adds to his existing seats on the Supervisory Boards of football club FC Bayern München and consumer goods company Henkel (Deutsche Telekomwatch, #92).
In a LinkedIn post, Höttges wrote that he will bring his experience in digitisation and networking to the board, but that he also expects to learn from Daimler for the benefit of DT as well. He noted that the carmaker "stands for strong brands with tradition, for internationality, and high quality in products and processes".
The two companies have strong ties: Daimler is a frequent Group partner and major customer of DT's, and T-Systems was created with the acquisition of debis Systemhaus AG from Daimler back in 2000.
DT, Daimler on similar journeys
Beyond the obvious points of intersection between telecom and automotive, such as 4G/5G private networks, autonomous vehicles, connected-cars, the Internet of Things, Industry 4.0, and smart factories, the two sectors have common challenges as they are both in periods of transformation and dogged by disruption. Auto manufacturers face disruption on multiple fronts, including the softwar-isation of vehicles, production automation, and the shift to more environmentally friendly vehicles.
The shared challenges were evident in a Daimler podcast published in February 2020, in which Höttges interviewed Daimler CEO Ola Källenius. In their discussion, Källenius used terminology to describe Daimler's business challenges and strategy that is remarkably familiar to the telecom sector. He said Daimler was having to "migrate from the legacy world," and having to "detach hardware from software, develop an operating system for the whole car", and create applications to run on it. He noted that the company had decided to "go free open source software on this." Källenius also discussed the importance of engaging "with the wider community".
A quick look at the work DT is doing with open source software and communities like the O-RAN Alliance, Telecom Infra Project, and ETSI's Zero touch network and Service Management Industry Specification Group instantly shows similarities between the two companies when it comes to software transformation (Deutsche Telekomwatch, #92, #93, and #94).
For both companies, it is not just the products that are radically changing, but how they are produced as well. Källenius noted that, with the shift to in-house software development, Daimler will become more "vertically integrated" than the "master integrator" that it is today.
Höttges has long felt a kind of kinship with the auto sector (Deutsche Telekomwatch, #41) and views the manufacturers as role models in modern production. Höttges has pointed to the "modelised" production techniques from Japan in the 1990s as something that DT could imitate, that is, "producing cars in a different manner, in a very, very standardised way, but differentiating in the way [they brought] products to customers".
DT has also appeared to emulate auto industry concepts such as 'design-to-cost', as it seeks to influence and transform its supply chain with new suppliers (Deutsche Telekomwatch, #72 and #74).
Even at a geo-political level, DT and Daimler are both in the cross-hairs of the US–China trade war. China's ambassador to Germany has warned that a ban on Huawei Technologies' equipment may lead to reciprocal retaliation against the German auto sector (Deutsche Telekomwatch, #90).

Michelle Donegan is an experienced telecoms writer and has been contributing as a reporter and news analyst for TelcoTitans since July 2020.