Q2 FY20 first take: Super-sized by US growth and Sprint deal, Group now dwarfs European competitors in terms of sales, spend — and debt.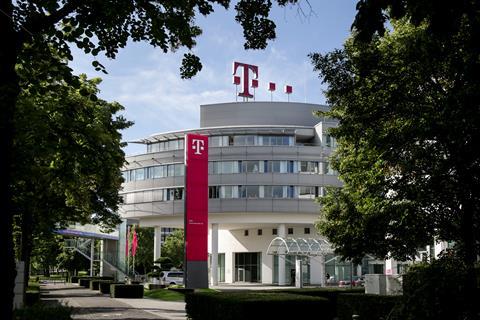 If you've got it, you might as well flaunt it. Deutsche Telekom's results for the quarter to 30 June 2020 (Q2 FY20) were published today, and the optics once again differed dramatically from those of its European rivals.
While DT's challenged regional peers have been withering away over recent years, with asset sell‑offs and footprint retrenchment, the German operator has been running a sustained and highly productive hypertrophy block, centred on the US and culminating in April's Sprint takeover.
DT has got lucky with the accidental retention of its US presence, after previous sale attempts to AT&T and Sprint shorted out — but has also been prepared to spend aggressively, to fuel growth stateside, and has studiously avoided the emerging markets expansion that is now coming back to bite key rivals Telefónica and Vodafone.
It used the results for Q2 — its first quarter since the Sprint deal — to put its gains on display. The inclusion of Sprint boosted DT's revenue by 37.5%, to €27bn (£24.4bn) — well beyond the combined sales base of Telefónica and Vodafone (€20.8bn). The acquisition also helped bolster core earnings after leases by 56.4%, and cash flow by 56.9%.
In the accompanying presentation, Group Chief Executive Timotheus Höttges called Q2 a "very special quarter", noting that DT is "now a €100bn turnover company". Both he and Chief Financial Officer Christian Illek repeatedly took opportunities to contrast DT's performance, footing, and strategy with that of Vodafone (or "the guys in Düsseldorf" as Illek described them).
Suppliers will note the enlarged DT invested more in terms of capital expenditure during Q2 (€4.5bn) than Vodafone did across the last six months for which it has provided figures (€4.4bn, to 31 March 2020).
Big-spending DT enters de-leveraging phase; Höttges could reach for famed cookie jar
The Group has an enlarged credit card balance, commensurate with its new status. A key facet of the T‑Mobile US–Sprint takeover was that DT — which has long sought to make its investment-heavy American business "self-funding" — could perform a hand‑off of US-related debt to the enlarged TMUS.
However, as the NatCo remains consolidated within DT, it is still the ultimate 'owner' of this US borrowing. As a result, the absorption of Sprint has pushed DT's net debt pile to a whopping €97.3bn excluding leases, up from €58.4bn at 30 June 2019. Including leases, DT put the "Sprint effect" on its net debt at €44.1bn.
This borrowing mountain again shows how closely DT's fortunes are now tied in with the successful execution of the Sprint integration effort, and the recently refreshed TMUS leadership team's ability to turn the American business into a major cash cow for DT over the course of the 2020s (Deutsche Telekomwatch, #73).
DT continues to stress confidence regarding the increased debt, saying it will be back in its leverage ratio "comfort zone" from year-three following the merger, as it works to bring down exposure. It also continues to emphasise that it has fund-raising levers to pull, if needed — including a long-mooted sale or flotation of T‑Mobile Netherlands (Deutsche Telekomwatch, #89), and sale, listing, or merger of GD Towers, its grouping of centralised tower assets covering Germany and the Netherlands (as well as, prospectively, Austria).
It continues to appear that rivals with much lower debt are under much higher pressure to improve their balance sheet.
European telecoms majors, market capitalisation, 13 August 2020
Group
Market capitalisation
Source: Yahoo Finance.

Deutsche Telekom

€76.2bn

Vodafone

€34.4bn

Orange

€26.7bn

Telefónica

€19.6bn
Relying on US
The addition of Sprint's figures for Q2 confirmed, if needed, that DT is now effectively an American-driven business, financially (although operated from Bonn, and it prefers to call itself "Trans-Atlantic"). For Q2, the USA contributed nearly two thirds of Group revenue (64%) and more than three times the sales of DT's home-market segment (€17.3bn, versus €5.4bn).
Nonetheless, for some time now, its European-based businesses have been improving their contribution. In Germany, Telekom Deutschland increased Q2 revenue by 1.1% and core earnings by 3%, despite the COVID‑19 crisis, and Group leadership continued to talk up the NatCo's revived commercial performance in the broadband market. Broadband net additions grew to 87,000 in the quarter, helped by the reduced churn telcos have seen amid movement restrictions, and a fightback by TDE against Vodafone Germany and other cablecos.
Höttges again used the broadband figures to deliver a 'told you so' on TDE's decision to invest in vectoring and super-vectoring, rather than shooting straight to full-fibre — noting that the latter option would have left many customers on low-bandwidth services during the crisis.
Where negative COVID‑19 impact was more evident was in tourism-focused markets such as Greece (where revenue dropped 3.9% in Q2) and at T‑Systems, where corporate clients have been cancelling or pushing back projects (as Illek had warned would be the case after Q1). T‑Sys' sales fell 3.8% and Illek indicated the Group was set to perform yet another "acceleration" of the unit's transformation programme, having only in July transferred its telecoms services operations to TDE.