Enterprise architect SaaS provider LeanIX reaches a total of $120m in funding after four rounds, with DTCP participating in the last three.
Goldman Sachs leads the latest.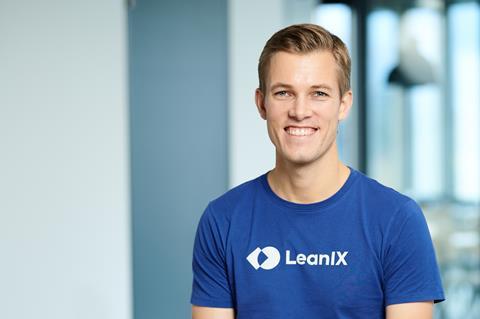 Deutsche Telekom Capital Partners participated in a Series‑D funding round for enterprise architecture software provider LeanIX. DTCP, Deutsche Telekom's investment management arm, has participated in each round for LeanIX since its Series‑B in 2017 (Deutsche Telekomwatch, #66).
The round, led by Goldman Sachs Growth, closed with $80m (£63.7m/€70.9m) invested, taking the provider's total funding to over $120m. LeanIX claims that the total is an "unprecedented record level in the EA [enterprise architecture] field". Details on the amounts each investor contributed were not revealed.
DTCP Partner Thomas Preuss said that the investment arm's participation in the round reflects the value of IT infrastructure transformation and a shift towards cloud and microservices for enterprise.
"With LeanIX's next-generation application portfolio management and cloud intelligence platform, the enterprise architecture company will be the single pane of glass for a modern IT infrastructure and application landscape, and will gain even higher importance in the coming years."

— Preuss.
Preuss and Michael Rager, DTCP Principal, sit on the LeanIX board. Other DT movers include former Group Head of Strategic Projects Christian Richter, who is now Senior Vice‑President of Customer Success at LeanIX, and Marion Richter, former DT Head of Customer Processes, now Director of Product Marketing at LeanIX.
Bonn, Germany‑based LeanIX was founded in 2012 by Chief Executive André Christ. It claims to have achieved 100% revenue growth in the year to 31 December 2019, and now claims to work with more than 300 enterprise clients — including Deutsche Telekom and Vodafone.
LeanIX expanded into the US after a Series‑C round in 2018, opening an office in Boston. Around 39% of its total sales are said to come from the USA, with 57% from European markets. In Europe, the past twelve months have seen offices spring up in Utrecht and Munich. The remaining sales presumably largely come from India, where it opened an office in the past year.
DTCP first took a stake in LeanIX in September 2017, leading the Series‑B funding round. The total amount DTCP has invested in the software‑as‑a‑aervice provider has not been revealed. In 2016, Preuss identified several "core" innovation areas DTCP would focus on, with LeanIX ticking several boxes.
LeanIX funding rounds to July 2020
Funding round
Total raised
(Lead) investors
Sources: Deutsche Telekomwatch, LeanIX.

Series‑A

March 2015

€2.2m

Capnamic Ventures
Iris Capital

Series‑B

July 2017

$7.5m

Capnamic Ventures
DTCP
Iris Capital

Series‑C

December 2018

$30m

Capnamic Ventures
DTCP
Insight Venture Partners
Iris Capital

Series‑D

July 2020

$80m

Goldman Sachs Growth
DTCP
Insight Partners