Open IoT Hub platform architecture is ready for lift-off in Q1 2021.
Launch marks new phase in DT IoT growth strategy.
DT IoT wants to work with more ecosystem partners in IoT Hub.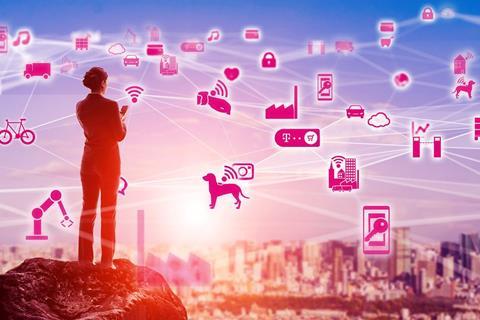 Rami Avidan, CEO of Deutsche Telekom's Internet of Things (IoT) business, confirmed it is on track to launch its open platform architecture, the IoT Hub, in the first quarter of 2021. The commercial availability of the IoT Hub will mark a milestone in Avidan's strategy for the newly independent Deutsche Telekom IoT GmbH (DT IoT).
First unveiled in early-May 2020, the IoT Hub has been in friendly customer trials since July 2020. Speaking to Deutsche Telekomwatch, Avidan said the feedback is "very, very good".
Avidan considers the IoT Hub to be the centrepiece of his strategy for the IoT business. "Our vision is to be the orchestrator within the IoT ecosystem", he said. "We build horizontally and go to market vertically".
That means DT builds the underlying infrastructure — i.e., the IoT Hub — and invites partners to create the vertical solutions, which either they, DT IoT, or other partners then sell to customers. The model is based on "co‑opetition" with players from across the IoT landscape, from hardware to cloud to systems integrators.
Avidan likened the essence of what DT is attempting to do with the IoT Hub to what Apple did with the App Store in terms of engaging the smartphone developer community.
" We have all these millions of devices out there and thousands and thousands of customers. We're engaging with a huge amount of different types of customer across the value chain. We should be able to attract the wide variety of ecosystem players to build suitable capabilities for those customers on top of our infrastructure. Together, those players create value for customers on top of the infrastructure. "

— Avidan.
To be the orchestrator for the IoT ecosystem requires two things: an appealing business model for partners and infrastructure to attract the IoT players, said Avidan.
Enticing partners to the Hub
DT IoT currently has more than 350 partners across areas including IoT devices, chipsets, wireless communications modules, wearables, and cloud services. Not all are part of IoT Hub, and DT IoT has not disclosed how many ecosystem partners have committed to the Hub.
Two recent examples of high-profile partners in the IoT ecosystem are Microsoft, with its recent seven-year strategic agreement with DT, and Amazon Web Services (AWS), which recently expanded collaboration with T‑Systems. DT IoT naturally works closely with T‑Systems as its preferred systems integrator (SI), while it also has other SI relationships.
What is the IoT Hub?
The objective of building the IoT Hub is to bring together all the pieces needed for IoT solutions and integrate them into a single infrastructure that makes it easier for customers to consume and manage the services. It is a modular approach that gives customers the flexibility to buy individual components and build their own systems, or buy 'plug-and-play', 'end-to-end' solutions while DT IoT orchestrates the solution components and customer platforms.
"This is not yet another IoT platform", said Avidan. "It's an infrastructure that allows interoperability between underlying capabilities, whether the capabilities are from Deutsche Telekom or external partners".
The components of the IoT Hub include connectivity, devices, sensors, cloud, and then the applications that are created to sit on top of the Hub.
"If you take any IoT use‑case in any industry, 70% of all those use‑cases require the same fundamental capabilities. The 30% is where you have to start individualising the solution for specific use cases. What we're doing now is basically building that 70% that goes across all use‑cases. That is where Deutsche Telekom is investing", Avidan said.
One of the biggest problems for IoT customers is lack of interoperability, said Avidan — who has been in the IoT business for 20 years, long before it was even called IoT. "The IoT Hub aims to pre‑integrate and create interoperability between a wide variety of systems so that the customers can actually focus on driving the real value out of deploying IoT solutions", he said.
The IoT Hub appears key to Avidan's growth plans for the predominantly connectivity business. In a rough breakdown of DT IoT revenue, 70% is from connectivity, which Avidan said is growing at 15%–20% annually, outperforming the global market (which he said was growing at 13%–15%). The remaining 30% is from "solutions, hardware, and enabling capabilities". "That's a high growth area for us. We're putting more emphasis on that going forward", he said.

Michelle Donegan is an experienced telecoms writer and has been contributing as a reporter and news analyst for TelcoTitans since July 2020.