The long‑mooted Cell Broadcast warning system gets preliminary greenlight from German government in response to apparent vulnerabilities exposed during July's flash floods.
Deutsche Telekom already has its hand up as a bidder for any government tender for the infrastructure project, worth an estimated €40m.
O2, Telekom Deutschland, and Vodafone all impacted by the floods, with varied preparedness levels and lessons to be learnt.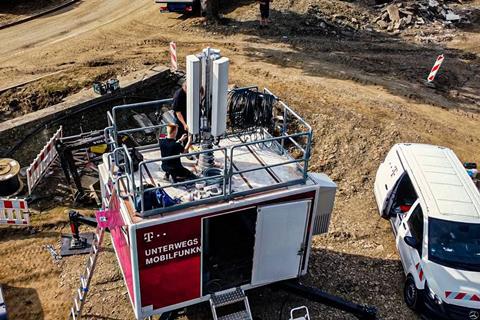 The German government proposed an amendment to the Telekommunikationsgesetz (Telecommunications Act/TKG) that paves the way for Cell Broadcast, a message‑based emergency alert system.
Discussions around the implementation of Cell Broadcast have intensified after the July 2021 floods that hit Germany and other parts of central Europe, which showed the need for improvements to existing emergency warning systems. In the immediate aftermath, Deutsche Telekom flagged its desire to participate in a federal government tender for the development of any future alert system, should one be launched.
" Cell Broadcast, i.e. the alert via SMS, must be part of the warning system. We can set up the system. "

— Timotheus Höttges, Chief Executive at Deutsche Telekom.
With the parliamentary motion, it appears that that tender may well be launched in the near future. Der Spiegel reported that the government is targeting an "autumn 2022" launch, with an estimated investment of €40m (£34m) to launch the service.
Cell Broadcast was brought into the conversation in Germany after Interior Minister Horst Seehofer was blamed for failing to sufficiently warn people of the incoming threat, despite having received warnings from the EU's own alert service, EFAS, five days before the floods hit. In response to criticism, Seehofer said that warnings had been issued to Germany's states, and it was decision makers at a local level who should be held accountable. Extant flood warning systems had functioned as intended, he claimed, with 150 alerts sent to local authorities. He added that improvements to reporting and communications channels would be investigated, with Cell Broadcast among the concepts on the table.
Cell Broadcast has its problems, too
The idea of an early‑warning system has been around for some time in Germany, but Deutsche Telekom itself has noted potential barriers, including cost, security concerns, and ensuring warnings are delivered in a targeted manner. Speaking during the Group's earnings call for the second quarter to 30 June 2021 (Q2 FY21), however, Höttges reiterated his interest in developing the technology.
" Throughout the coronavirus pandemic, [the Deutsche Telekom network] has proved to be stable and resilient in times of crisis, but it can do so much more. For example, we could use our mobile network to warn people about imminent natural disasters. "

— Höttges.
Cell Broadcast works on a similar concept to systems already in use in Japan, New Zealand, and the USA, and the UK is currently trialling its own iteration. It is worth noting that an equivalent system in Canada has been in place since 2009, yet, in the lead up to and during the July 2021 heatwave and wildfires that killed hundreds in the country, officials in British Columbia opted against using the so‑called Alert Ready direct‑to‑device warning system. Critics there have said that successful implementation of the system would require greater investment and broader criteria to trigger its use.
Telcos counting climate costs
The proposed TKG amendment comes as network operators continue their post‑flood infrastructure re‑builds. Power supplies were cut off by floodwater, leading to interruptions to mobile services, while some areas' entire fixed network infrastructure was washed away. Mobile networks were restored to "normal" standards in all areas within two weeks, Deutsche Telekom said. Fixed networks have proved more challenging to restore and, in a mid‑August update, the operator warned that complete re‑builds were needed in some of the worst‑affected areas.
Höttges estimated that the floods will cost the operator "more than €100m", but highlighted that "we have insurance cover".
Increasingly volatile climates are a global issue and, given the reliance on telecoms infrastructure, all mobile network operators regardless of footprint are likely to require an increased spend on network resilience and emergency response systems. In some countries more susceptible to natural disasters, investment has been ongoing for several years.
Australia: following wildfires in late‑2019 and early‑2020, the Australian government commissioned a report into the impact on the telecoms industry. Some 77% of base stations, cables, and exchanges in affected areas faced outages, with the average length of outages sitting at more than three days. Showing similarities to the clean‑up job facing German MNOs, Australia's operators' primary challenge was electrical outages, rather than direct impact of the natural disaster. At the time, Vodafone Hutchison Australia (since merged with TPG to become TPG Telecom) offered financial assistance and free portable Wi‑Fi modems to affected customers.
Colombia: after Hurricane Iota, which made landfall in Colombia in November 2020, Telefónica Colombia reported that 98% of infrastructure on the island of Providencia was "devastated", with significant but lesser damage also experienced on nearby islands. Telefónica Colombia claimed to be the first operator to re‑establish communications on Providencia eight days after the hurricane hit, primarily via temporary 3G mobile cell sites. The operator then actioned a plan to "modernise" the archipelago's mobile services infrastructure, and installed new LTE radio bases.
Japan: Japanese MNOs have established an emergency SSID, allowing regional roaming regardless of subscription, but with mixed results. This has been utilised on a number of occasions, including in 2018 and 2019's earthquakes and floods. During a 2018 earthquake, however, the system was rendered unusable given electrical outages, and more recent warnings from regulators have raised questions about the cybersecurity of such systems.
USA: in the USA, where extreme weather events have become a regular occurrence, MNOs have adapted. T‑Mobile US has dedicated emergency response units including Emergency Operation Center RVs; Mobile Command Centers with on‑board satellite communication, showers, and beds; and a fleet of Cell on Wheels vehicles that provides network connectivity in hard‑to‑reach places. In times of emergency, T‑Mobile has previously partnered with AT&T to provide local roaming, allowing customers of either operator to use whichever network is available — a provision notably utilised in the aftermath of Hurricane Sandy in 2012. Despite these precautions, in 2017 T‑Mobile detailed the financial damage caused by the hurricane season: €250m in lost revenue, destruction, and damage to assets (Deutsche Telekomwatch, #71).
Following Sandy, the Federal Communications Commission sought to establish lessons learnt among the telecoms industry (Deutsche Telekomwatch, #15 and #18). Among the things to have come out of those hearings was a 2016 Wireless Resiliency Cooperative Framework, which urged operators to promote resilient communications networks during disasters. It sets out an understanding for mutual aid, "reasonable roaming" where technically feasible, and enhanced local awareness of best practices. T‑Mobile, AT&T, and Verizon are among the signatories.
UK: BT lists flooding and heatwaves among its "main physical risks". The UK operator points to its full‑fibre rollout as something that will boost resilience, saying it requires fewer physical network sites and therefore cuts "our overall exposure to climate change risks". BT added that its flood defence programme, which has built protection at 19 "high‑risk locations", will have cost £6m once completed in 2022. In defence against increased risk of high temperatures, BT is upgrading its cooling systems at a cost of £119m. It also operates an Emergency Response Team complete with a fleet of off‑road vehicles with on‑board mobile cell sites.

Joseph Purnell is a Staff Reporter for TelcoTitans, contributing telecoms news analysis since 2019 as part of the TelcoTitans Editorial team.