Opening of the TEAC shows BT embracing a more dynamic approach to identifying disruptive technology, recognising the convergence of telecoms and IT.
Startups in the fields of IoT, open networking, and quantum security selected as winners of the six‑month innovation search.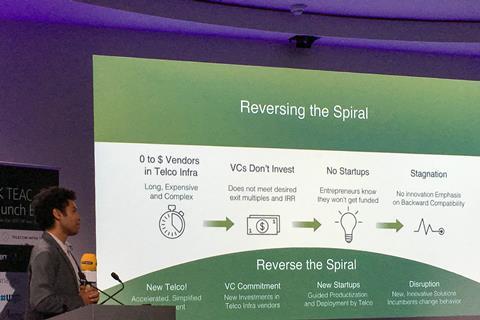 BT promoted its role within the Facebook-led Telecom Infra Project (TIP) by hosting an event to launch its TIP Ecosystem Acceleration Centre (TEAC, BTwatch, #284).
The TEAC launch event, at BT Tower, London, in late-September 2017, featured a judging panel to select two to four inaugural startups from six finalists drawn from a competition opened in spring 2017. While the judging could not be described as rigorous or akin to a Dragon's Den‑style grilling, the pitches were interesting both in themselves and as a cohort. Each candidate had been put forward by a BT executive, and was subject to varying degrees of probing or encouragement from the BT-dominated panel charged with the selection decision. All candidates were given a strict ten minutes for their 'pitch' and a flexible five minutes for judges' questions.
The judges were:
Mansoor Hanif: Director of Converged Networks, BT.
Adrian Smith: Network Architect, BT.
Josie Smith: Chief IT Architect, BT.
Tim Whitley: Managing Director, Research and Innovation, BT.
Leland Lai: TIP Executive Director.
Yael Maguire: Vice-President for Connectivity, Facebook.
Axel Clauberg: TIP Chairman. Also Vice-President for Transport & IP, Deutsche Telekom (DT).
The startups were varied in scale and maturity, with some pitches fairly slick and assured, and others awkward, but presentational performance did not appear a decisive factor.
Interestingly, all three winners are domestic (and the others not), and thus potentially more manageable in terms of proximity as well as immediate scale and ambition (the others were more obviously angled for hyper-growth). This could be seen as best meeting specific BT and UK TEAC requirements, rather than TIP's more grandiose global ambition.
Other recurring threads were earlier UK and European public funding, involvement of the University of Bristol, and drones.
BT TIP Ecosystem Acceleration Centre UK launch event finalists and winners, September 2017

Finalist

(winner)

Proposition

Details

Source: BTwatch.

1.) Aparna
Systems

California,
USA

Integrated, converged 'cloud in a [white] box'.

Presented as "Workload Agile Open Software" for telcos, enterprises and cloud service providers.

Telco use‑cases such as network function virtualisation (NFV), edge content distribution networks (CDN), and cloud services.

Projected reduction of up to 40% for capital expenditure (capex), and 80% for both power and rack space.

Proofs of concepts include BT (CORD, October–December 2017) and Vodafone

(with Jolata, October 2016). Also aligned with BT NFV research, cloud services, and enterprise solutions (both for hybrid cloud, and infrastructure-/platform-as-a-service), and BT Wholesale

& Ventures (edge CDN, NFV, cloud service slicing).

Team of eleven. Raised around $10m (£7.6m) to date.

2.) KETS
Quantum (winner)

Bristol,
UK

Integrated optical hardware for quantum-secured communication.

Offering 'post-quantum' encrypted securing of critical infrastructure command and control, e.g. for networks and drones.

Pitched as essential for a looming (post-quantum) future when the arrival of quantum computing has made all current-generation encryption technology redundant.

Roadmap currently focused on development of electro‑optical modulator (EOM) quantum key distribution (QKD

), to be followed as the business matures and scales by packaged offerings, small form-factor pluggable QKD, and quantum random number generation (QRNG). The photonics are claimed to be developed, with focus now on electrical engineering, such as for quantum-secured networked switches.

At this stage, range could be restricted to around 150 kilometres (or 20 kilometres at 1Mps, including for orchestration, where radio area network is said to be an opportunity).

Activity with DT and Orange

(and Airbus

), as well as BT.

Appears to have relationships with fellow candidates Aparna, imVision, and Zeetta.

Rivals flagged as ADVA Optical Networking

, Cisco

, IDQ, Isara, NTT

, Post-Quantum, Quintessence Labs, RSA (Dell EMC)

, and Toshiba

(existing BT quantum partner). KETS claims to be unique in combining cost and hardware leadership with cutting-edge security technology. In the spirit of coopetition, ADVA and Cisco are also seen as customers.

University of Bristol spinout. Raised around £1.5m.

3.) Apstra

California,
USA

"Intent-based networking" to deliver "business agility with autonomous infrastructure".

Move beyond "the operating model of 20 years ago…"

Apstra

Operating System

pitched as closed loop, vendor-agnostic turnkey proposition for telcos. Claiming 50%–90% increase in infrastructure agility; 50%–80% reduction in outages; and 50%–90% cut in operating expenditure (opex).

Founded 2014. Backed by founder and billionaire David Cheriton (founder at Arista and Granite; early investor in Google

and VMware)

.

4.) imVision Technologies

Ramat Gam,
Israel

Service-aware network anomaly detection.

Utilising artificial intelligence to meet challenge of driving down network costs while maintaining customer experience and security.

Addresses security risks that arrive with a move to commercial off-the-shelf and open infrastructure approaches.

Claims edge in terms of very low mis-detection rate, short detection time, and actionable insights. Ten-plus detectors.

Roadmap ramps from hybrid network protection, through wholesale/enterprise proposition, to IoT-protection-as-a-service (including consumer). Cyber-hunting potential.

Vendor-agnostic. Competitors identified as Anodot, Darktrace

, illumio, Kentik, LightCyber, Loom Systems, Prelert, and Thetaray.

Founded 2014. Commercial deployments in Europe and Israel. Partnerships with Check Point, HPE, Intel,

Juniper. €6m (£5.4m) raised to date.

5.) Zeetta
Networks (winner)

Bristol,
UK

NetOS: "an open networking platform for smarter networks".

Addressing pain points of operational complexity (and cost), innovating new services, high capex and vendor lock‑in.

Disaggregated platform for end‑to‑end provisioning of services for large, complex, heterogeneous networks — controlled and orchestrated. Via single SDN controller.

Centralised, automated, and intent-based, abstracting technology and topology, standardising application and network interfaces (Ethernet

and optical). Virtualisation and orchestration also flagged — across access, core/metro, and data centre.

Employs white box hardware. Claims potential 50% reduction in capex, 30% saving in opex.

Rivals identified as network vendors (Arista, Cisco

, HPE, Juniper), telco vendors (Ericsson

, Huawei

, Nokia

), enterprise Wi‑Fi (Aruba/HPE, Meru/Fortinet, Ruckus/Arris), and SDN startups (Sedona, Tallac). IoT support presented as a unique differentiator, along with combination of vendor agnosticism, Ethernet

, and optical support.

Another University of Bristol spinout. Around £3m raised to date, plus £1.8m Innovate UK contract. Live municipal and enterprise deployments in Bristol. Worked with BT at a metro level. Also 5G hub testbeds and research with the EU'

s Horizon2020 project, including network intrusion and slicing use‑cases.

6.) Unmanned
Life (U-life, winner)

London,
UK

Autonomy-as-a-service.

Showcased around drones.

Meeting the management and reliability challenges of the complexity that comes with scaling an IoT deployment. Software-as-service revenue model combining setup and subscription fees, with channel and other go-to-market partners (industry vertical, direct sales, system integrator, etc.).

Use‑cases include smart city, logistics, telecoms infrastructure management, energy and utility surveillance.

Demonstration at BT's Innovation Week 2017. Also worked together on an industrial use‑case.

Founded in 2015, raised $1.1m to date. Headcount of eleven. Revenue-generating. Numerous partial, but none comprehensive, rivals identified.
Facebook front-runs with aspirational vision for telecoms transformation…
Aside from the judging, the day included keynote sessions with Howard Watson, Chief Executive of BT Technology, Service & Operations (TSO), and Maguire, as well as a panel featuring Clauberg; Hanif; Min-Sik Jun, Network Infrastructure Sourcing at Facebook; and Matt Penneycard, Head of investment fund Downing Ventures. Clauberg and Jun were previously colleagues at Cisco.
Facebook's Maguire presented Facebook's vision for TIP as a force for good, to "connect the last billion", including its contributions to the Open Cellular and Voyager reference designs, network planning innovation, and support for TEACs. He emphasised that "connectivity starts with fibre", as well focusing on Facebook's Terragraph Millimetre Wave (mmWave) mesh network project, which is set to use street furniture to provide blanket Wi‑Fi coverage in urban areas. Reinforced subsequently by Penneycard, Maguire positioned TEACS as 'reversing the spiral', whereby telco infrastructure innovation has stagnated because of an absence of startups that have been deterred by a funding drought caused by the sector's long, expensive, and complex development cycles.
Somewhat extreme and self-serving, this picture ignores a reality where startups are not rare, telcos are already significant venture investors (and working to lessen the risk of carelessly squashing startups), and telco and IT are rapidly converging around programmable networks. More accurately, telco is just not sexy at the infrastructure level, and it remains to be seen whether TIP and TEACs will help change this.
… BT more pragmatic, but showing signs of change in a digital world
Watson's presentation lacked the polish and visuals of Maguire, but was engaging in its own way, suggesting possible steps by BT towards adopting the savvier approach of US and other peers to exploit public utterances as agenda-defining whole-of-business pitches, rather than isolated (and too often contradictory) daytrips.
He highlighted the challenge of meeting video-led data demand growing at 50% annually, and related 'scale programmes', as well as the TSO angle that BT is the UK's technology champion. Tying into TIP, he observed that large-scale telcos and vendors simply do not have all the answers. This view was later echoed by Hanif who said he always looked first to established suppliers, but could then find himself obliged to look elsewhere (for example, with rural access solutions, where startups are already being courted; BTwatch, #276, and #287). Similarly, DT's Clauberg said the German telco was still driving innovation with existing suppliers, but that this had slowed, with the industry struggling to compete for new talent.
BT to big vendors: 'you snooze, you lose'
When asked by BTwatch what message to give 'monolith' incumbent vendors regarding TIP, he answered obliquely, "if you're asleep for too long, you risk missing out".
Challenges highlighted for BT include keeping pace with customers, capital intensity, pushing content to the network edge, new generations of technology (e.g. 5G), and giving sufficient attention to new economic models.
Watson also referenced BT's technology Scout network, which is seeking out new technologies and has presence heavily weighted towards Silicon Valley (but also covering the UK, Europe, Israel, and elsewhere).
Local government endorsement brings day to a low‑energy close
The day ended in BT Tower's revolving restaurant, with the winners announcement and a lacklustre speech by Theo Blackwell, the new Chief Digital Officer for the Mayor of London.
Around 50 attended the event, with the group encompassing TIP participants (including Orange; SK Telecom was a no-show due to travel disruption), academic partners (Cambridge, Strathclyde, and others), as well as industry analysts. Unsurprisingly, BT's Martlesham Labs was well represented, including specialists and Scouts. The day was hosted by Darren Lewis, Principal Innovation Consultant at BT.