An all-IP network is edging closer with trials underway expected to lead to the shutdown of legacy services.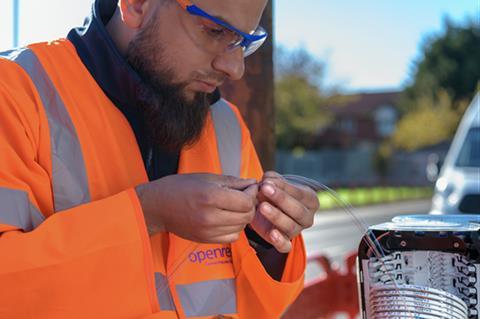 Openreach has outlined a pair of trials and a slew of experimental activities, as it steps up the urgency of building out 'full fibre' and readies itself – and its communication provider (CP) partners – for the move to an all-digital infrastructure.
Two trials are proposed from September 2019 in preparation for upgrading the national access network, in Salisbury (Wiltshire) and Mildenhall (Suffolk). Both are intended to complete by 5 December 2022, with all access products migrated and legacy WLR offerings withdrawn.
Openreach will work with its parent, BT, as well as other CPs, to find ways to ease the migration.
A consultation will run until 31 July 2019, after which Openreach will confirm details with the industry.
"These trials are the natural next step on our journey to help the Government deliver a future-proofed, fully-fibred UK. We're going to continue working closely and openly across the industry and we're determined to make the upgrade to FTTP as smooth and seamless and beneficial as possible for every customer. "

– Richard Allwood, Chief Strategy Officer, Openreach.
Both locations are presented as being 'representative', in terms of their mix of CPs, end-customers, and 'additional factors'. Whether coincidentally, Mildenhall is close to BT's prime R&D facility (and interconnected supplier campus) at Martlesham.
Openreach is juggling two major migration projects: closure of the legacy Public Switched Telephone Network in December 2025, with related transition to fully-digital all-IP Voice services; and, subject to 'the right regulatory and policy conditions', fibre-to-the-premises (FTTP) deployment to four million premises by March 2021, rising to 15 million as a 'medium-term ambition'. The increasingly collaborative and communicative Openreach is positioning industry agreement on approaches to migration and FTTP-build as being critical to tackling a 'complex undertaking that will require careful planning and management across the industry', and it is flagging critical national infrastructure (CNI), vulnerable users, and non-standard connections (such as traffic lights, bus stops) among major considerations. Openreach has indicated that it does not intend to directly offer voice-only services post-2025 (they will be available via a broadband connection, and via CPs own offerings).
Shuttering the PSTN is said to affect 16 million Wholesale Line Rental (WLR) lines and channels and over – encompassing WLR3, ISDN, unbundled 'metallic path', and Classic products – making it a major consideration for over 400 of Openreach's CP customers. In December 2018, Openreach issued a five-year Stop Sell notification that will cease availability of WLR products from September 2023, to be followed by an 'orphaned assets' phase commencing April 2025, and WLR withdrawal at the end of that year.
Openreach is developing successors to WLR products with SOGEA/SOGFAST (Single Order Generic Ethernet Access and G.fast variants, both launching October 2019), and SOTAP (Single Order Transitional Access Product – Swansea Play Pen test and trials in 2020, Mildenhall pilot and September national launch in 2021), including broadband-only, voice-only (low-bandwidth), and non-standard variants. SOGEA is described as a "'Fibre Broadband' line without the voice service", based on fibre-to-the-cabinet and with indicative speed of up to 80Mbps (and specification to be agreed with the industry). G.fast-based broadband product SOGFAST (also known as SOGFast and SOG.fast) is positioned as a 'critical component' of Openreach's 'ultrafast' strategy (300Mbps-plus potential download speed). SOTAP is intended to enable CPs to continue utilising existing unbundled exchange equipment, including provision of ADSL (and IP voice) services, via non-FTTP connections (typically copper). Openreach has flagged a possible need to 'work with CPs to understand the options for end-customers if SOTAP will not support a broadband capability required to provide a voice-only service'. These new products will complement GEA-FTTC (Generic Ethernet Access Fibre-to-the-Cabinet), GEA-FTTP (Generic Ethernet Access Fibre-to-the-Premises – 'full-fibre' potentially able to support 1Gbps download), Ethernet (high-bandwidth, point-to-point) and MPF (Metallic Path Facility, where traffic is managed through the CP's own core network) access offerings. There also continue to be hints of possible fixed-wireless and mobile access connectivity options.
Salisbury was likely the natural choice for the FTTP exchange upgrade trial, as it is set to be the first UK city to gain universal access to Openreach's FTTP services. It is deemed a mid-size city (population c. 50,000), largely served by a single exchange, and is an Openreach Handover Point (OHP).
Mildenhall is considered 'reasonable size' (8,000-10,000 lines, and with a similar population), with a mix of business, consumers, and exceptions (such as pair gain and Exchange Only line edge cases, long and low-speed lines, EvoTAM or LLU TAM, CNI presence, and non-standard connections). It is not an OHP (located at Newmarket). The trial in Mildenhall will focus on migration from analogue telephony (WLR) to Single Order products.
Openreach FTTP and Single Order exchange upgrade trials, milestones
Salisbury
(FTTP exchange upgrade trial)

Mildenhall


(Single Order exchange upgrade trial)
Sources: BTwatch; Openreach.

2019

Commercial deployment of SOGEA and SOGFAST products (currently in trial).

September 2019

Trials start.

Achieve '75% build trigger point' for GEA‑FTTP or SOGFAST.

WLR legacy products Stop Sell notification for enabled premises.

October 2019

Voluntary GEA‑FTTP migrations commence.

Voluntary migrations commence.

January 2020

All new sites FTTP.

WLR Stop Sell notification.

All new sites GEA-FTTP or SOGEA/SOGFAST.

September 2020

WLR Stop Sell in force.

New low-speed fibre product to be introduced (SOGEA, presumably).

January 2021

SOTAP pilot starts.

WLR Stop Sell in force.

2021 (second quarter)

Non-standard fibre products to be introduced.

January 2022

'Orphaned asset migration' starts.

5 December 2022

Withdrawal of stopped products in trial areas for supported premises.

Trials end.

Previous Openreach consultations feed into the latest proposals, particularly the May 2018 exercise looking at withdrawal of WLR products and transition to IP voice, and the March 2019 consideration of implications from upgrading exchanges to digital infrastructure (BTwatch, #303). Openreach's roundup and thoughts from the latter were released simultaneously with the latest consultation.
"Both of these consultations and the subsequent feedback from CPs demonstrate that there is potentially significant risk to end-customers resulting from the volume of migrations that will need to take place between now and 2025 if both Openreach and CPs do not fully prepare and manage all migration scenarios. "

– Openreach Industry Consultation, June 2019.
The objectives across both trials, aside from identifying the best approaches and processes, and taking learning into the at-scale national programme, are given as including confirming the efficacy of:
Customer experience (presumably, CPs').
Product Stop Sell capability (WLR).
Migration processes, management, and support.
Timescales for project milestones.
Communications with CPs and end-customers, and also collaboration with CPs regarding migration planning.
Meeting needs of all customer segments, including edge cases.
Migrating all end-customers by end of each trial.
For Salisbury, success criteria also include the proportion of premises built with GEA-FTTP and SOGFAST (target: 100%); 'build' and other specific communication; and remedies for 'hard-to-reach' premises.
Key points from Consultation document
All existing connections in the trial areas will be affected, with the actual migration approaches still needing to be developed, tested, and optimised, including for 'edge cases', along with creation of the required processes and systems (possibly supporting bulk migration).
In both trials, migration options are one of GEA-FTTP or SOGEA/SOGFAST (or Ethernet for WLR ISDN customers). Mildenhall will have the additional option of the SOTAP WLR-replacement (and, for the trials, MPF-substitute). Once a premise is fibre-enabled, there will also be a SOGEA/SOGFAST to GEA-FTTP migration option. In Salisbury, GEA-FTTP is expected to be the primary product, but SOGFAST might be offered initially (with SOGEA also available), but SOTAP will not be available. Roll-back processes will be agreed for instances where a migration fails and needs to be investigated.
The Mildenhall timeline is affected by the need to wait for the new SOTAP product, and with SOGFAST availability is expected to follow SOGEA (subject to G.fast rollout).
Openreach emphasised that CPs must be proactively involved, including in adopting new products and migrating end-users to new consumer premises equipment, and flagging exceptional requirements and end-customers (including the vulnerable and CNI).
CPs are pushing for clarification of portfolio and end-customer 'migration journeys', and Openreach appears generally to be accepting that it needs to provide 'better quality information', and to work with CPs to tailor communication to different customer segments. Dialogue Services and Technology Markers will be used for wider and premise-level communication, but there appears agreement from Openreach that it needs to do more and better in working with CPs.
Openreach repeatedly stressed the importance of effective communication and collaboration, both between itself and its CP customers (and other key industry stakeholders), and with end-customers. It is towards these ends that these two major, fast-tracked trials are being framed and for which 'broad support from CPs' is claimed.
Openreach presents the trials as a way both to address feedback from CPs, and to meet the 2025 migration target, and considers it 'important' to start as soon as possible in order to maximise learnings ahead of larger-scale migrations.
As an exchange that is not an OPP, Mildenhall is seen as presenting CPs with opportunity to better understand cost-savings available from equipment rationalisation (decommissioning) and interconnect consolidation, for instances where MPF is no longer required.
While aiming to replicate the national picture through 2025 as closely as possible (including customer journeys, network, and maximum FTTP deployment), withdrawal of WLR will be fast-tracked within the trials. CPs flagged this latter aspect as a concern, particularly in relation to use cases that are national in scope or non-standard (or on long-term contracts). Openreach is considering providing CPs with 'commercial support', and will permit novation and consolidation of end-customer assets during the trials.
Openreach is seeking inputs from CPs to help guide creation of a new, industry-wide Special Services testing facility, 'to smooth transition [of non-standard services, such as security alarms, lift phones, health pendants, EPOS] to alternative services'.
While not a WLR product, Stop Sell is considered 'in scope' for MPF (as non-fibre) within the Salisbury FTTP exchange upgrade trial. In order to maximise learnings (particularly around migration to 'future strategic products such as SOGEA that will make up the volume of migrations as we move towards 2025'), MPF Stop Sell is also proposed for inclusion in the Mildenhall Single Order exchange upgrade trial for instances where fibre alternatives are available.
Openreach utilises WLR3 products for its own internal monitoring, migration of which will be included within the trials.
In the final phase of each trial, lines that have not been migrated to an available new product will be deemed 'orphaned', with the ultimate sanction being cessation.
Salisbury: radar and microducting efficiencies
Openreach is using ground-penetrating radar technology in Salisbury to speed deployment, including helping to navigate assets from other utilities buried under pavements.
"This is the first location in the UK where we're aiming to upgrade an entire city network in a single year, so it's a hugely ambitious project, but being able to use time and cost-saving innovations like radar and microducting, combined with the unrivalled experience and skill of our engineering teams, means that we can have more confidence that it's achievable.

Microducting allows our teams to install new cables much more quickly, up to 300 metres each day. The technique is also less disruptive for local residents, reducing the amount of building work – road works and all the associated disruption – by about 50%, and it also uses fewer resources, so it helps to reduce our costs and build times. "

– Andy Whale, Chief Engineer, Openreach.