FTTP expansion to more than 200 rural locations.
More cost-efficient fibre-laying techniques give business‑case boost.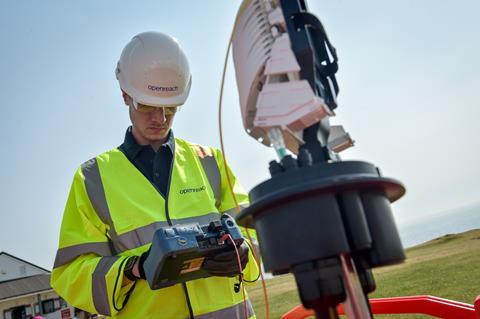 Openreach said it was expanding full‑fibre rollout to an additional 250,000 homes and businesses in more than 200 market towns and villages. Advances in fibre-laying technology, and learnings from recent "intensive trials" in more than 13 rural communities (BTwatch, #308), have apparently made it possible to reach areas previously considered too complex or expensive to upgrade.
Ground-penetrating radar and diamond cutters — a giant rotating blade that can purportedly slice through roads and pavements, and reduce the time it takes to deploy fibre cables "by months" — were among the novel techniques and tools that Openreach put through their paces. Also of interest is a Geo Ripper device, which features a chainsaw blade and is used for digging trenches across soft ground such as fields; a Ditch Witch that carves narrow trenches into soft ground and allows for deployment of small fibre cables of up to 150 metres; and drones that fly fibre across rivers and valleys. About half of Openreach's FTTP rollout is expected to be delivered at the "lower end" of its £300–£400 per-premise cost range. However, deployment costs in hard‑to-reach rural areas can reach up to £4,000.
Openreach acknowledged that the new equipment has helped to reduce rollout costs, but said alternatives such as wireless solutions are still more economically viable to deploy in some remote areas.
Naturally, Openreach used the announcement to trumpet its commitment to bridging digital divides. "At Openreach, we've never been just a city fibre builder", insisted Kim Mears, Managing Director of Strategic Infrastructure Development. In familiar Openreach fashion, Mears linked full-fibre rural investment to "economic growth and prosperity" in the UK.
Number crunching
Rural expansion of fibre‑to‑the‑premise (FTTP) links makes little material difference to Openreach's headline plan to pass four million homes and businesses with full fibre by 31 March 2021, as far as BTwatch can determine. When BT announced its financial results for the quarter to 31 December 2019 (Q3 FY19–20), Openreach said it had crossed the halfway mark in meeting the four million-target. It said the pace with which it was adding FTTP connections had also increased, up from 13,000 premises-a-week in January 2019, to 26,000. Openreach claims to have reached 2.156 million FTTP connections at the end of Q3, but there have been suggestions that this figure includes premises where fibre has been laid but is still awaiting final checks before achieving 'live' status (and so is available for order).
Show me the money (and business rate exemptions)
Overall, Openreach aims to connect 15 million premises with full fibre by the "mid‑2020s", but has repeatedly warned that meeting this target will require government subsidies.
Clive Selley, Chief Executive (CEO) of Openreach, said the "right investment conditions" were needed to hit this increasingly politicised target. In prepared comments issued in parallel with the rural expansion announcement, Selley raised once more the troubling industry topic of business rates. "Currently, the biggest missing piece of this puzzle is getting an exemption from business rates on building fibre cables, which is critical for any fibre builder's long-term investment case", he said.
Since new valuations of property used for commercial purposes were introduced in April 2017, network operators in the UK have been petitioning for an exemption to what are known as Cumulo Rates, which are applied for sites used for the provision of fibre infrastructure. The industry has collectively labelled the charges a "fibre tax".
Philip Jansen, CEO of BT, recently regaled journalists about what he thought the benefits might be from business rate reform (BTwatch, #309). In BT's media briefing on the Q3 results, Jansen said a rules revamp could see "millions more homes" passed with fibre. Speaking to analysts, Jansen was perhaps even more blunt on the equation involved in assessing the impact of business rates on BT and Openreach rollout plans.
Let's simplify it. Cumulo Rates [cost] £1bn. That is three million homes. It's that simple. If the government is really, really keen to make [fibre rollout] a national mission, £1bn equals three million homes. I mean, just make a decision. "

— Jansen.
One proposal floated by BT is an extension to "holiday" exemptions on business rates, from five years to 20. Jansen was apparently hopeful that measures of this sort could be included in the next UK government budget (due to be delivered on 11 March 2020).
Matthew Howett, founder of research group Assembly, sided with Openreach and other communications providers over their business rate frustrations. "It's a barrier that the whole industry is behind removing. Currently, in England, the exemption only lasts for five years, and ten years in Scotland. But for operators, the business case for rolling out fibre is over a much longer period, often over 15 years", he said.