CEO Clive Selley on fibre build: phase one is "done"; now onto "selling and populating" stage.
Bullish Business Briefing shows Openreach determined to establish its 'fibre franchise' as a marketplace while rivals strive for scale.
Build process moving towards cruise control with Openreach cornering the market in skills.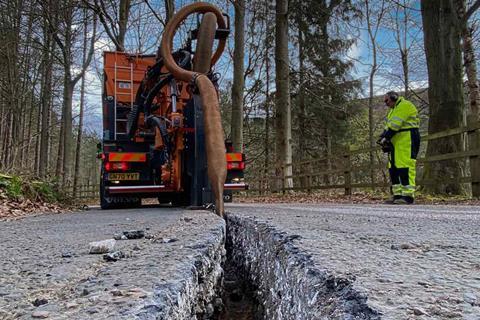 Openreach, confident of its strength in fibre build, is now focused on "phase two" of its fibre-to-the-premises programme: provisioning. Speaking at Openreach's Business Briefing, Chief Executive Clive Selley said the "learning phase" is over, and the second, "scaling" stage is underway.
Openreach is moving faster than its fibre altnet competitors, with Selley talking of a "massive push" on fibre sales and provisioning alongside the scaled up, industrialised rollout. Openreach can be seen taking aggressive steps to choke the supply of rival builders, with Selley promising that "in the time it takes for others to build their networks, we will have built — and populated — ours".
" There is much focus on fibre build in the media, and of course that matters. It's a race to build a fibre platform. But there is another race: a race to bring customers to that fibre platform. And in truth, that's the race that matters the most. "

Selley.
Olly Kunc, Managing Director, Service Delivery, echoed Group CEO Philip Jansen's recent war cry in claiming the shifted focus to the second phase means "we're starting to provision like fury".
Openreach currently has 1.4 million customers on its FTTP platform, and notched 18,000 weekly net additions in mid-November. Selley outlined plans to hit 40,000 per week, and although an estimated date nor cost for that feat was offered, he pointed to the Equinox pricing package as something that will "ensure" Openreach has "many millions of UK customers" on its full-fibre platform by the end of 2026. Equinox — developed by Katie Milligan, MD, Customer, Commercial, Propositions & Northern Ireland — has reportedly resulted in a 75% uplift in full-fibre orders compared with a year earlier, with 138,000 orders in its first six weeks, and weekly orders now surpassing 30,000. This jump is expected to feed through to new provisioning and net addition records.
Twelve communications providers have signed up to Equinox, including Openreach's five largest CPs, according to Milligan. She added that the five largest CPs account for "95% of our broadband sales each week".
Building blocks
Provisioning requires build, and Selley sought to paint this as something of a done deal thanks to two "key differentiators" brought about during the first phase of the fibre build programme. First, the recruitment and reskilling of an inhouse army of engineers, now 15,000-strong across build and provisioning; and second, the development of technological innovations achieved through research in other markets and experience gained over the past three years of build.
Openreach expects to peak at four million premises passed annually on its way to its December 2026 target of a 25 million-premise footprint. It has passed two million in FY21, taking its tally to 5.8 million premises passed.
This, as was repeated a number of times during the Briefing, leaves competition trailing in terms of scale. Richard Allwood, Chief Strategy Officer at the access services unit, said Openreach has twelve "large" fibre-building competitors, Virgin Media O2 and CityFibre chief among them, and a further 83 smaller challengers. Those competitors have passed a cumulative 5.4 million premises with their FTTP platforms.
" Phase one of the big fibre programme is done; it's behind us. We've proven that we scale in our build programme and that we can do in every geo-type. Urban, suburban, rural, ultra-rural, we can do it. "

Selley.
Beyond December 2026, although build will continue in the form of commercial infill and in "super-rural" areas, the run-rate will significantly decrease. BT Group CEO Philip Jansen previously suggested it could build out to "roughly 30 million" premises by around 2030. Selley claimed that 30% of the current FTTP platform was in "Area 3" regions — those deemed challenging enough to be commercially unviable. Openreach plans to pass 6.2 million rural premises by 2026.

Joseph Purnell is a Staff Reporter for TelcoTitans, contributing telecoms news analysis since 2019 as part of the TelcoTitans Editorial team.