Pandemic holds up plan to concertina down to 30 regional hubs, although some movement is expected in 2021.
HR Director recognises the need to maintain hybrid working practices even after the pandemic has subsided.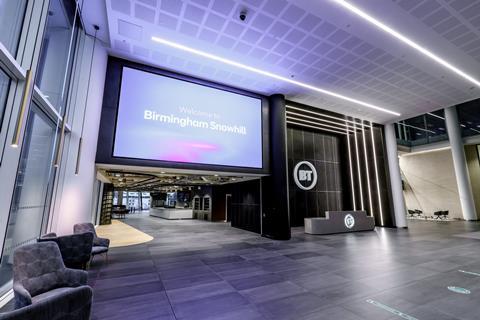 Alison Wilcox, Director of Human Resources at BT, confirmed that the coronavirus pandemic has brought logistical challenges to the implementation of the Group's Better Workplace programme, delaying the opening of new regional hubs.
In December 2020, BT said the first of the planned 30 hubs would be opened at the 17‑storey Three Snowhill building in Birmingham in early‑2021, and will eventually accommodate more than 3,000 staff. In an interview with Management Today, however, Wilcox said it had not proved possible to open the building on time because of lockdown measures, and indicated that other new buildings have been similarly affected.
She said BT is "still on course" to open its new headquarters in London later in 2021, with the Group's Manchester site also apparently well on track. BT is moving from its current headquarters to a new 320,000 square foot, 18‑storey building near Aldgate East Station next year.
The Better Workplace programme aims to consolidate around 300 premises into 30 strategic hubs by 2024. Cities hosting these hubs include Bangor, Belfast, Bristol, Cardiff, Doncaster, Dundee, Edinburgh, Glasgow, Ipswich, Liverpool, London, Manchester, Plymouth, and Sheffield.
BT has encountered considerable local resistance over its programmes to reduce headcount and encourage relocation to the new regional hubs (BTwatch, #314, #315, and passim). Moreover, the Group is also facing the threat of further strike action after a walkout by Openreach engineers, which is shaping up to be a test case for BT as it implements its transformation strategy.
Wilcox acknowledged that BT is encountering more than logistical hurdles as it progresses the programme.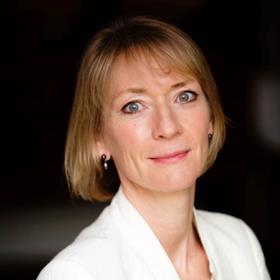 "It's actually a cultural and people challenge, and that's like any change programme", she said. "We are trying very hard to be clear, to be transparent, to give our people as much notice as possible where their site and their building is going to be affected and what that will mean for them".
"We can't do that in a big bang all at once because we're still working through the plans, but as soon as we're clear about what it means for people in different areas we're trying to go out and engage with them on that. Obviously we're working very closely with our trade unions on it", she added.
Natural attrition
BT is looking to cut headcount as part of a transformation programme announced in 2018, with a goal of reducing its total workforce by 13,000 within five years (BTwatch, #296).
In the Management Today interview, Wilcox was quick to challenge the suggestion that the cuts were in any way "aggressive", noting that an attrition rate of 10% means around 10,000 people leave the business each year. She stressed that BT has been aiming to cut management and back‑office roles, while investing more in frontline tasks.
"We do need to increase the competitiveness of the company, and we need to simplify… and modernise the company, and quite a lot of that is to do with technology. And as we bring in more automation… that will mean that quite a lot of roles over the next five years which are involved in transactional work to do with that complexity will go", she said.
Wilcox highlighted the broader focus on reskilling at BT, noting that it is "inevitable that we need a critical mass of new and different skills". While emphasising that "the vast majority of our people will be British", she said it will at times be necessary to bring in people from different countries who have skillsets in advanced areas of technology such as artificial intelligence.
She also pointed to the impending creation of the new BT Digital unit (BTwatch, #320), describing it as less an organisational change and more a "fundamental way of driving innovation and incubation, and accelerating us to the point where we become this different technology business in the future".
Staying flexible
In terms of how the pandemic has affected working practices, Wilcox said that around 40,000 UK‑based BT staff continued to "go into the workplace", while the other 40,000 worked remotely.
She insisted that office‑based working will remain "really important for our business", and dismissed any suggestion that the Group might adopt a full remote‑working model in future. However, Wilcox said BT does expect to retain some form of hybrid working once the pandemic is largely over.
"We're planning for that, actually", she said. "The pandemic… has forced us to experiment with… more flexible ways of working and I think we'll preserve many of those as we start to come back into the workplaces".

Anne Morris is a freelance journalist, editor and translator. She has been working as a reporter and news analyst for TelcoTitans since 2016.