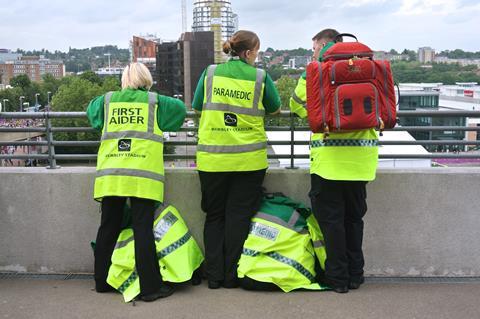 BT Enterprise organised a showcase of a remote-controlled ultrasound over public 5G, alongside the University Hospitals Birmingham National Health Service (NHS) Foundation Trust and WM5G, a new organisation set up to deliver the UK's first region-wide 5G testbed in the West Midlands region.
The event, claimed to represent a UK-first, aimed to demonstrate the concept of a 5G connected ambulance and show how new technologies can help frontline staff better diagnose patients.
The demonstration simulated a paramedic in the field performing an ultrasound scan on a patient, under the remote guidance of a clinician who was able to interpret the ultrasound image in real-time using a joystick to send control signals over the live 5G network to a robotic or 'haptic' glove worn by the paramedic. The solution enables remote diagnostics to be performed by paramedics who are supported by hospital-based clinicians, and is said to have the potential to reduce the number of ambulance journeys and emergency department visits.
This is said to be the start of a series of trials due to take place over the next three years, following a decision by the UK government to select the West Midlands as the UK's first multi-city 5G testbed. As part of the multi-million-pound project, the West Midlands Combined Authority and the Department for Digital, Culture, Media & Sport set up WM5G to develop a large-scale 5G pilot across the region to trial new 5G applications and service at scale.
WM5G is being led by the former president of Nokia Global Services, Igor Leprince.
Karonis ponders BT role in service provision
While BT heralded the capabilities of the new technology, and presented theoretical use-cases, senior executives also emphasised that the telco's role in provision of such services needs to be carefully considered.
Fotis Karonis, Chief Technology and Information Officer at BT Enterprise (and a leading light in network evolution going back to his time as EE CTO) noted the escalating security risks that accompany more connected devices, and the pressure of responsibility that working in areas such as emergency medical response brings with it.
"5G comes with a sense of responsibility for reliability, efficiency and security… There are questions we need to address as BT: does our model evolve and what is our role in society? I think collaboration will play a key role with 5G. "

– Karonis.