Latest accounts show the TV platform's shareholders now down to six, with the two operators keeping the venture afloat.
R&D budget remains high at £16m, compared to revenue of just £9m.
Telcos remain coy on paying subscribers for their TV services.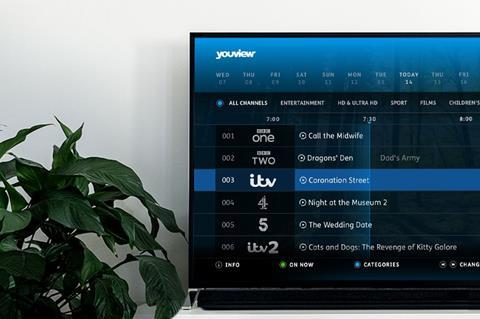 TV platform joint venture YouView confirmed infrastructure player Arqiva has now exited the business, bringing its ownership group — including BT — down to six.
Arqiva — which has been pulling back from media software interests, having also recently withdrawn from the JV behind basic TV platform Freeview — relinquished its holding on 31 March 2021, shortly after reports indicated it was in talks over an exit (BTwatch, #321). YouView said its remaining owners were now negotiating an update to its shareholder agreement, which was last refreshed back in 2014 (BTwatch, #253).
Declaring the move in its latest financial statement and strategic report, YouView sought to stress that it expects to maintain its "current activities… with continued support from its remaining six shareholders".
YouView fate in the telcos' hands
Arqiva's withdrawal breaks up the original seven-owner line-up that brought YouView's TV platform and interface to market back in 2012 (BTwatch, #216, #219, and #235).
It also increases the exposure of BT and its remaining co-owners — BBC, Channel Four, Channel 5, ITV, and TalkTalk Telecom — to a JV that remains loss-making and is facing a variety of competitive challenges. They now each hold 16.7% of the business, up from 14.3%.
Further, the statement indicates BT and TalkTalk have extended £97.6m (€117.3m) in long-term lending to YouView, said to be based on valuation of its intellectual property, and scheduled for repayment from June 2024 . It appears that the commitment of BT and TalkTalk forms part of the collective shareholder agreement backing the business, and the directors' declaration of the loss-making JV as a going concern was said to be based on "letters of support from its two key shareholder funders".
According to TalkTalk's latest annual report, all shareholders contribute around £1m per year for the operational needs of YouView, while the altnet and BT contribute additional funds for research and development. TalkTalk indicated it paid £6m to YouView in the year to end-March 2021, a figure likely matched by BT.
YouView recorded a £16m net loss in the twelve months to 31 March 2021 (FY20–21), up 3%. This came despite a small (+0.4%) rise in revenue, to £8.7m.
Nevertheless, the JV's accounts show that it and its backers continue to plough significant resource into the development of its technology platform. It expanded its R&D workforce to 150 during FY20–21, from 141 the previous year, and says it made £16.2m in "investment in innovation" during the period, supported by a near-£3m tax credit secured via the government's R&D incentive scheme. This spend "reflects our continued commitment to an ongoing programme of technology innovation improving the customer experience", said YouView.
What are they building in there?
YouView's continued levels of investment in its platform appear substantial, particularly when considering a report for the BBC published in 2018 estimated that the corporation had invested £3.4m in its development to that point, including money contributed to its predecessor Project Canvas.
The figure also appears high when considering the level of revenue generated, and the scale of the customer base of the two operators principally funding the effort.
Neither BT nor TalkTalk disclose the size of their pay-TV customer base, although when BT last provided numbers in early 2018 it had a (declining) 1.7 million subscribers across its three consumer brands. TalkTalk, meanwhile, had built an early base of more than one million registered pay-TV set-top box owners by 2016 through promotional giveaways, although the number of monthly pay-TV subscribers in this group was unclear.
With YouView's total revenue for the year relatively flat and reported at less than £9m including service fees from shareholders, spending on R&D at nearly double that level appears unsustainable beyond the next review of the business's value in 2024.
CEO departs
Shortly after the release of YouView's strategic update, Chief Executive (CEO) Susie Buckridge joined TalkTalk as General Manager, Group Product. The Telegraph reported that the appointment means her departure from YouView, although this has not been confirmed. She has been CEO of YouView since 2019, and worked in various roles at the JV since 2011, having moved from a Head of Strategy role at the BBC.