Collaboration targets disaster relief and deep-rural areas.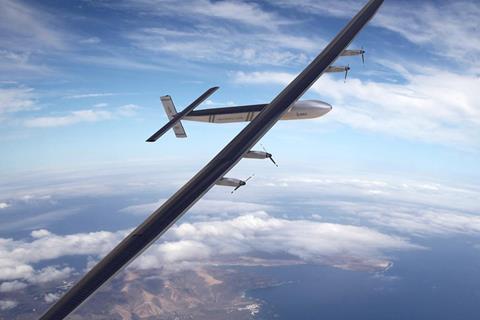 Telefónica formed a partnership with US-Spanish aerospace startup Skydweller Aero as it looks to accelerate the expansion of cellular coverage in underserved regions.
The telco is keen to explore how non-terrestrial solutions can "become an efficient complement" to established terrestrial networks in specific use‑cases, such as disaster relief and extended coverage in deep-rural areas. The agreement with Skydweller will see the companies work closely to "solve the coverage and connectivity gap".
Oklahoma-based Skydweller launched as recently as 2019, but the origin of its technology dates back considerably further. The solar-powered aircraft project — initially known as Solar Impulse — was instigated by Swiss explorer Bertrand Piccard in 2003, operating for 14 years and receiving $190m (£142m, €169m) worth of investment before the intellectual property was sold to Skydweller.
The investment didn't stop there. In September this year, the startup announced it had raised $40m (£30m, €36m) in an oversubscribed Series A funding round, led by Italian defence group Leonardo.
The Solar Impulse was designed as a piloted aircraft, but Skydweller's focus has been to transform it into an unmanned, ultra-long endurance model, with sights set firmly on the concept of perpetual flight.
It began its flight test campaign last year, and hopes customers will be able to begin licensing the autonomous aircraft within 18 months.
Enrique Blanco, Global CTIO of Telefónica, said integration of terrestrial and non-terrestrial networks into a "single operational concept" is a "key aspect of current networks evolution towards beyond-5G" and that Telefónica wishes to "support the industry in this evolution".
The agreement with Skydweller Aero is the latest in a string of non-terrestrial partnerships formed by Telefónica. In September, the operator formed an alliance with Swiss satIoT challenger Astrocast on the joint development of a new telematics product that leverages both terrestrial and "nanosatellite" networks. Telefónica is also engaged in a next-gen satcomms project in the UK, where it is using 5G and geosynchronous communications satellites from provider (and former Group investment) Hispasat to test connected and automated vehicles.
Telefónica Group satcomm partnerships
Player
Relationship focus
Sources: Companies; Telefónicawatch

Comtech Telecommunications

Subsidiary Comtech EF Data flagged a Latin American remote backhaul engagement with Telefónica International Wholesale Services (TIWS) in 2019 (Telefónicawatch, #139).

Gilat Satellite Networks

The two businesses have a long-running relationship in Latin America, focused on the provision of fixed-line and cellular backhaul solutions for entities across Argentina, Brazil, Chile, and Peru (Telefónicawatch, #49, #154, and passim).

HAPSMobile

Telefónica's R&D unit Investigacion y Desarrollo is a General Member of the HAPS Alliance, which aims to push the stratosphere-based comms platform of challenger HAPSMobile towards commercialisation. It has networks in three equatorial territories (Brazil, Colombia, and Ecuador).

Other telcos participating, but which appear less well situated geographically, include Deutsche Telekom and SoftBank — the latter of which owns HAPSMobile alongside California-based drone vendor AeroVironment.

Hispasat

The provider has numerous modes of collaboration with the Group, including: a three‑year deal with Telefónica Servicios Audiovisuales, the Group's broadcast services arm, on the distribution of channels from AMC Networks International Southern Europe; and a take over of the management and signal transport business of Media Networks Latin America, the Peru‑based wholesale pay‑TV and broadcast unit that is grouped under Telefónica Latinoamérica Holding (Telefónicawatch, #149, #154, and passim).

Inmarsat

Operator paired with TIWS on the distribution of Broadband Global Area Network services in 2006 (Telefónicawatch, 2006.08).

ST Engineering iDirect

Telefónica Argentina uses iDirect satellite links to support fixed-line services in hard-to-reach geographies (Telefónicawatch, #61). Telefónica Peru has also opted for the provider's Evolution platform to support IP-based satcomms services for the energy, financial services, and healthcare sectors (Telefónicawatch, #70 and #91)

Telesat

Provider collaborated with TIWS on testing the viability of its phase 1 LEO satellite for high-end video and data transmission services in 2020.

Viasat

In August 2021, TGS was named a wholesale distributor of Viasat satcomms services in Brazil.
The collaboration will reportedly encompass the development of technical specifications for non-terrestrial communication payloads, the joint analysis of communication solutions for non-terrestrial networks, as well as the evaluation of commercial models for operator, consumer and business use cases.
" Skydweller believes that this technology has immense potential to improve society, promoting economic progress, development, and the advancement of renewable energies to fight climate change. "

— Dr. Robert Miller, CEO of Skydweller.