Johan Wibergh, Chief Technology Officer of Vodafone, used the Arch Summit to provide a teaser on the Group's coming "Technology 2025" strategic update, and a glimpse into leadership's latest thinking about how it can protect revenue and relevance as challenges continue to mount.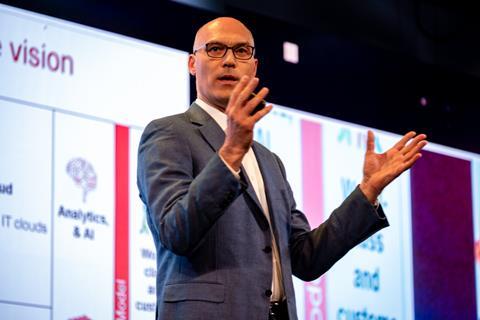 Internal discussions on Technology 2025 are said to have kicked off in early-2019, with input from more than 300 Vodafone executives, divvied up within various working groups.
The plan is evidently heavily influenced by the strategic tweaks instituted by Group Chief Executive Nick Read when he moved into the top job in October 2018, with focus on strategic partnerships, "radical simplification", and a slightly less passive approach to competition (Vodafonewatch, #168). It is set to succeed the 2020-focused Gigabit Vodafone strategy devised by Wibergh after the former Ericsson executive joined Vodafone in 2015 (Vodafonewatch, #132 and #144). Planning evidently remains a work-in-progress, however – Wibergh played no part during the operator's subsequent, May 2019 annual results presentation, when Technology 2025 might have been expected to feature.
The Swede intimated that Read had prefaced Technology 2025's creation with a recent internal speech, directing the Group to focus on becoming a "Technology Communications Company" – a presumed nod to the loss of influence that telecoms operators have experienced with the rise of the internet hyperscalers. It also suggests a need to achieve more progress in Network Cloud efforts that began under Gigabit Vodafone and accelerated during a Group Technology reorganisation by Wibergh in 2018 (Vodafonewatch, #166 and #171).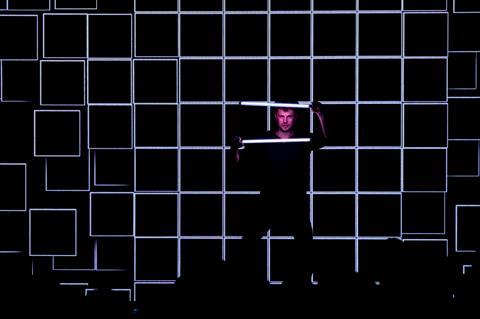 "We are starting charting that course now", said Wibergh. "What does it mean for Vodafone? How [much] more do we need to change? How do we add more value, and how can we contribute to the revenue growth of Vodafone, which is one of our biggest challenges? So, we are starting to work on that and we are now sharpening the framework on how we change internally when it comes to values, structure, architecture, [and] culture to make that happen, and also creating a common alignment around what is that target we are striving for".
With Vodafone entering the closing straight on Gigabit Vodafone (which is due to complete in March 2020), Wibergh gave a brief glimpse into how Group Technology and OpCos were performing against its key, headline target of IT estate modernisation and cloud-ification.
Naturally, he was "very pleased with the progress we have made". The Group was said to have migrated more than 45% of its IT applications to private and or public cloud platforms, against a goal of 65% by the end of Gigabit Vodafone (although this was reset to "more than 50%" by Chief Financial Officer Margherita Della Valle during the annual results discussion). Some players in Vodafone's ecosystem suggested privately that these figures should be taken with a large pinch of salt, as it remains unclear how exactly Vodafone defines progress under the programme, including the percentage of overall IT workload or expenditure that has actually been addressed.
The private-public cloud mix within IT estate is another unknown, although Wibergh confirmed the increasing importance of Amazon Web Services within the Group's supply chain. He indicated that the US provider is Vodafone's "predominant" public cloud partner – which comes despite the operator's seeming increased closeness with other suppliers such as IBM (now strategic cloud services partner of Vodafone Business), Google Cloud (rated as having the Best Global Account Team among Group vendors, during Vodafone's latest Supplier Awards), and Microsoft Azure (understood to have beaten Amazon for a recent IT contract). In terms of private cloud provision, Vodafone's network is now said to span more than 50 physical locations in 17 countries, and to be supporting more than 400 network functions, with between 20 and 40 being migrated each quarter. "There is a lot of progress [and] that is starting to give us tremendous benefit in how we manage our internal functions, as well as utilisation of hardware", said Wibergh.
Little further information on Gigabit Vodafone progress was offered by Wibergh, other than a claim of best-ever operational indicators on infrastructure performance. He said Vodafone had reduced incidents on mobile networks by 65% over three years, and cut data centre incidents by 89%. "It is not that easy to make all of these things happen at the same time", said Wibergh. "Normally, when you make a lot of changes, you have a lot of incidents. KPIs degrade. So, I am extremely pleased with that".
He cited culture within Vodafone's technology operations as the "biggest piece" in improvement efforts. "We have been working a lot with culture… If something goes wrong, [we ask] 'what can we learn?', as opposed to, if something goes wrong, 'who do we fire?'", Wibergh said. "If you don't create a 'learning organisation', you don't get things to improve. And I think that has been one of the most important factors, to help us increase the pace of change, to improve KPIs without increasing incidents. The learning path of the organisation has improved significantly", he claimed.
Gigabit Vodafone checklist
Area of focus
Priorities / Targets (2020 unless stated)
Network
Mobile:

Video "everywhere where voice is available" (continuous 10Mbps).
Low latency (sub 10ms).
NB-IoT to launch 2017, and be deployed across all 4G sites (software update on 85% of installed base).
3G shutdown in Europe (migration to 4G).
4G "densification" in Europe (as preparation for 5G); "acceleration" in AMAP.
5G launch ("first series" by 2020).
Backhaul: fibre to >95% European urban sites (cities with >100,000 inhabitants), up from 69% in four largest markets.

Fixed-line:

"Gigabit speed" fixed-line: "Rapid" DOCSIS 3.1 rollout; FTTH with next generation PON.

Services

Converged services focus.
Cloud-based TV to be "available for all markets".
To enable all "important" customer journeys across digital channels.

IT

Flexibility and agility; low-cost systems; become "digital company".
Transform to "converged modern billing & CRM" ("underway").
50% "time-to-market improvement" for new services.
To reduce vendors by two-thirds ("better quality, lower cost").
To leverage "scale advantage" through cloud technologies.
65% of IT applications to be moved to the cloud (hybrid cloud approach).
End-to-end service provisioning time to be reduced to under one week.
50% network functions to be virtualised, supported by SDN.
Virtual CPE to be introduced for enterprise customers ("customer success-led" project).
"Rapid deployment for enterprise".

Sources: Vodafone and Vodafonewatch
Transitioning Vodafone to a Technology Communications Company
The "Radical Simplification" thread ran throughout the Summit agenda, providing a further signal that, under Read, it has supplanted his predecessor Vittorio Colao's "Enabling the Gigabit Society" corporate mission for Vodafone.
In focus at the event, in a sense, was not just the 40% of Group capital outlay directed towards fixed-line and mobile network expansion, but also the 16% that goes on IT capability. Wibergh captured the mood by revealing that Read has set Vodafone the task of transitioning towards becoming a "Technology Communications Company", rather than predominantly a communications-led player, as it enters the 2020s. "We are changing our business model as well as our business", said Read, during the FY18-19 discussion.
While the traditional network equipment establishment was represented in the speaker line-up, via Huawei and ZTE, a broad mix of ecosystem players made presentations, with many seeking to portray an optimistic vision for the future of IT and telecoms, enabled by big data analytics, artificial intelligence and machine learning (AI/ML), blockchain, and other emerging technologies.
Stéphane Reboud, Vice-President of Strategically Aligned Business at Dell Technologies, sought to highlight that the "digital revolution has just started", and there was "enormous" potential still out there for businesses to improve ways-of-working.
Michael Redding, Managing Director of Accenture Ventures – which helps Tomorrow Street support startups on development of their products and strategies – instead framed the industry as entering a "post-digital era", fuelled by newer enablers such as AI, distributed ledgers, "extended reality", and quantum computing. Evoking the business model change that Read claims to be seeking at Vodafone, Redding said "post-digital markets" were being created as businesses exploit the speed and agility offered by these technologies. "Traditional industry lines are blurred and… paths to market are no longer static", he noted.
"If you think about it, the things that make up digital – cloud, mobility, big data, e-commerce, search engine optimisation, and social media – those are things of the now. They are table stakes. If you are not already working successfully or not already on the journey to cloud or the journey to mobile, then you are already one step behind the state of the market."

Redding