Malicious threats loom, but accidental damage more common.
Russian aggression, underwater volcanoes, fishing and anchoring roil subsea cable networks.
Difficult to prevent damage, resiliency is best protection.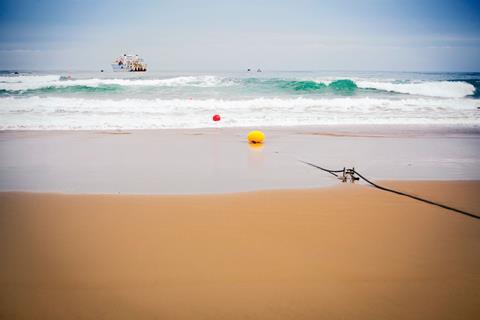 Possible threats to submarine cable networks made sobering headlines in early January when Admiral Sir Tony Radakin, head of the UK's armed forces, warned of increased Russian activity and that any attempt to damage subsea cables could be considered an "act of war" in an interview with The Times.
He said there had been a "phenomenal increase" in Russian submarine activity in the last 20 years that can "put at risk and potentially exploit the world's real information system".
His comments flagged the national security significance of submarine cable networks, amidst rising tensions between Russia and the U.S. and its allies over Ukraine and growing concerns among Western governments about the risk of cyberattacks on critical infrastructure.
Whether instigated by Russia or other state or non-state actors, the possibility of a malicious attack on crucial undersea communications or electricity cables is not a new threat; it has been on the radar of the submarine cable industry for at least the last decade. Reports emerged in 2015 that Russian submarines were scoping out cables, sparking concerns that key transatlantic communications links could be disrupted.
"The submarine cable industry has long focused on security of infrastructure and of communications flowing over that infrastructure, and those activities continue to evolve in response to risks and threats of damage or attack. That said, I think governments and industry are talking more with each other about these threats and how to mitigate them", said Kent Bressie, International Law Adviser for the International Cable Protection Committee (ICPC), which was established in 1958 to help its cable operator members secure underwater cables. ICPC's 170 members include BT, Telefónica, Telxius, and Vodafone.
Accidents more common than attacks
Most cable disruption is accidental. According to the ICPC, about 70% of cable faults are caused by commercial fishing and ship anchors, while other risks include dredging and dumping, natural events (tsunamis, earthquakes, and underwater landslides), and "uncoordinated energy development".
"Both malicious damage to cables and unauthorised access to communications content on cables are exceedingly rare", said Bressie.
"The industry remains aware of the potential for sabotage, however the focus on cable protection remains addressing the primary causes of cable damage, namely fishing and ships anchors… Specific measures are addressed by companies who work with governments to ensure subsea telecommunications are robust from a security perspective - but the real risk remains as inadvertent or accidental damage."

John Wrottesley, Liaison Officer at the European Subsea Cables Association (ESCA)
Resilience is best protection
Submarine networks are indeed vulnerable and Wrottesley noted that "certain types of malicious sabotage" could be difficult to detect. The ICPC said cables cannot be hidden; their locations need to be publicly available so that ships can avoid them. They cannot be armoured, and it is not feasible to guard entire cable routes.
According to the industry groups, the most effective way to prevent service disruption in the event of cable damage, whether accidental or intentional, is for cable operators to build network resiliency with multiple backup connections so that traffic can be rerouted to other cables if one is damaged.
The UK, for example, is connected by more than 50 cables. Countries served by fewer cables, or even a single cable, could experience severe disruption in the event of damage. The most recent and extreme example is Tonga, where the island's one undersea cable that provided internet connectivity was severed by a volcano eruption in January 2022. It estimated that it could take a month to repair the cable.
In addition to backup cables, operators can also use "fibre sensing" technologies "to detect anomalous activity and warn about potential damage", said Bressie. The ESCA also said Automation Identification System (AIS) monitoring technology is used to help keep ships away from submarine cables and that cable position data is made freely available.
Wrottesley added that, "close liaison with government enables the industry to ensure that the issues relating to either accidental or intentional damage are well understood".
There are more than 400 international cables around the world. Vodafone Carrier Services (VCS) has capacity on 80 submarine systems, connecting 100 countries spanning Europe, Africa, Middle East, Asia/Pacific, Southeast Asia, and the U.S. Vodafone inherited the sprawling range of international bandwidth investments and partnerships through its 2012 Cable & Wireless Worldwide buyout, which underpins the portfolio of Vodafone Business's VCS unit.
One of its cables, the partly-owned West Africa Cable System (WACS), suffered a major, prolonged outage in January 2020, reportedly affecting data connectivity for millions of customers (Vodafonewatch, #183). The problem, which is said to have caused several days' worth of service disruption, was said to have been caused by a break in the WACS cable off the coast of Angola, and exacerbated by a near-simultaneous outage on the alternative South Atlantic 3/West Africa Submarine Cable system. Satellite service providers Gilat Telecom and SES said they had worked to provide operators in the Democratic Republic of Congo with alternative connectivity in the days following the outage.

Michelle Donegan is an experienced telecoms writer and has been contributing as a reporter and news analyst for TelcoTitans since July 2020.