Slowdown in Telekom Deutschland broadband user growth evidently concerning leadership and stakeholders.
Focus increases on whether FTTP plans need a rethink, to strengthen position.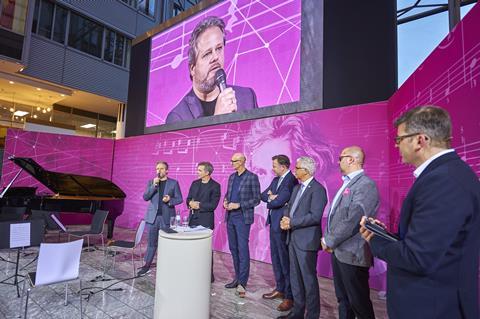 Telekom Deutschland (TDE) ground out more forward progress, financially, in the quarter to 31 December 2019 (Q4 FY19), although questions resurfaced over the NatCo's positioning in broadband and how competitive exposure could play into its go‑to-market and investment strategy in the coming months and years.
Financially, key dials moving right way…
TDE's headline financial figures remained comparatively solid during the three months:
Revenue increased 1% to €5.7bn in Q4. This gave TDE a 0.9%‑rise in sales across FY19 as a whole — in line with the "slight increase" it was guided to deliver at the start of the year (Deutsche Telekomwatch, #81). However, following the 1.1%‑drop seen in FY18, TDE remains somewhat behind the curve when it comes to meeting the above 1% annual growth rate it is mandated to achieve during the Group's current strategic cycle, to FY21 (Deutsche Telekomwatch, #74).
This sluggish top‑line performance no doubt feeds into jitters over competitive pressures on TDE, and whether they will require a response through greater commercial and/or infrastructure spend, prospectively dampening profitability and cash flow. It also re-emphasises Group leadership's current preoccupation with combatting churn through customer experience improvement and service expansion, particularly in the residential market (Deutsche Telekomwatch, #96 and passim).
The NatCo's sales picture remained one of legacy drag being (just) outweighed by newer services growth. Its main revenue growth drivers were broadband (revenue +2.7%), mobile (+2%), and TV (+10.6%). Fixed-line revenue was down 0.5%, overall.
TDE delivered on core earnings — if viewing its results on an "adjusted" basis, and after excluding leases. On this basis, earnings before interest, taxation, depreciation, and amortisation (EBITDA) rose 2.4% to €2.2bn in Q4. TDE delivered the same rate of increase across FY19 as a whole, surpassing its €8.7bn target for the year and landing within its 2%–2.5% target zone for FY17–FY21. On a mere "adjusted" level, EBITDA grew 1.6%.
Deutsche Telekom, Germany area financial summary (as reported), Q4 FY19
Q4 FY18
Q4 FY19
Change
Sources: DT and Deutsche Telekomwatch.

Total revenue

€5,612m

€5,669m

1.0%

115

EBITDA

€2,062m

€2,138m

3.7%

417

EBITDA margin

36.7%

37.7%

1.0pp

Depreciation, amortisation, impairment

-€1,078m

-€1,067m

Operating profit

€984m

€1,071m

8.8%

1000

Cash capex

€998m

€999m

0.1%

11
… but broadband user trends are a clear worry
Commercially, there were scratches in the veneer, however. The most of obvious of these was a resurfacing of management concern regarding TDE's performance on broadband, echoing the leadership's expressions of dissatisfaction with customer acquisition and retention trends after Q2 FY19 (Deutsche Telekomwatch, #86).
TDE added only 47,000 net new broadband customers during Q4, flat on Q3. This meant it delivered only 169,000 new users across FY19, more than halving the growth it achieved during FY18 (+352,000).
In response, Group Chief Executive (CEO) Timotheus Höttges reaffirmed expectations on TDE to secure a 40%‑share of broadband net additions each quarter (the Group did not release figures on this metric but Head of Investor Relations Hannes Wittig suggested TDE was "pretty close" to the target).
"It is the task of the organisation [TDE] to now better utilise these investments [that] we have [made]. It is the task of the organisation to create less churn because the base is the… most important [thing]. And there's one thing clear for us. If we want to see a reasonable amortisation of this infrastructure, the 40% market share [target] is a must-have for our organisation. "

— Höttges.
Deutsche Telekom, Germany area operational indicators, Q4 FY19
Q4 FY18
Q4 FY19
Change
Notes: * Sum of all FTTx accesses (e.g. FTTC/VDSL, vectoring, and FTTH).
Sources: DT and Deutsche Telekomwatch.

Fixed access lines ('000)

18,325

17,824

-2.7%

-153

IP retail

15,356

17,479

13.8%

774

Broadband retail access lines ('000)

13,561

13,730

1.2%

70

Fibre *

7,236

8,529

17.9%

1000

TV

3,353

3,618

7.9%

442

Mobile connections ('000)

44,202

46,189

4.5%

252

Mobile KPIs

Average revenue-per-user

€13

€12

-7.7%

Churn

1.2%

1.0%

-0.2pp
Fibre still flummoxing shareholders; Vodafone hostilities heating up
The broadband pressures kept significant focus on how much cash Deutsche Telekom's (DT) management chooses to spend in its home market — and where it apportions that money.
Across FY19, TDE continued to keep spend under a tight rein. Excluding spectrum costs, the NatCo's FY19 capex was within €2m of FY18's figure, keeping in tune with the stable capex "envelope" in which DT is seeking to keep the NatCo corralled. This helped offset the initial expense of Germany's runaway 5G auction — completed in mid‑2019, with DT forking out €2.17bn (Deutsche Telekomwatch, #84).
With broadband competition biting, however, there is an evident possibility that the Group will need to free more funds for a more aggressive approach to fibre-to-the-premises (FTTP) expansion, especially with key rival Vodafone Germany making a major promotional push around cable-based Gigabit connections, following its 2019 amalgamation of Unitymedia. Vodafone's commercial push was scheduled to come to an end in April 2020, so will also have had a major impact throughout Q1 FY20 and so will likely see further discussion when that quarter's figures are presented in May 2020.
As well as increasing focus on DT's overall FTTP scope, the presentation drew further attention to the Group's strong interest in measures that can deliver fibre connections more efficiently, including new roll out techniques, back-end IT reshaping, network partnerships, and government subsidisation (see separate report). Development of the operator's FTTH Factory remains an interesting sub-plot in Germany's broadband story. Also increasingly obvious is the rising threat of Vodafone, emphasised by DT's initiation of legal action challenging approval of the Unitymedia merger (see separate report).
Tim's spinning plates
Höttges stressed he was not having "sleepless nights" over the questions surrounding broadband/FTTP strategy. The situation is undoubtedly awkward for DT's leadership, though — and likely to remain so as long as broadband trends remain sluggish.
DT has long acknowledged the variety of conflicting spend pressures it is under in its home market, with regulators and customers constantly pushing for more funds to be spent on improving experience and service, while shareholders urge 'rational' outlay, with maximisation of return on capital expenditure (capex), and other parts of the Group battle to attract a greater share of the pot too.
Project-wise, too, there is major complexity around DT's priorities. Some pressures are being lanced, as seen with the end‑FY19 completion of two major, long-running programmes: All‑IP Transformation in the German residential segment; and expansion of fibre-to-the-cabinet to 80% of German homes. Others are ratcheting up, though — such as (macro‑ and small‑cell) site expansion, 5G upgrading, and FTTP.
Under plans laid out at DT's last Capital Markets Day, TDE's FY17–FY21 brief includes a ramp‑up in FTTP rollout to enable passing of two million new households-per-annum, following a broadening of focus beyond less costly hybrid fibre‑copper solutions. It is also aiming to deliver 5G to more than 1,500 sites across more than 20 cities by 31 December 2020. Deutsche Funkturm, the Group's centrally-run German wireless infrastructure arm is mandated to accelerate site expansion to 2,000 towers-per-year (albeit alleviated by subsequent network-sharing agreements with Vodafone and Telefónica Deutschland).
Adding further to this mix is TDE's primary role in the Group's latest indirect expense reduction programme, mandating the NatCo to trim €750m of cost from people, processes, systems, and technology across FY17–FY21 — as well as TDE's coming absorption of business-to-business (B2B) functions from the Europe segment and T‑Systems (see separate report), and now the impact of the COVID‑19 pandemic.
Captain Dirk signs off from the bridge
Although there was no strong evidence of linkage to TDE's competitive difficulties in broadband, the Q4 presentation was prefaced by an announcement by DT that Dirk Wössner, CEO of TDE, is to depart the Group on 31 December 2020.
Wössner — previously mooted as a successor to Höttges — joins recent years' trail of telco executives that have jumped ship into the (allegedly more glamorous) world of cloud computing. The Group said he will become CEO of a "fast-growing software company" in 2021, with no further details given. A successor has not yet been named.
The long lead-time gives Wössner at least a few months more to pursue TDE's goals around FTTP, 5G, cost reduction, and B2B reshaping, but it will be interesting to see if his replacement comes in with stability or change in mind.
Also to watch will be Höttges' stress on "internationalisation" with his latest CEO appointments at T‑Systems (Adel Al‑Saleh), T‑Mobile US (John Legere and now Mike Sievert), and the Europe segment (Srini Gopalan). Extension of this approach to DT's home-market business would speak volumes.