Another geopolitical hot potato for DT.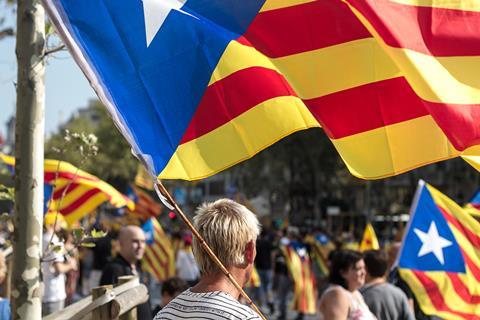 Allegations that T‑Systems Iberia (T‑Sys IB) was involved in the 2017 Catalonia independence crisis continue to swirl, forcing a further denial from the Barcelona-based business that it acted illegally.
The matter now seems to have taken on a new level of seriousness following the submission of a new report by Spain's national police force, the Guardia Civil, to the court in Barcelona. The report alleges that T‑Sys IB participated in a broad range of projects aimed at providing future digital support for state facilities of an independent Catalonia, ahead of the independence referendum that took place on 1 October 2017, and on which the crisis centred. It has also been suggested that T‑Sys IB had been aware of plans by the Generalitat de Catalunya, the government of Catalonia, to create ICT platforms for new state structures since at least 2015.
T‑Sys IB has for some time been under scrutiny by Spain's central government in relation to the crisis, with reports in 2017 suggesting the Generalitat had commissioned the division to develop an application to manage a census of taxpayers. T‑Sys IB was also reported to have begun work on a document management application for a new tax management system called e‑Spriu, to support a hypothetically independent state (Deutsche Telekomwatch, #67 and #68). Shortly before the referendum, the Guardia Civil arrested Rosa María Rodríguez Curto, then-Vice‑President (VP) of Service at T‑Sys IB (now VP of Sales), in relation to the allegations. At the time, T‑Sys IB responded to the claims by saying its work with the Generalitat operated within the current legal framework and its contractual obligations.
According to Spanish media, the Guardia Civil report includes relevant emails that were found on the computer of Ignacio Martí Fernández, described as a Director of T‑Sys IB. It was suggested that T‑Sys IB took part in several meetings with the Mossos d'Esquadra, the Catalan regional police, to discuss support for a digital platform for the police and an identification card centre for an independent state.
T‑Sys IB unit rola Security Solutions was said to have participated in meetings to discuss the use of rsFrame, an intelligence and research platform designed for law enforcement, national security, and intelligence agencies.
According to media reports, the state structures cited by T‑Sys IB directors in the exchange of emails included tax, social security, the Catalan DNI (national identity card), cybersecurity, digital identity, a citizens register, a new legal framework and justice system, embassies and foreign trade, tourism, a new telecoms operator based on the model of Euskaltel in the País Vasco autonomous community, and even a satellite.
T‑Sys IB has robustly defended its position, issuing a statement to Spanish media saying that it had not committed any infringement and asserting that the "lack of specific allegations and facts support this position".
The business also reiterated that all services provided to the government of Catalonia formed part of public contracts awarded through public tender, "with full transparency and in competition with other companies, according to current legislation". It insisted that T‑Sys IB and its directors "have always collaborated, and will continue to do so, with the administrative and judicial authorities in this investigation".
Political impact
The matter has caused outrage in Spain, with some commentators calling for T‑Sys to be expelled from the country. Others have demanded explanations from German Chancellor Angela Merkel, based on the premise that the German state effectively holds a 31.9% stake in T‑Sys, via Deutsche Telekom.
Questions have been raised in the European Parliament, too.
On 5 March 2019, María Teresa Giménez Barbat, a Member of the European Parliament, asked both the European Commission and European Council for written answers to questions of whether what she called T‑Sys IB's "collaboration… with the Catalan secessionist movement" breached European Union treaties, and "if so, does it plan to take any action?" No answers appear to have been submitted as yet, however.
Since the trial of twelve former Catalan regional government ministers and civic leaders over their alleged roles in the regional independence crisis is now underway, it would appear likely that T‑Sys IB will face further questions in the months and years ahead.