Focus increasing on German infrastructure reshaping as cash-strapped European operators seek to extract asset value.
Group yet to be convinced to draw up the tower bridge and help Vodafone's consolidation plan.
Telefónica Deutschland relationship a possible plan-b for Vodafone.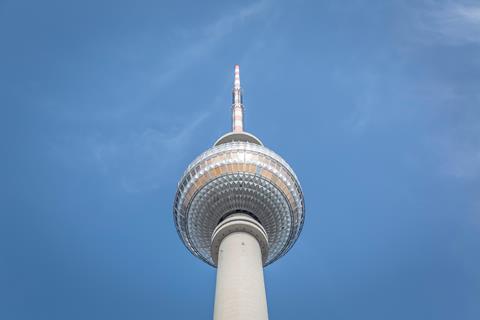 Deutsche Telekom's (DT) top executives indicated they will drive a hard bargain with any prospective tower consolidation partners in the Group's home market, as Vodafone talked up DT as a buddy to help squeeze "industrial savings" out of infrastructure.
With Germany's 5G auction now completed (Deutsche Telekomwatch, #84), operators have been freed to negotiate new forms of network collaboration, and Vodafone declared "Germany discussions under-way" in a section on European tower overhaul plans within its latest results' slide-deck, for the quarter to 30 June 2019. During the presentation, Vodafone Chief Executive (CEO) Nick Read said the operator was "now working very hard on Germany" in relation to partner recruitment. He de-scribed DT as Vodafone's "automatic partner of choice", but indicated that number-three player Telefónica Deutschland was "also engaged with us".
DT did not get back to Vodafonewatch on a request for its response to Read's comments, but continues to play it cool on the prospect of operator collaboration in Germany. Timotheus Höttges, CEO of DT, con-firmed it was undertaking negotiations with a German rival (or rivals) during the operator's latest quarterly results presentation in early-August 2019. "We are exploring currently alternative sharing solutions from a technical and from an economic perspective", he said. Christian Illek, DT's Chief Finan-cial Officer, said "detailed discussions" were not yet taking place with prospective infra-structure collaborators, but noted that "there is a rationale obviously to go for [the] network-sharing option".
A range of deal format options
A deal with Vodafone would likely see some form of business combination, partnership, or reciprocal access arrangement between Vo-dafone Germany's (currently in-house) tower operations and DT's centrally held Deutsche Funkturm (DFMG) infrastructure arm.
Going on executive comments, DT appears more inclined towards a looser, lighter-touch tie-up.
However, if a heavier-duty business combination is chosen, Voda-fone's past form suggests possibilities could include channelling of DFMG and Vodafone towers into a joint venture (as with Telefónica UK and Vodafone UK's Cornerstone vehicle) or folding of Vodafone's assets into DFMG (as seen in Italy, via a recent Vodafone-Telecom Italia arrangement).
There could also be the possibility of a multi-country deal (or deals), with the two Groups overlapping in numerous other markets. In the Netherlands, for instance, T-Mobile Infra, DFMG's Dutch equivalent, has been separated out and placed, alongside DFMG, under central management by DT in anticipation of M&A or partnership opportuni-ties in the tower realm (Deutsche Telekomwatch, passim). GD Towers, the DT entity that controls DFMG and T-Mobile Infra, has 33,000 sites across Germany and the Netherlands. Vodafone's latest Annual Report contained a brief note indicating that it was "assessing tower opportuni-ties" in the Netherlands.
Read has also indicated the operator is "working on a number of other markets – we just don't talk about these because they are smaller". Cur-rently, beyond Germany and the Netherlands, both Vodafone and DT operate in the Czech Republic, Greece, Hungary, and Romania.
Time of essence for Vodafone, but DT not rushed
Vodafone's fo-cus on a German tower tie-up forms part of a wider plan to ease balance sheet pressure created by its recent buy-out of Liberty Global cable assets in Europe, including German business Unitymedia (Deutsche Telekom-watch, #85).
As well as refreshing and expanding in-country network-sharing relationships, as seen recently in Italy (with Telecom Italia), Spain (Orange), and the UK (Telefónica), the British group aims to create a region-wide European TowerCo to drive commercial and savings opportunities. Further, to raise funds, Vodafone plans to divest stakes in both country operations and the central TowerCo itself (a private or public sale of a "substantial" – but minority – holding). Both Read and Höttges have expressed belief that operators' tower assets could attract an enterprise value of as much as 20 times core earnings, if put on the market. DFMG reported €140m in core earnings for its last quarter, to 30 June 2019, which would put the business's worth at €11bn or more.
With Vodafone under pressure to get its tower overhaul mov-ing, to improve cash flow, Read looked keen to avoid getting network-sharing discussions tangled up with wider industry manoeuvring in Germany. He sought to stress that network sharing would sit separately to other forms of infrastructure collaboration being discussed between Germany's mobile operators, in the wake of the auc-tion. These include prospective cross-operator initiatives to improve services in rural areas, and discussions with new fourth player Drillisch on roaming.
Contrastingly, Höttges was cool on the near-term prospect of a network-sharing agreement in Germany, expressing "surprise" at the excitement among analysts and investors around Vodafone's tower plans. He reiterated that the operator was "open to collaborate in order to improve the capacity utilisation of the existing sites" and noted that "I think Vodafone also stated their willingness to collaborate", although without actually confirming any discussions with its competitor.
Höttges also appeared less focused than Read on producing an expansive, transformative (and possibly M&A-infused) deal on towers, directing focus instead onto capital and operating efficiency opportunities around joint rollout in under-served areas or a limited reciprocal tower-sharing arrangement elsewhere.
The CEO underlined his willingness to sit on tower as-sets while their value is increasing, riding on both market excitement and the expansion and modernisation efforts that DT is conducting within DFMG. Like Vodafone, too, DT has options when it comes to prospective tower part-ners. It has numerous existing ties with Telefónica Deutschland on infrastructure, including a long-running mobile network-sharing relationship and arrangement whereby the Spanish-owned operator uses Telekom Deutschland (TDE) fibre for mobile transmission (Deutsche Telekomwatch, #20, #44, and #77).
Size is important
As well as accentuating its relaxed view on timing, DT's leadership was naturally eager to stress its strong bargaining position against suitors of DFMG. The German tower operation manages 29,800 sites and has been focusing on expansion, in part to support TDE's 5G service rollout (Deutsche Telekom-watch, #63 and passim). Vodafone's German tower network comes in significantly smaller than DFMG, with 19,200 sites. It also brings fewer commercial relationships to the table, with a tenancy ra-tio on controlled sites of 1:1.2, against DFMG's 1:2.3 (at 30 June 2019).
Höttges was ready to high-light that DT requires an agreement that takes full account of DFMG's strengths, in terms of tower utilisa-tion and footprint. "Deutsche Telekom is coming with even more investments and amount of towers in the German landscape", he said. "It's too early to say where we are heading to", he added.
More broadly, DT's leadership may also have concerns about difficul-ties of managing a relationship with Vodafone, its main rival in Europe. The two operators' management have clashed repeatedly in recent years, and Vodafone's moves to bulk up in Germany through M&A have been an obvious sore-point for DT's leadership.
DT, like Vodafone, has been badly stung by the costs and conditions of Germany's 5G licences, as well as the industry's wider regional slump, and shown eagerness to reshape tower management and ownership across Europe to shore up finances. Broadly, DT also appears well aligned with Vodafone when it comes to partnership 'philosophy'', saying it will quarantine so-called "golden sites", seen as particularly important for com-petitive differentiation.
However, DT is the larger and more established tower player and will no doubt be keen to press home its resource advantage in any tie-up, and eager to avoid lending this hard-won strength to Vo-dafone. It is also in less of a rush to push through tower asset reshaping than Vodafone, whose cash flow alarms are ringing more loudly (although consummation of the T-Mobile US-Sprint mega-merger in the coming months might change DT's attitude).
Michael Tsamaz, CEO of OTE Group, followed Höttges' lead by playing down the prospect of M&A action around its tower portfolio in Greece (where DT and Vodafone in-terests also overlap). "I can say that we have no plans to do any kind of transaction there since tow-ers are part of our network and the customer offering", he said.