American Tower CFO says buyback rights and other T&Cs "not right for us".
Telxius deal was more aligned with US TowerCo's requirements.
Comments by co-buyer DigitalBridge also paint DT as a demanding seller, saying infra experience of getting 'beaten up' by T-Mobile US execs gave it an edge in negotiations.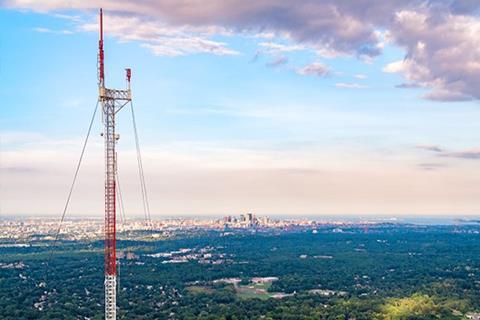 American Tower Company (ATC) reiterated that Europe is an interesting market when it comes to M&A, but only if the terms and conditions (T&Cs) are right. Rodney Smith, Chief Financial Officer at American Tower, suggested that the T&Cs in Deutsche Telekom's recent search for tower partners proved something of a disincentive, despite the US TowerCo's initial interest in the Group's assets in Austria and Germany.
In an interview during this week's Goldman Sachs Communacopia + Technology Conference 2022 (via VIQ FD Disclosure), Smith said American Tower has seen sellers attach a "wide variety of terms and conditions" to tower transactions. "I'm not suggesting that those terms and conditions are bad… but many of them are not right for us", he added.
In terms of the requirements laid out by Deutsche Telekom for the sale of a 51% stake in GD Towers, Smith noted that while some might work for more long term returns-focused investors and asset managers, "there are some things in there that probably don't match up" to American Tower's position as a hands-on player in the tower space.
In particular, he referred to the clause that would give Deutsche Telekom the right to regain control and reconsolidate GD Towers in future.
"Carriers that want buyback rights doesn't really work for us", he said. He also pointed to other stipulations such as restricting the right of the new owner to lease sites, allowing the former owners to have full or even guaranteed access to sites, and capping or removing escalations linked to consumer price indices (CPI).
Indeed, Deutsche Telekom specified inflation protection for Telekom Deutschland and Magenta Telekom in its GD Towers deal, "with annual site lease increases indexed to the respective consumer price indices at a discount of 15% but capped at 3%".
Smith further emphasised that although American Tower is open to "opportunities to be larger [and] more scaled" in Europe, "we don't need to be a lot bigger than we are today".
The TowerCo has already acquired the tower division of Telefónica's Telxius subsidiary in a €7.7bn (£6.6bn) all-cash deal, for example (Telefónicawatch, #150). Smith noted that the Telxius deal included "better terms and conditions that more aligned with our requirements than any other transaction we've seen happen in Europe over the last several years". The buy gave American Tower more than 12,000 sites in Germany — as well as a large number of assets in other markets — and it is unclear whether regulatory factors might have also been a worry when it was considering whether to go for the GD Towers portfolio.
Commercially, Smith said American Tower has seen an "acceleration of gross demand for our tower assets, particularly in Germany but also in France and Spain". He also observed that German challenger operator 1&1, which has signed a long‑term tower rental agreement with American Tower (as well as rival Vantage Towers), has not yet made a significant contribution to revenue. However, "we expect them to be a contributor to revenue, maybe late this year and certainly going into next year and for several years beyond that", he said.
(North American) experience pays
Deutsche Telekom eventually plumped for Canadian investment firm Brookfield Asset Management and US infra group DigitalBridge as its new, core strategic tower partners in Europe, in the process spurning existing allies Cellnex Telecom and KKR. The long-prepared tie-up, which must still get past regulators, will see the two organisations secure a 51% stake in GD Towers, the entity DT created in 2019 to house European tower assets tabled for monetisation (Deutsche Telekomwatch, #83).
DT has been at pains to stress both companies' "substantial exposure to the European towers sector" — DigitalBridge being Liberty Global's partner on cloud infra venture AtlasEdge, as well as having tower assets in Belgium and Finland; and Brookfield being part of consortiums that own France's TDF (although reports have suggested it is looking to exit) and part of Telia Company's Nordic tower businesses.
Marc Ganzi, Chief Executive of DigitalBridge, appeared to suggest that rival bidders were at a disadvantage from the start. Also speaking at the Communacopia event, Ganzi highlighted his company's existing experience with T‑Mobile US on building 5G and fibre networks and noted that DT "wanted an operating partner that understood where networks were going and where networks were evolving".
"It wouldn't have mattered what price Cellnex put up. It wouldn't have mattered what KKR put up", Ganzi said. "There was an operational edge that we had, which was really a reference from the guys in Seattle [i.e T‑Mobile] saying 'these are good guys. They've built networks for us for 20 years'. That is something that, no offence to KKR or Blackstone, they don't have that 20 years of operating DNA that we have".
Ganzi said DigitalBridge spent 30 days building a business plan with DT, "explaining to them how we can make the network more efficient and most importantly, how they can monetise the cloud aspect of their network in 5G. And that was really important to them".
" Those applied learnings over 20 years of getting beaten up by Dave Mayo [former SVP of 5G & IoT at TMUS, now Executive VP, Network Deployment at Dish Network] and getting beaten up by [President of Technology at TMUS] Neville Ray, we were able to fast track those discussions and move a little quicker than Cellnex and move a little quicker than KKR. And I think that actually really helped us at the end of the day. "
— Ganzi.