Pandemic prompts yet another strategic rethink at T-Sys.
Division expects half of European business to cut IT spend.
T-Sys doubles down on digitisation to help clients adapt.
New strategy based around three-phase recovery.
Exec denies 5G plans on hold in wake of COVID-19.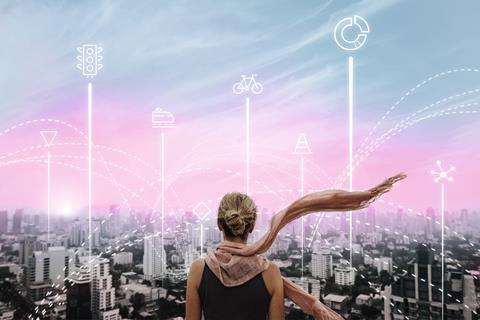 T‑Systems (T‑Sys) Chief Executive (CEO) Adel Al‑Saleh used a new‑style virtual event, put on to compensate for the cancellation of April 2020's Hannover Messe trade show, to make a refreshed pitch to key enterprise clients around digitisation.
Reflecting T‑Sys' increased focus on IT services, with its enterprise communications business being transferred to Telekom Deutschland (Deutsche Telekomwatch, #92), Al‑Saleh joined numerous other industry executives in framing the COVID‑19 crisis as an opportunity to push forward with replacement of legacy, physical technology assets. The Accelerate Digital Now event was not just an opportunistic marketing pitch, however — there were signs T‑Sys is tacking to a new heading in its own, long-running business turnaround programme, with implications for partners and suppliers.
Al‑Saleh emphasised the importance of "industry-specific" tie‑ups for T‑Sys and chummily interviewed Pat Gelsinger, CEO of VMware, and Arun Bansal, Head of Market Area Europe & Latin America at Ericsson, during his session.
While Al‑Saleh's presentation was upbeat, he acknowledged the coronavirus pandemic would have a major negative impact, inferring about half of European businesses would cut IT spend.
"Look, I believe many companies are going to have to reduce their spending… They have to get back to securing their company. They have got to get healthy financially, so I expect a lot of cuts. However, I do believe that about 50% of the European companies will either keep their IT spend or maybe in some cases increase it. But for sure what will happen is reprioritisation of what they need to spend."

— Al‑Saleh.
No word yet on cash flow target
Naturally, there was no steer from Al‑Saleh on how depressed spending will impact its financial performance, including the improvements on order entry and earnings seen under his turnaround programme (Deutsche Telekomwatch, #92 and passim).
As the impact of COVID‑19 becomes clearer, a key item for T‑Sys will be whether it can retain a headline target of (finally) creating positive cash flow for DT during the current fiscal year (to 31 December 2020), or remains a drag on the Group kitty.
Operationally, focus will be on whether the transformation plan is extended, because of the crisis. DT — which has been attempting to reshape T‑Sys for more than a decade — appears wary of giving out timelines for completion of the Al‑Saleh-led overhaul, but December 2022 has emerged as a possible end-date. Al‑Saleh was recently handed a new two year contract to that point, and DT recently suggested it intends to have moved T‑Sys onto a more robust, growth-led platform "by 2022".
Horizon communications
Speaking from T‑Sys' office in London's Fitzrovia, Al‑Saleh painted the post-coronavirus scene as opportunity, arguing that businesses would go through a three-step change process, encompassing: "Horizon 1" (securing operations); "Horizon 2" (adjustment to the "new reality"); and "Horizon 3" (acceleration of the digital agenda).
One of his key messages was that things have changed permanently, and that the digitally-infused, short-term responses businesses have implemented, such as enabling secure home-working and video collaboration, are a springboard towards something new and long-lasting.
Al‑Saleh claimed that customers had told him that while currently focused on stabilising their businesses economically, "we are not going back to the same way we [were] before". They want to maintain the "dramatic increase in agility" forced upon them by the pandemic, where new services and solutions that would normally take "months or quarters" to enable have been rolled out in days.
"We are going to have a new normal. It is not going to be the same as it was before. I do believe that companies will take advantage at looking at how did they work in this crisis environment and how can they learn and deploy some of these new things they have done and make them business as usual… I want us as a company to be agile and deploy very quickly new solutions to our customers. So I believe that the digital agenda… is going to be adjusted and it is going to be dramatically accelerated."

— Al‑Saleh.
New exec and product line-up
There are also signs the division itself is morphing, with new products and partnerships to reflect Al‑Saleh's model.
Initially, T‑Sys is focused on "pragmatic", "tactical" solutions for businesses, extending availability of solutions such as digital signature software, devices for home-working, productivity tools, video conferencing, and secure virtual private networks. It has also worked on a number of data centre and network capacity-expansion projects for clients, and Al‑Saleh sought to emphasise the ongoing importance of "the network" in the "new normal".
Further out, the division's product portfolio appears set for a major remix, over and above the numerous changes seen during its turnaround effort. Dirk Backofen, formerly Head of Telekom Security, shifted to a new role as Senior Vice‑President of Business Development for T‑Sys on 1 May 2020, focused on "new innovative platforms which will combine connectivity, applications, collaboration, security, and identity management in the post‑corona era".
While details are yet to be fleshed out, key trends cited by Al‑Saleh for Horizon 2 and Horizon 3 include agility, automation, and cost-reduction, with artificial intelligence, augmented reality, and cloud computing name-checked among key technologies.
There was also a suggestion that enterprises will renew focus on vendor-independence, to have safe harbours for the geopolitical storms that could come in the COVID‑19 fallout — and that T‑Sys will ramp up its multi-cloud strategy in response. Germany's emerging, "digital sovereignty"-focused GAIA X Project (Deutsche Telekomwatch, #89) looked set to be a rising focus in the coming months. "There is a real concern among clients [about] being dependent", said Al‑Saleh. "There is a big movement politically that people need to be independent and the governance of the data needs to reside with the ownership of the data, if you will", he added.
Al‑Saleh denied businesses would press the hold button on expansion-focused investments, such as in 5G and Internet of Things, while responding to the pandemic. However, he added that "we need to accept that the businesses need some time to recover".