DT goes for continuity with confirmed New T-Mobile leadership line-up in USA.
People movements include: Nicholas Drake, Vipul Jain, Christopher Kindt, John Legere, Neville Ray, Mike Sievert, Daniel Rockey.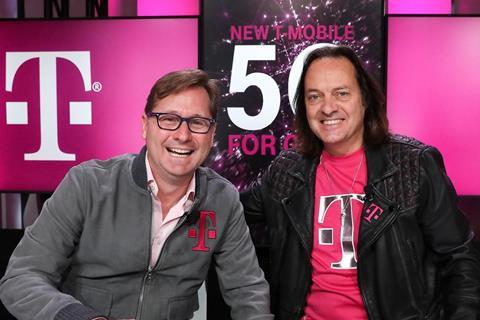 People movement highlights

Company

Executive

Activity

Details

Sources: Deutsche Telekom; T-Mobile; various.

USA

T-Mobile US

Nicholas
Drake

Departure

T‑Mobile US (TMUS) Executive VP and Chief Innovator Nicholas Drake joined Google as VP of Global Marketing.

Drake, part of TMUS's Senior Leadership Team, joined the NatCo in 2015 as SVP of Digital, and had only recently moved into the Chief Innovator role to lead a "confidential new initiative" that is yet to be revealed (Deutsche Telekomwatch, #83). His replacement was not named.

Vipul
Jain

New role

TMUS promoted Vipul Jain, Supply Chain Management Advisor, to the role of Director of Supply Chain Strategy & Operations.

Christopher Kindt

Appointment

TMUS appointed Christopher Kindt Senior Director of Media Strategy & Partnerships.

Kindt was formerly SVP of Marketing & Communications at Red Bull Media House, the Austrian energy drink giant's media arm.

John
Legere

Departure

TMUS announced that Chief Executive (CEO) John Legere will step down from the position at the end of his contract on 30 April 2020 (see separate report). Mike Sievert, currently the American NatCo's President and Chief Operating Officer, will formally take the reins from Legere on 1 May 2020.

Legere, who has served as CEO since 30 April 2013, will remain a member of the Board.

Confirmation of the switch came as part of a top management shoring-up exercise that also saw: Neville Ray, Chief Technology Officer at TMUS, handed a nominal promotion to become President of Technology; and Chief Financial Officer Braxton Carter commit to staying at the NatCo until at least mid‑2020, after having been set to leave at the end of December 2019 (Deutsche Telekomwatch, #82).

Neville
Ray

New role

Mike
Sievert

New role

Daniel
Rockey

New role

Daniel Rockey, Director of IoT Connect at TMUS, changed remit to become Director of Ecosystem Development.