Timely boost from BNetzA, but 5G costs and Vodafone move cloud wholesale picture.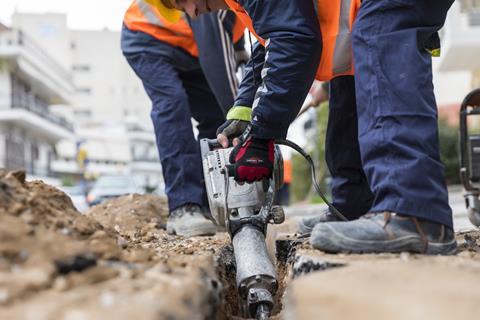 Telekom Deutschland (TDE) welcomed a proposal by Germany's telecoms regulator to hike last‑mile fees for the copper network, but rivals were less impressed by the rise in prices.
TDE hailed the proposed increase in fees as a "step in the right direction", although it pointed out that the new rates put forward by the Bundesnetzagentur (Federal Network Agency/BNetzA) fell far short of TDE's suggested increases. The hikes in fees were justified by the increased cost of underground construction and installation works. TDE claimed civil engineering costs have risen by 30% in the past two years alone.
In detail, BNetzA proposed that TDE can raise the monthly fees it charges rivals for accessing its last‑mile infrastructure from the "Hauptverteiler" (main distribution frame or central office) to €11.19 from €10.02, and from street cabinets to €7.05 from €6.77. TDE had requested increases to €12.10 and €8.18, respectively.
Furthermore, the agency is suggesting that competitors that rely on a TDE cable conduit for the connection of a cable distributor are to pay a monthly fee of €0.06‑per‑metre of a one-quarter pipe instead of €0.04. However, the connection of a street cabinet with dark fibre is to be lowered from €46.76 to €13.61, while the monthly rental charge for access to multi‑function cabinets is set to decrease to €86.91 from €90.14.
The changes in fees are expected to take effect from 1 July 2019 for a period of three years, subject to approval from the European Commission, the Body of European Regulators for Electronic Communications (BEREC), and national regulatory bodies of the European Union member states. TDE is said to have rented about 5.2 million last‑mile access lines or subscriber lines to competitors at the end of 2018.
Rivals are not impressed
As might be expected, the response from competitors to the proposed hikes has been less than favourable. Jürgen Grützner, Managing Director of the Verband der Anbieter von Telekommunikations- und Mehrwertdiensten (VATM), an association of telecoms and value‑added service providers, said the increase of "more than 10%" was excessive, and will augment TDE's revenue from last‑mile access by a further €60m, up from the current €650m.
Grützner pointed out that the fee increase is based on a hypothetical calculation for network regulation purposes because the copper network is already in the ground. He claimed that altnets continue to pay the costs for a hypothetical complete rebuilding of the last mile to the customer.
Grützner said a readjustment of the pricing model for old copper networks is therefore "urgently required", or rising costs for civil engineering work and other factors "will continue to increase fees in the future", adversely affecting the ability of rivals to invest in new fibre networks. He suggested that the additional revenue received by TDE as a result of the regulatory decision should be donated to the digital fund for fibre network expansion in rural areas.
A spokesperson for Vodafone Germany told the dpa‑AFX news agency that the increase in fees "for the use of the old, depreciated copper infrastructure reduces the incentive for Telekom to invest in fibre-optic expansion".
For its part, TDE stressed that it has every intention of investing in fibre-optic networks. Its argument in favour of the hike is that last‑mile fees had become so cheap after falling continually over two decades (with the exception of 2013) that competitors prefer to use the installed infrastructure rather than investing in their own, more expensive networks.
In a website post, TDE claimed that the new charges will in fact provide all network providers "with an important incentive to invest in fibre‑optic networks in the future".
"For us at Deutsche Telekom, it is also crucial that the overall investment framework in Germany is improved. Above all, this means that new fibre‑optic networks should not be regulated like the copper network under the previous monopoly. "

— TDE.
Playing the fibre game
TDE recently boosted its long‑term fibre game with the formation of its long‑gestated fibre‑to-the‑premises (FTTP)‑focused joint venture with energy, IT, and telecoms group EWE (Deutsche Telekomwatch, #82). Dirk Wössner, Chief Executive (CEO) of the NatCo, said at the time that TDE is convinced that it has to team up with other companies "to digitalise Germany", and is interested in many forms of collaboration.
The NatCo's FTTP target is a rollout rate to two million premises‑per-annum by 2021 (Deutsche Telekomwatch, #79). Nonetheless, it is facing increasing competition in both the wholesale and retail markets, from upstarts and established players.
In early‑May 2019, Vodafone committed to opening up its cable network to other providers — including Telefónica Deutschland, which has struck a deal with the operator — in a bid to push through its planned merger with Unitymedia.
Deutsche Telekom's management has played down concerns that the move could accelerate churn from TDE's wholesale services, of which Telefónica is a major user.