Dominique Leroy's DT Europe continues to build out its enterprise-focused activities as SVP, B2B Ralf Nejedl announces his departure.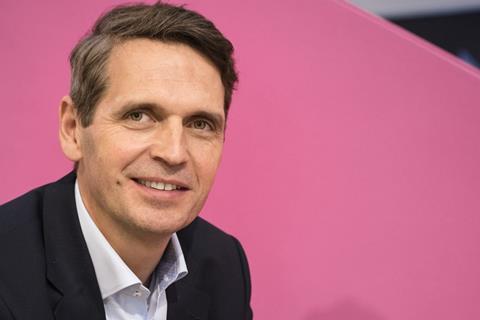 Ralf Nejedl, Senior Vice-President for Business-to-Business at Deutsche Telekom's Europe division, announced his departure from the Group.
"It's time to hand over the torch", Nejedl said, via LinkedIn. His successor has not yet been named.
" We have evolved from a telecom service provider into a partner for digitisation for our business customers. "

Nejedl.
New opportunities beckon
Nejedl has led the European segment's B2B business since 2017, during which time he has overseen enterprise digitalisation as well as growth areas such as cloud-based services, Internet of Things, and smart cities.
By way of next step, Nejedl said he will "start a new endeavour and work in a more entrepreneurial way". He has not confirmed what form that might take, but said he was exploring new opportunities.
Alongside his SVP, B2B role, he is a member of the board of directors at Hungarian NatCo Magyar Telekom, and sits on Supervisory Boards at GTS Central European Holding and GTS Consortium Luxemburg — two regional subsidiaries of 2014 IT services acquisition GTS Telecom (Deutsche Telekomwatch, #32) — and T-Mobile Poland.
Nejedl started his DT career at enterprise unit T-Systems, where he held executive positions including a tenure as Managing Director, T-Systems Belgium, before he moved to DT Europe as SVP, B2B Sales & Service.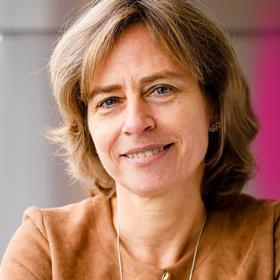 Indicators of change
When Chief Executive Dominique Leroy took the helm at Europe, she positioned B2B expansion as an area of strategic importance for the division. Six months in, at the DT's May 2021 Capital Markets Day, she said that enterprise services were key to "long-term sustainable growth", enabling a focus on customer centricity and digitalisation.
" We want to grow in B2B. There are several markets where, in B2B, you still have lots of opportunity, and we want to grasp that. "

Leroy.
Specifically, she outlined growth potential in public sector digitalisation (leveraging EU funds) and small- and medium-size enterprises (providing "bundled" connectivity and digital solutions) — elements which will become a priority for Nejedl's successor.
Leroy also used the Capital Markets Day to give an indication of the weight she puts on people and culture at her division, saying that attracting the "right talent" was crucial to the Europe segment's success. As such, changes in personnel over the past year at Europe have reflected the shift in strategy. In parallel, greater collaboration between the regional unit and that of her predecessor, Srini Gopalan's Telekom Deutschland (TDE), has seen roles transition to cover cross-divisional remits.
Among the more senior movers was Jonathan Abrahamson, SVP for Digital, Experience & Delivery, who took on responsibility for both Europe and Germany in an effort to "leverage synergies", according to Group CEO Timotheus Höttges. Rodrigo Diehl, named SVP, Commercial Growth Europe is another. His role bundles the Group's European consumer businesses.
Daniel Bühl, brought to Europe from TDE in mid-2021, was named VP, Strategy & Transformation Programmes, and last month, TDE added former Europe SVP, Agile Enterprise & Digital Transformation Laurent Donnay to its ranks. He was named Chief Information Officer for Product, Sales & Service at the NatCo's Business-to-Consumer function.
Europe's B2B business itself has also been changing, with Jörg Henkel taking over from Steffen Oefner as Head of Wholesale earlier in the year.
Bühl's appointment, and that of Eva Somorjai, now SVP, Special Transformation Projects, point to the transformation agenda Leroy has been seeking to instil at the division. She has also been candid in her goal to find "some consolidation" across the ten NatCos her remit covers. DT's Europe division includes markets in Austria, Croatia, Czech Republic, Greece, Hungary, North Macedonia, Montenegro, Poland, Romania, and Slovakia.
Deutsche Telekom Europe: key strategic and financial objectives, FY20–FY24

Category
Metric
Ambition (FY24 unless stated)
Source: Deutsche Telekom.

"Customer centricity"

Customer satisfaction

#1 in TRI*M in all markets.
Brand preference ≥ market share in all countries.

Employer ranking

Top 5–10 in all countries.

5G coverage

Fibre coverage (1Gbps)

~Ten million households covered, with more than three million connections.

Financials

Revenue

>1% compound annual growth rate (CAGR), adjusted for mobile termination rates (FY20–FY24).

Adjusted EBITDA

1.5%–2.5% CAGR (FY20–FY24).

Indirect cost

–€300m after leases (FY20–FY24).

Cash capital expenditure

Return on capital expenditure

> Weighted average cost of capital (FY20–FY24).

Joseph Purnell is a Staff Reporter for TelcoTitans, contributing telecoms news analysis since 2019 as part of the TelcoTitans Editorial team.