Another strong year of growth for Group, led by USA.
Unfortunate clash with Ukraine invasion dulls shareholder reaction.
Executives stress openness and flexibility when it comes to a big TowerCo deal, but want full recognition of DT assets' worth.
Muddiness on future of BT holding.
Inflationary pressures said to be under control.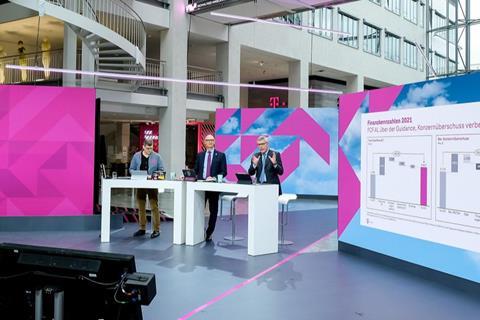 What were DT's key FY21 messages?
As has become almost routine for Deutsche Telekom, the year to 31 December 2021 (FY21) saw the Group put up an impressive set of financial and commercial numbers, as well as steadily finding a better balance between Europe and America, in terms of thrust.
This isn't enough for the Group's management, though.
DT's aggressive top team wants more credit for the huge expansion it has undertaken over the past decade, and to be seen as having truly arrived on the global stage as a telecoms alpha.
The presentation and accompanying Q&As saw Chief Executive Timotheus Höttges claim DT was now a "player in the Champions League of telecommunications companies".
He highlighted the closeness of recent strategic partnerships with Google, Amazon Web Services, and other web giants, and reiterated the Group's goal of becoming the "leading digital telco in the world". He also reported "feedback from a lot of CEOs" that DT has become a benchmark for peers in terms of operating networks. "Learning from the best" was how he put it.
The other obvious theme was "stability". Höttges presented DT as an "anchor" for employees, shareholders, and broader society during the current volatile times.
And on a personal level, the CEO has evidently found new vigour and impetus from both the recent early extension of his contract and confirmation (pending shareholder approval) of the identity of DT's new Chairman, Frank Appel (Deutsche Telekomwatch, #107 and #111). He said he and his team "now have certainty".
What was the reality?
Unfortunately for DT, this was not a run-of-the-mill results presentation, for obvious reasons, and the Group's comms inevitably got severe interference from the unfolding disaster in Ukraine.
The strong annual results data would have been an opportunity for DT to win round more stock traders in relation to the Group's cash flow growth potential, and make back some ground towards Höttges' target of becoming a €100bn (£84bn) stock (Deutsche Telekomwatch, #105).
But with indices on the slide internationally, DT's shares ended up down 1.7% for the day, and lying a good €20bn or more away from reaching that market cap goal. Executives also had to take time in the session with German media to make assurances over backup measures for the Group's software development base in St. Petersburg, should sanctions affect it.
The analyst session had a fittingly sombre and serious tone, with only a couple of glimpses of the freewheeling and showmanship Höttges normally revels in. Neither were there any profanities or scornful digs at rivals — on the contrary, the CEO went out of his way to praise European peers' strategic intelligence at one point (albeit to put an even shinier gloss on DT's successes).
Höttges opened his presentation by stressing how he was "shocked and appalled by the Russian attack on Ukraine". He was philosophical about the timing of the call — "you can't choose the days" — and the share price drop, and while stressing he was "very confident about 2022", he added that "I do not want to be seen as over-excited because this is a difficult environment".
How did DT perform?
The Group's FY results again drove home the dramatically increased scale and power of DT's Transatlantic platform, following the 2020 Sprint takeover.
Net revenue came in at €108.8bn, up 7.7% on FY20. In FY19, the last FY before the mega-deal went through, DT as a Group produced €80.5bn in sales. Earnings before interest, taxation, depreciation, and amortisation, after leases (EBITDA AL) rose 6.6% in FY21, to €37.3bn.
Free cash flow returned (before dividend and spectrum payouts) to above pre-FY20 levels, at €8.8bn.
At operating segment level, the USA remains DT's main growth engine, contributing a 7.2% net revenue increase, to €18.4bn, in Q4.
In Germany, Telekom Deutschland produced another quarter of comparatively strong growth (2.1%, to €6.2bn), helped by continued strong broadband user acquisition (+84,000). It was noticeable, but not flagged by DT, that TDE is now only barely over a third of the size of T-Mobile US, in terms of sales.
Trends were more sedate in DT's Europe segment, with net revenue dropping 2.2% in pandemic-affected Q4. However, the efficiency-focused division received kudos for delivering an organic 5.4% increase in core earnings across FY21.
T-Systems remained the Group's major pain point, reporting a 1.7% decrease in net revenue and 34.9% drop-off in order entry for Q4.
What was the key quote or moment?
There were several, really. M&A possibilities cropped up repeatedly throughout both the press conference and analyst session, and one of the more striking responses by Höttges was an abrupt call for EC officials to "wake up" to the need for consolidation.
While he indicated DT did not itself have skin in the consolidation game, the language and tone of his comment was another sign of the Group's broader frustrations with the regulatory landscape in Europe and relief at having such a healthy business on the other side of the Atlantic.
The M&A talk that directly concerned DT largely revolved around the Group's prospective European tower tie-up with a telco rival (i.e. Orange or Vodafone) or alternative partner. Höttges signalled that things continue to progress, but indicated DT was not going into negotiations meekly, considering the scale and maturity of the assets it has in its part-separated GD Towers pot.
DT wants the "most juiciest deal" available, he said, adding that "I will not make bad deals… and I'm patient, like a cat".
The Group remains agnostic regarding issues like ownership structure and control, when it comes to forming an enlarged TowerCo — but a Jerry Maguire-channelling Höttges stressed he would not waver on value. "I want to see the money", he said.
What happened on spend and costs?
On inflation, DT acknowledged pressures but indicated things are under control when it comes to cushioning their impact and hitting headline financial targets.
Chief Financial Officer Christian Illek did flag expectations of headwinds from salary rises in Europe, where he suggested there was "quite a bit of appetite" for bolstering of staff pay cheques. "We have to go through the negotiations", he said. Further, while the Group has already hedged 75%–85% of expected energy cost increases for FY22, DT "has to see how it plays out" regarding longer term power pricing trends, Illek said (no doubt with half an eye on the Ukraine situation in this context, too).
Nonetheless, overall, Illek expected "absolutely no significant impact" from inflation on DT's forward guidance. DT also said it remained on course on its bid to shave €1.2bn off its indirect cost base by FY24, as laid out at last year's Capital Markets Day (Deutsche Telekomwatch, #105).
There were some interesting comments regarding the Group's capacity to execute key spending initiatives in its home market.
On FTTP rollout in Germany, Höttges said DT was not being affected by inflation because of its long-term contracts with suppliers. He also indicated that it remains "well on track" to meet another high-profile FY24 efficiency goal — of reducing (currently very high) fibre unit deployment costs in Germany by 25%. This push forms part of a broad package of measures DT is taking in order to help pay for FTTP rollout.
On tower deployment, Deutsche Funkturm had another miss on its (admittedly highly aggressive) site expansion goal of 2,000 per annum. FY21 saw 1,400 rolled out (and 300 decommissioned), according to the Group's documentation. Further, Höttges suggested FY22 could see it come up short on the 2,000 figure again because of the ongoing challenge of securing site permits.
Despite this, the TowerCo got a pat on the back from the CEO for achieving what it did, and its comparative success in dealing with authorities. Its new-build total for the last four FYs (6,300 sites) is "far more" than any of its peers, he stressed.
What wasn't mentioned?
A huge range of ground was covered during what was a marathon, 100+-minute analyst session, with no major obvious omissions.
But one area of cloudiness that would have been noted in London and Paris was Illek's carefully worded answer to a question from James Ratzer of New Street Research on the future of the operator's BT Group holding, following French–Israeli billionaire Patrick Drahi's move on the UK telco (Deutsche Telekomwatch, #105, #107, and #109).
"We have to better understand what Drahi is doing with that stake", said Illek — another tacit acknowledgement of how many players in and around BT have been caught off guard by the stealth of Drahi's incursion. He stressed the usefulness of BT dividends to DT's pension fund, where the stake is sequestered, but declined to comment further on options.
What else jumped out to Deutsche Telekomwatch?
One blink-and-you-miss-it comment came from Höttges regarding DT's recent cross-border IoT tie-up with T-Mobile US.
The partnership comes with an increasingly powerful T-Mobile US starting to make its own play on the international stage — necessitating a new level of coordination and cooperation with its parent.
The new joint product — due to go live next week — was just "one of the big synergies projects" DT and T-Mobile have in the pipeline, Höttges indicated.