Display of strength extends to DT's decision to leave guidance unchanged.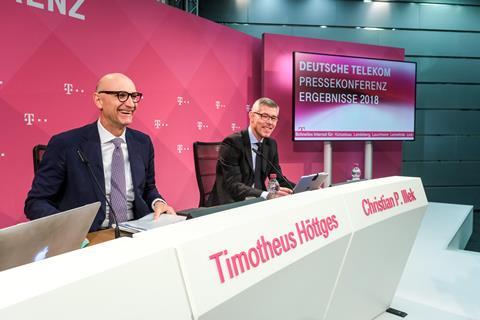 Overall, DT expects the COVID‑19 impact on its top-line to only translate into a "small negative" blow to earnings, ex‑US, and to be "neutral" on free cash flow.
However, it remains to be seen whether DT — whose US presence has allowed it to shrug off many of the difficulties facing European peers — is in a completely unshakeable position in light of the crisis.
Its FY20 guidance is actually somewhat temporary, as when it reports Q2 results in mid-August 2020, DT is set to rework its reporting and outlook, after completing the mammoth task of amalgamating numbers from recent acquisition Sprint (whose takeover was completed just after the close of Q1).
As noted previously, the transformative deal's impact on overall DT debt levels, when including those of the consolidated Sprint and T‑Mobile US (TMUS), will come into the spotlight, with the Group saying back in 2018 that the transaction would take it briefly outside its leverage "comfort zone", but back into its window as and when the enlarged TMUS' cash flow ramps up. Economic trends in the USA are therefore of particular significance for the Group.
As outlined in February 2020, DT's FY20 guidance envisages:
An increase in revenue.
Adjusted EBITDA AL growth of 3% across the Group, and a 2%‑increase ex‑US.
Stable capex.
Free cash flow AL growth of 14%.
While pro forma forecasts are apparently cosseted, DT is not claiming financial immunity from the virus and its decision to maintain guidance was based only on its view of "foreseeable consequences of the pandemic".
Largest business TMUS reported its Q1 figures before DT (Deutsche Telekomwatch, #93), and accepted the pandemic had majorly clouded its expectations, while (somewhat ironically, given Höttges' comments) postponing delivery of FY20 guidance. It said the lockdown measures could wipe out branded postpaid customer growth in Q2 and revealed a major review of its cost base, as well as mooting a further squeeze on suppliers.
In DT's presentation, there were no obvious warning signs for suppliers in terms of overall spend, and the Group said COVID‑19 would only have a "limited" impact on capital expenditure. Ex-spectrum, capital outlay is forecast to be fairly steady in FY20, at €13bn. It continues to be evident, however, that the pandemic will change the mix — if not the volume — of DT's investment. Tower roll out and DT's approach to physical assets are being rethought (see separate reports), and executives continued to frame the pandemic as a catalyst for digital and post-digital services adoption, which will no doubt accelerate the business-to-business product refresh taking place via reorganisation of T‑Systems (T‑Sys) and the coming transfer of some of its operations to Telekom Deutschland (TDE).
Deutsche Telekom, capex and spectrum investment development, FY12–21
DT era (from FY14 onwards) as the Group has increasingly turned to the US
This aggression is set to continue into the 2020s, with TMUS' Sprint merger laying the basis for further, 5G-infused expansion and aiming to build a huge cash flow stream for DT in return.
FY12
FY13
FY14
FY15
FY16
FY17
FY18
FY19
Change (12m)
FY20 *
FY17–FY21 *
Deutsche Telekom, capex and spectrum investment development, FY12–21
Note: * Guidance is provided on a pro forma basis and by necessity excludes spectrum investment.
** At 1 January 2017, the Innovation, Telekom IT, and Technology functions that previously fell within the Germany, Europe, and Systems Solutions operating segments, were transferred into a separate Board department within Group Headquarters & Group Services (Technology & Innovation). This accounts for much of the dramatic capital expenditure change seen for FY17 at GHSS and SysSol, and accentuates Technology & Innovation's importance as a capex centre for DT.
*** At 1 January 2017, DT formed a new Group Development operating segment (now also referred to as USA & Corporate Development in some DT contexts). The segment has taken on oversight of several units and subsidiaries formerly assigned to other operating segments, such as T-Mobile Netherlands (previously in Europe) and Deutsche Funkturm (previously Germany). While responsible for managing T‑Mobile US, DT's USA figures are reported separately.
**** Group Development envisages a 17% compound annual growth rate in capex across FY17–FY21, if counting in the cost of network rollout by German infrastructure arm Deutsche Funkturm. This does not include USA capex.
Sources: DT and Deutsche Telekomwatch.

Cash capex (including spectrum investment)

€8,432m

€11,068m

€11,844m

€14,613m

€13,640m

€19,494m

€12,492m

€14,357m

14.9%

Stable ("around" €13bn, against FY19's €13.1bn)

Stable ex-USA

Germany

€3,418m

€3,411m

€3,807m

€5,609m

€4,161m

€4,214m

€4,240m

€4,349m

2.6%

Slight decrease

Stable

US

€2,560m

€3,279m

€5,072m

€6,381m

€5,855m

€11,932m

€4,661m

€6,369m

36.6%

Stable

–

Europe

€1,698m

€3,661m

€2,101m

€1,652m

€2,764m

€1,874m

€1,887m

€1,824m

‑3.3%

Stable

Stable

Systems Solutions **

€1,187m

€1,066m

€1,171m

€1,169m

€1,058m

€383m **

€462m

€384m

‑16.9%

Stable

Stable

GHSS **

€404m

€411m

€381m

€342m

€268m

€1,055m **

€1,078m

€1,028m

‑4.6%

–

Stable

Group Development ***

–

–

–

–

–

€290m

€271m

€452m

66.8%

Strong increase

Stable ex-Deutsche Funkturm ****
DT echoes roaming, B2B drags
Back in Europe, DT is also on alert for shorter- and longer-term dangers. It followed other operators by conceding roaming revenue had taken a major hit from travel restrictions (dropping 80% between mid‑March 2020 and the end of April 2020).
Handset sales naturally slowed down (‑20%) when its shops were shut, although fixed-line calling revenue rose by a third and churn is said to be falling in the mobile space (‑20bp among German contract users during Q1). As at TMUS, and other operators, DT is keeping a watch on customer debt as the crisis morphs into economic downturn.
T‑Sys has already warned that European clients are cutting spending (Deutsche Telekomwatch, #93) — and DT confirmed it was seeing "some IT project delays" in the corporate sector. T‑Sys' order entry slid 13.4% during the three months, although this was said to be at least partly down to an especially strong quarter in Q1 FY19. On the positive side, Christian Illek, Chief Financial Officer of DT, echoed recent comments by T‑Sys CEO Adel Al‑Saleh, describing the pandemic as an "eye-opening event" for corporate customers, in terms of their reliance on digital services.
More Q1 analysis from Deutsche Telekomwatch, #94: