DT bids heavily on acquiring more airwave concessions, despite reservations.
Germany throws Huawei a 5G lifeline.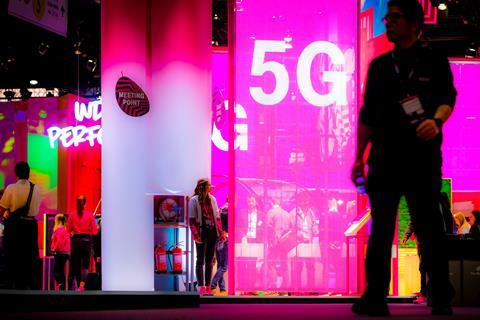 Deutsche Telekom (DT) committed €1.8bn on Germany's controversial 5G auction as it trundled on into May 2019.
Bidding activity appears to be slowing down, however. When the auction resumed after the Easter break, Germany's coffers were in line for a windfall in the region of €6bn. At the end of Round 349, in the third week of May 2019, total bidding had crept up to nearly €5.9bn. DT's commitment also steadied, holding at around the €1.8bn mark.
Of the 41 blocks of spectrum up for grabs in the 2GHz and 3.6GHz frequency bands, DT was leader in twelve at the end of Round 349: four blocks of 2GHz spectrum (representing spend of around €850m) and eight blocks of airwaves at 3.6GHz (about €1bn). Vodafone Germany was also holding on to a dozen blocks. Telefónica Deutschland and Drillisch — Germany's potentially new mobile network operator — were in pole position in nine and eight blocks, respectively.
5G business model up in air
Nonetheless, the steadying of the auction ship is unlikely to placate DT and other bidders. Total bidding has gone beyond the upper echelons of most analyst expectations, and a financial bruising now seems almost inevitable. Ahead of the auction, Olaf Scholz, Germany's Finance Minister, was reportedly counting on raking in between €4bn and €5bn.
Timotheus Höttges, Chief Executive (CEO) of DT, has been vocal about spiralling auction costs. During the Group's latest quarterly results presentation, he reiterated that bidding was being "artificially" inflated by the fact that only two of multiple 5G ranges had been opened up in this particular sell‑off, and a quarter of 5G spectrum was being partitioned for dedicated 'industrial' deployments (Deutsche Telekomwatch, #82 and passim).
As a clear political strike on the government, he called the auction proceeds an "additional tax". "We have previously made it clear that we are not happy with the auction rules, which is why we challenged them in court… for instance, the reservation of 100MHz for industrial users creates a needless and counterproductive shortage of supply", he said. At the same time, he conceded the Group was bound in to the auction by its "non‑negotiable" commitment to network leadership.
The scale of prospective outlay is also worrying other industry stakeholders. Anxious that larger‑than-expected sums are being spent on spectrum across Europe, Ericsson CEO Börje Ekholm feared less money will be available for network spend. "Regulators are trying to maximise revenues from spectrum auctions instead of considering the macro economic benefits from building out the telecom network", he complained. Höttges himself claimed German operators' 5G auction outlay represented an opportunity cost equivalent to rolling out 50,000 sites.
The mounting auction costs clearly add pressure on DT to follow European rivals in forming new network‑sharing arrangements, to help finance 5G rollout. Höttges was lukewarm on this prospect, however — especially when compared with the increasing enthusiasm being shown by peers such as Orange, Telecom Italia, and Vodafone. He said DT was "willing to have a discussion" on network‑sharing, but accentuated the Group's focus on maintaining differentiation in key areas, and resistance to any coercion into any roaming arrangement with Drillisch.
Huawei still on the 5G dance floor
There was some good news in Germany for DT and other operators that rely heavily on Huawei Technologies. In an interview with the Financial Times, Jochen Homann, President of Germany's Bundesnetzagentur (BNetzA/Federal Networks Agency), struck a much more accommodating tone on the Chinese supplier than the American government, which has been urging allies to give Huawei short shrift on the grounds of national security.
"The position the Bundesnetzagentur takes is that no equipment supplier, including Huawei, should, or may, be specifically excluded", said Homann. He added that the agency had not seen any hard evidence that Huawei poses a security risk.
Homann's pragmatic approach is not entirely surprising. BNetzA and Bundesamt für Sicherheit in der Informationstechnik (Federal Office for Information Security/BSI) recently drew up guidelines for supplier involvement in 5G infrastructure. It was widely seen as a way for Huawei to avoid an outright ban from 5G participation in Germany (Deutsche Telekomwatch, #81). Recommendations included that critical core components can only be installed once they have been tested in a BSI‑approved laboratory, certified, and undergone further checks on delivery. Network operators must also constantly monitor network traffic for abnormalities, and should not depend on a sole supplier.