Germany plans to launch first U‑Space zones in 2023.
Droniq and DFS recommendations form German U‑Space blueprint.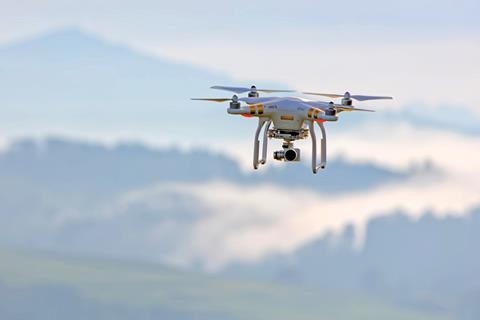 Droniq, the joint venture between Deutsche Telekom (49%) and German air traffic control operator Deutsche Flugsicherung (51%), took a further step forward in its mission to set up an air traffic control system for drones with the publication of recommendations for the establishment of U‑Space areas in Germany.
The recommendations, based on findings from a pilot project carried out by Droniq in Hamburg during 2021, will provide a blueprint for all future U‑Space projects in Germany. Volker Wissing, Federal Minister for Digital Affairs and Transport, said the first U‑Space areas will be launched in Germany in 2023.
Wissing claimed that Germany is the "leading market" for drone technology with about 400 companies active in this field. He noted that the seven‑month Droniq trial "answered many of the important questions we have about setting up U‑Space areas. We are now using this successful practical experience to enable progress".
First announced in April 2021, the Droniq U‑Space Sandbox was located in airspace above the Port of Hamburg and allowed testing of drones for use in logistics. The Bundesministerium für Verkehr und digitale Infrastruktur (Federal Ministry of Transport and Digital Infrastructure/BMVI) provided funding of €500,000 (£598,481) to support the project. As well as Droniq and DFS, other partners included the Hamburg Aviation, Hamburg Ministry of Economy and Innovation, Hamburg Port Authority, HHLA Sky, and the UDVeo project consortium. Since then, Droniq has carried out similar trials at the Reichelsheim airfield in Hesse.
The BMVI will take into account both the findings from the Hamburg trial and the EU U‑Space regulation to develop a concept for the Germany‑wide establishment of U‑Space areas. In addition, research is carried out by the LUV project (solutions and recommended actions for the national implementation of the U‑Space regulation) funded by BMVI.
Droniq itself acts as a U‑Space Service Provider and has already implemented a fully operational unmanned aerial systems traffic management (UTM) platform capable of integrating drones in airspace structures. Developed by DFS, Droniq used this system to coordinate drone traffic in the Hamburg U‑Space.
DFS developed the recently launched Digital Platform for Unmanned Aviation (dipul) on behalf of the BMVI. Described by Wissing as a "one‑stop shop for all amateur and professional drone pilots", dipul pools together all relevant information for the operation of drones in Germany. The platform initially includes a: map tool, to show operators at a glance where drones can be used safely and the rules they must follow; data interface for geospatial reference data of the geographical zones; and a drone knowledge base, including certificates of knowledge, online registration, and licences. Other features to be added in 2022 include online applications and authorisations, a route planner, and weather data.
Droniq was formed in 2019 and lists clients in Germany such as ABGnova, Evonik, Flynex, Project Larus, Thyssengas, and Wingcopter, in addition to Deutsche Funkturm (Deutsche Telekomwatch, #83, #94, and #97). In February 2022, Droniq flagged a collaboration with the Deutscher Modellflieger Verband e.V. (German Model Aeroplane Association). The aim is to develop a solution based on the UTM platform to enable model aircraft operators to make themselves visible to other air traffic participants.

Anne Morris is a freelance journalist, editor and translator. She has been working as a reporter and news analyst for TelcoTitans since 2016.