Partnership to provide connectivity to hard‑to‑reach rural green energy sites.
BT's connectivity to deliver telecoms services to 100 ScottishPower sites across Europe.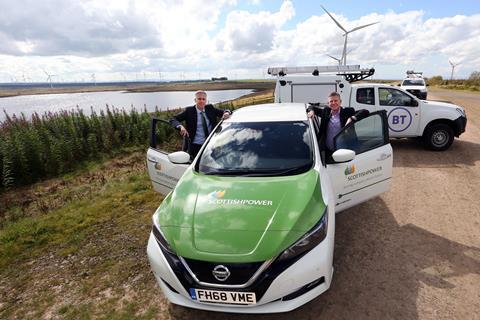 BT was awarded a "multimillion‑pound" contract by ScottishPower to connect its network of offices and windfarms, with the aim of stimulating growth of renewable energy in Scotland.
The pair's strategic partnership is designed to strengthen connectivity across ScottishPower's windfarms, to help facilitate the UK's goal of reaching net‑zero by 2050. BT will deliver a variety of network solutions to provide connectivity for ScottishPower's hard‑to‑reach rural green energy sites.
ScottishPower said it produces 100% green and renewable energy via its UK windfarms. The provider hopes to power both businesses and homes through innovations in alternatives to fossil fuels, including green hydrogen and smart solar.
The contract will deliver integrated telecoms services to about 100 sites across France, Germany, and the UK to enable ScottishPower to future‑proof its growing IT network. BT's services will aid ScottishPower's operational technology on its windfarms, enabling the monitoring of electricity production, operating efficiency, and turbine temperature.
On a wider scale, the partnership is set to support ScottishPower's expansion of onshore windfarms, investment in new solar technology, and innovative battery storage systems.
This is not the first sustainability initiative for BT and ScottishPower, with the duo joining forces last year to establish the Electric Vehicle Fleet Accelerator and increase the uptake of EVs in the UK (BTwatch, #328).
BT claims to purchase 100% of its energy from renewable sources such as ScottishPower. It plans to reach its target of net‑zero by the year 2030.