BT deal with Google Stadia means consumers can access the new cloud gaming platform in the UK.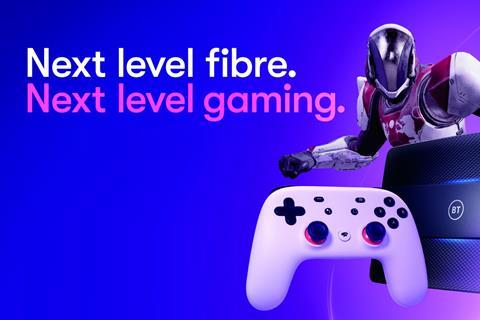 BT Consumer flagged that it had agreed a deal with Google to become the first distribution partner in Europe for Stadia, the latter's new cloud gaming platform.
The partnership will see the pair promote cloud gaming to BT's customers, as well design initiatives to build awareness, access, and availability of the platform in the UK.
Stadia is a cloud-based platform that enables users to play video games on desktops, laptops, mobile handsets, tablets, and televisions.
By way of promotion, in January 2020, BT offered its premium broadband customers a free Google Stadia Premiere Edition bundle (normally priced at £119), which includes: a Stadia controller, a Chromecast Ultra 4K high dynamic range (HDR) streaming device, and three months' access to a Stadia Pro subscription. This offers users the ability to play games in up to 4K definition with HDR and surround-sound audio. After the three-month promotional period ends, customers can pay £8.99 per-month to continue accessing the platform.
Further promotional packages are anticipated as 2020 continues, and BT will be running an advertising campaign across print, TV, and digital media to highlight the new offers. Google, which launched Stadia in November 2019, said it is to launch more than 120 games on the platform in 2020.
eSports involvement escalating with Excel endorsement
The Stadia partnership follows BT's confirmation earlier in January 2020 that it had agreed a new "multi‑year" sponsorship contract with esports team Excel Esports to become its exclusive lead partner.
The deal will see BT branding displayed on all kit worn by Excel's League of Legends European Championship and UK League Championship teams, with the latter renamed to "BT Excel". BT will also provide connectivity to Excel' headquarters and training facility based at Twickenham Stadium.