Humans needed to control misbehaving AIs in autonomous networks.
ETSI tackles standards for securing AI.
Telcos eager to expand autonomous ecosystem.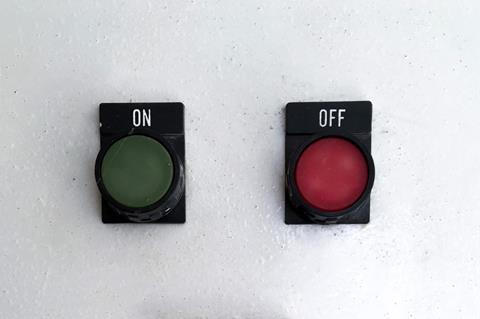 As the telco sector aspires to fully autonomous networks, Diego Lopez, Senior Technology Expert at Telefónica, cautioned that humans should remain in control of artificial intelligence (AI) in communications infrastructure.
Speaking in a recent FutureNet World panel discussion on the state of autonomous networks (during which "Skynet" and "The Terminator" were mentioned more than once), Lopez said that in whatever is eventually "automatic", there will need to be a "big red button that is going to be pushed by a human to stop the whole thing if required".
Among the risks associated with relying on AI, the technology can fall into the wrong hands and used maliciously or the AI itself can become compromised. Having to deal with "adversarial AIs" and the "misbehaviour of AIs" is why humans will need to retain control over networks, Lopez explained.
He observed it was "quite curious" that there is an assumption that AI is going to "behave properly" when it can "go crazy and do strange things". And just as a gun can be used by policemen or muggers, he said AI can "be in the hands of the black hats".
Lopez pointed to the relatively new ETSI Securing Artificial Intelligence (SAI) Industry Specification Group (SAI ISG), which was launched at the end of 2019 to address these issues for telco networks. The SAI group's mission is to define standards across three areas: "using AI to enhance security"; "mitigating against attacks that leverage AI"; and "securing AI itself from attack".
As Lopez described it, the SAI group is focused on identifying and finding ways to mitigate "not only the threats on the AI, but also the threats because we are using AI".
Lopez is a leading figure in the development of Network Functions Virtualisation (NFV) and cloud native technology and the creation of NFV standards, having previously chaired ETSI's NFV ISG. He currently chairs the NFV ISG's Network Operator Council.
Looking beyond telco automation
On the FutureNet panel, Lopez was joined by Christian Maitre, Group Director for Development and Strategy of Smart-Cities at Orange, and Dong Sun, Chief Business Strategist, Digital Transformation at Futurewei Technologies. The panellists generally agreed that telcos were a long way from fully autonomous networks and discussed why they need to look beyond their own operations and get new players involved.
Orange's Maitre said that while telcos and companies in other industries were starting to automate complex processes with things like robotic process automation, "we are far from being really automated and even more far from autonomous networks and autonomous systems".
His comments sounded a similar cautionary tone to recent remarks made by T-Mobile Netherlands Chief Technology & Information Officer Kim Larsen about the challenges of implementing large-scale AI for autonomous network operations.
While telcos' automation efforts are for the most part aimed inward at operational efficiency through self-configuring or self-healing networks, for example, Maitre said it should not only be about saving money but also about creating "new value" for verticals. To that end, he said it was important to get other vertical sectors involved to expand the ecosystem and create global standards.
"We have standards in telecoms, now we have to have standards in these interactions between the different autonomous network domains", he said. "It's really important, I would say mandatory, that we not only talk between ourselves, telco people, but really [engage with] all these guys".
Lopez also said it was important to attract new types of companies to develop autonomous network use cases. "What we intend is not only [to] reduce costs or simplify management, we're talking about precisely the possibility of a new way of interacting with the network [and] consuming the services", he said.
For a healthy ecosystem, he said it will need traditional vendors, small entrepreneurs, and companies that have not typically part of the network ecosystem. "The more diverse the ecosystem, the better. And the more, the merrier", said Lopez.
Telefónica has made some early steps to integrate automated capabilities within its network infrastructure and, although it has been largely quiet on its experiences of late, the development of automated systems that enable the virtualisation and digitalisation of its network and infrastructure assets is foundational to the platform approach it unveiled in 2017 (Telefónicawatch, #115). The 4th Platform, its customer-facing cognitive intelligence technology also known as Aura, has tended to get the most attention over the years, but deeper in the engine room progress is also being made.
Another of its more high-profile projects has been the iFusión programme, which was announced at Zero Touch Automation Congress 2019 and aims to replace the operator's layer of domain-specific software-defined network controllers with a single, "end-to-end" controller. iFusión appears to be an evolution of the Fusión digital network transformation concept that has underpinned system upgrades in: Chile, with Juniper Networks and NEC; Spain, on Juniper technology in 2015 (as Fusión Red); and the UK (in 2019, under the Fusión Network banner — Telefónicawatch, passim). Both Telefónica Deutschland and Telefónica UK have highlighted infrastructure upgrade engagements with Ciena in recent months with a network automation component (Telefónicawatch, #143 and #148). The German deployment, involving Blue Planet intelligent automation software from Ciena, was described as playing a "key role" in iFusión.

Michelle Donegan is an experienced telecoms writer and has been contributing as a reporter and news analyst for TelcoTitans since July 2020.