With its share price deflated, dividend suspended, and a series of financial challenges on the horizon, BT Group is consulting on the best way to shore its defences against unsolicited bids.
Boutique banker and trusted Vodafone advisor Robey Warshaw may be added to BT defence team.
KKR emerges as a potential buyer.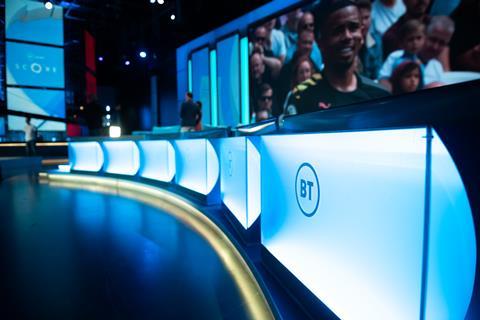 Speculation that a private equity bid for BT Group could be in the offing followed weekend reports that BT Group was working with advisers on an updated defence strategy intended to ward off unwanted offers for its business.
According to Sky News, BT has asked Goldman Sachs to devise a revised strategy on acquisitions, and is also considering working with Robey Warshaw, a niche investment partnership on bolstering its defences.
Robey Warshaw is a longstanding adviser to BT peer Vodafone Group, having advised on a string of acquisitions. Over the past couple of years it has also played a role in the Comcast acquisition of Sky, and the London Stock Exchange Group's defence against a proposed acquisition by the Hong Kong Stock Exchange.
BT lets it be known it's ready to take on all comers
The news of the additional preparations appears to have emerged from within BT, or its circle of advisors, and has apparently not been prompted by any formal approach from a potential buyer.
There could be multiple factors playing into whether BT Group is viewed as a viable acquisition target acting as motivations for a considered review of potential responses to any approach.
The triennial pensions valuation is currently being conducted, and it could be that, if the fund has performed better than generally anticipated, a longstanding poison pill for potential buyers may no longer taste so bitter.
Alternatively, a worsening of the £11bn deficit recognised at the last review could force BT to examine new ways to plug the gap, while at the same time facing a further dent in its share value (the publication of the last review saw 7% wiped from Group's market capitalisation).
There have been recent reports suggesting BT is revisiting the idea of contributing a stake in Openreach to the BT Pension Scheme to help remedy the existing shortfall. However, any move by the telco to recommend to shareholders a monetisation of its infrastructure assets may prompt alternative offers to come in, particularly with an independent Openreach recently suggested to be valued at around £20bn, compared to BT's current market capitalisation of a little over £10bn (which factors in debt of around £26bn, and £12bn of other liabiliities, as well as assets).
Anticipated private equity interest in Openreach was behind rumours in May 2020 that Australia's Macquarie Group and an unnamed sovereign wealth fund were exploring the possibility of acquiring a stake in the access services business. Although suggestions of talks were quickly suppressed by BT management, the potential of the idea has remained compelling for analysts who have continued to press the Group on its plans for the semi-independent business.
While there has been considerable speculation that Openreach could be spun-out or otherwise monetised, there has been surprisingly little attention targeted at BT's mobile infrastructure assets, and the network sharing JV with CK Hutchison, MBNL. Enthusiasm among private equity firms, and rival telcos in creating independent TowerCos as a source of steady income, may be another factor that needs to be added to any defence playbook used by the Group.
Meanwhile, Deutsche Telekom, which holds a 13% stake in BT Group, was also floated as a potential bidder. Enthusiasm within senior DT management for a renewed UK foray appears muted, however, with CEO Timotheus Höttges seemingly focused on twin priorities of Sprint merger oversight, and mainland Europe consolidation.
Any acquisition bid is unlikely to proceed without political scrutiny, and it is likely that the UK government would deem that it has final say on a decision, with BT's infrastructure considered a matter of national security and as such, within its purview for approval. Otherwise, the decision on clearing a merger would be with the Competition Markets Authority or potentially, if the deal progressed meaningfully before the end of the transition period built into the UK's Brexit agreement, the European Commission.
KKR running the rule
In the days following the news of BT reviewing its defences, the Financial Times reported that private equity group KKR is casting an eye over the UK incumbent. While unnamed sources stressed an offer was by no means certain, and that no approach had yet been made, the US-based investor appears to be more open-minded than its peers, with the newspaper also reporting that other private equity firms had firmly decided against a BT bid. The pension deficit was cited as an ongoing problem, and the likely need for a consortium approach to undertaking an ambitious offer for the Group is said to be another major obstacle. KKR already owns a majority share in UK fibre altnet Hyperoptic, and is expected to acquire a stake in Telecom Italia's spun-off network arm.

Neal Doran is a Senior Analyst for TelcoTitans. Neal's industry knowledge and experience as a telecoms analyst and writer spans three decades, and he has been a key part of TelcoTitan's Editorial team since 2001.