COVID‑19 blow cushioned: strength in Germany and Portugal, with mixed performances elsewhere.
Currency weakness turning Read's focus on Africa sour.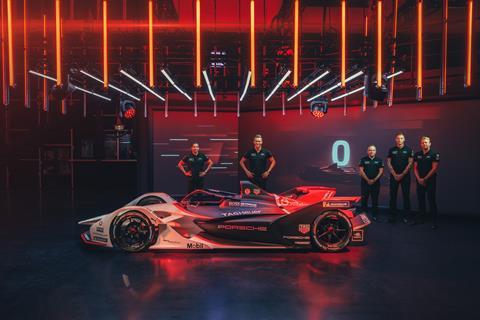 Vodafone's headline figures for Q1 were evidently COVID‑19-affected but by no means catastrophic. While the Group's share price slid significantly on the day of the results' announcement, this was interpreted as jitters over likely underwhelming proceeds from the coming Vantage Towers flotation, rather than aspersions cast on operational performance.
Organically (i.e. excluding currency movement and M&A impact), Group revenue dropped 2.8%, to €10.5bn (£9.5bn) — abruptly ending the long-awaited, two-quarter growth run that Vodafone achieved in Q3/Q4 FY19–20 (Vodafonewatch, #183 and #186).
Curtailment of handset sales during the lockdown appeared to have a major effect, but was not the only factor in play. The handset revenue knockback was not quantified, but appeared considerable as Group service revenue decreased less sharply than overall sales (‑1.3%). On the service side, executives confirmed the Group had seen a varying mix of (negative and positive) effects from the pandemic during Q1 (see further on).
At face value, Vodafone's fragile Europe Region core took the brunt of COVID‑19 effects, as one of the pandemic epicentres during Q1. Service revenue decreased 2.6% across the division, and all regional OpCos for which Vodafone reported figures posted reduced or flat service revenue, bar Vodafone Portugal (which has been performing very strongly for several quarters now).
Vodacom Group just maintained growth on an organic basis — at 1.5% — but emerging market currency weakness is continuing to be a major dampener on Vodafone's African engine, raising questions over why Group leadership has in recent years given the business such an elevated status over other non-European assets. Including exchange rate movement, Vodacom's service revenue plummeted 11.9%, and the South Africa-based group diminished into a sub‑billion business during Q1, in terms of service revenue (€950m).
Long gone are the days when Vodafone's former Africa, Middle East & Asia-Pacific Region was the big hope for future generation of earnings growth at the Group, driven from India and South Africa.
Vodafone Group, revenue summary, Q1 FY20–21
Q1 FY19–20
Q1 FY20–21
Change (y-on-y reported)
Change (y-on-y organic)
Notes: * Includes impact of four-country Liberty Global asset takeover, completed during Q2 FY19–20.
Organic growth is said by Vodafone to present performance "on a comparable basis, both in terms of merger and acquisition activity and foreign exchange rates".
The Group has repeatedly revised its segment-based reporting structure in recent years, to reflect its distilled focus and asset sale programme. Confusingly, this financial reporting system continues to have a different layout to the Group's organisational hierarchy. The newest structure, implemented for Q1 FY20–21, gathers up most OpCos into the two areas that Vodafone describes as its core focus: Europe and Vodacom Group. There is also an "Other Markets" category that contains outliers: Vodafone Egypt (which is pending sale); Vodafone Turkey; and ostensibly Vodafone Ghana. It is not clear whether these latter two OpCos are grouped within Other Markets because they are considered outside of the Group's strategic focus, or for other administrative reasons.
Source: Vodafone.
Revenue by geography

€10,653m

€10,506m

-1.4%

-2.8%

Europe *

€7,792m

€8,155m

4.7%

-3.8%

Vodacom

€1,332m

€1,153m

-13.4%

0.6%

Other Markets

€1,215m

€937m

-22.9%

6.7%

Other and eliminations

€314m

€261m

-16.9%

–

Service revenue by segment

€10,653m

€10,506m

-1.4%

-2.8%

Mobile

€6,551m

€6,055m

-7.6%

-2.6%

Customer revenue

€5,655m

€5,241m

-7.3%

-2.3%

Incoming revenue

€438m

€431m

-1.6%

2.7%

Other revenue

€458m

€383m

-16.4%

-12.0%

Fixed-line *

€2,443m

€3,055m

25.1%

1.6%
Vodafone Germany expands special status
Confirmation that Vantage Towers will be listed in Germany added yet more emphasis on how influential the Germany-based operations have become in the wider Vodafone world.
Boosted by 2019's Unitymedia buyout, Vodafone Germany (VfD) kept service revenue level in Q1 and, with other OpCos falling back, ended up contributing nearly a third (31%) of Vodafone's service revenue base in the three months. The Group's gearing towards Germany is now at a level where its Europe Region no longer really has a 'big four' (of VfD, Vodafone Italy, Vodafone Spain, and Vodafone UK).
VfD was the only OpCo where results were drawn out, individually, in the Group's slide deck, and its Q1 revenue was not far away from matching those of the other three major OpCos combined. Hannes Ametsreiter, CEO of VfD, called Q1's performance "robust" and "convincing".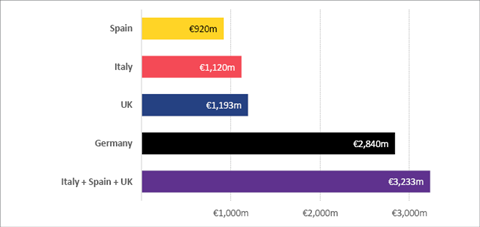 Q1's disjointed layout: Untidiness, or is a new class of outliers emerging?
How Vodafone presented the Q1 results provided a glimpse into how leadership now view its international presence, which in turn raised some questions over certain OpCos' futures and whether Vodafone's front lines are now set to be pulled back even further.
The slide deck structure gave the impression that Vodafone now sees itself as having six, primary business lines — outlier VfD, plus five smaller areas of similar size (Italy, Spain, the UK, Vodacom Group, and 'Other Europe', the bracket for its smaller European OpCos).
The supporting spreadsheet, slightly restructured for Q1, was laid out along similar lines. However, within it was a new, 'Other Markets' category ostensibly comprising Egypt, Ghana, and Turkey. Vodafone has always had a confusing and constantly-shifting way of categorising its businesses, but Vodafonewatch thought it worth noting that Ghana and Turkey do not seem to fall neatly into Group Finance's reporting hierarchy.
Leadership has intimated that Vodafone is finished with major asset sales, for now (Vodafonewatch, #186), but with Vodafone Egypt pending divestment, one is left to wonder why Vodafone Ghana (VfGh) and Vodafone Turkey (VfT) are presented as peripheral in this way, and bracketed alongside the Egyptian business.
Organisationally, VfT falls within Serpil Timuray's Europe Cluster, and it is not clear why Vodafone's financial department does not go with consistency and report the OpCo's results within 'Other Europe', which largely mirrors the Cluster's make‑up. Similarly, VfGh was recently put under the management control of Vodacom Group, so could feasibly be reported within the 'Vodacom' category, with a caveat noting that it remains independent from Midrand, financially.
The Group has said its portfolio optimisation programme — which has in recent years seen it exit Egypt (prospectively), Fiji, Malta, New Zealand, and Qatar, as well as reduce links in Australia, India, and Kenya — is "substantially complete". However, stakeholders evidently believe its footprint could shrink further, if opportunities present themselves.
Q1's call saw a question raised for the first time over the Group's stake in VodafoneZiggo (VfZ), following previous kite-flying for a cross-border merger by management at Telenet, its Belgian sister business within Liberty Global, and phased unlock of VfZ owners' exit options (Vodafonewatch, #186 and passim).
Vodafonewatch was not sure whether Read's response could, in football transfer language, be classed as a 'hands-off' message or actual invitation to bid. First, the CEO asserted his "delight" with VfZ's recent revived performance, saying that the JV has seen a "really successful integration, good growth, a really good performance. Obviously, they have their results coming after us, so I cannot really talk about it, but we are really pleased with the delivery under Jeroen [Hoencamp], the CEO. So, we are very happy with the construct of the market. It is an excellent market. We have got a fantastic asset within the market and we have co‑control. So, I would struggle to see why I would want to give that up for a minority position in a cross-border combination".
Read then went on to say that "clearly, if Mike [Fries, Liberty's CEO] feels there is something compelling, that is a question more for Mike than it is for me. So, we are really pleased with where we are at. We remain a very disciplined investor, so clearly, if people are going to step forward with offers, we would always consider at the Board level. But at this point in time, we are very delighted with the business and its performance".
Vodafone Q1 FY20–21
1

2

Currently reading

Vodafone Q1 FY20–21 headline performance: Germany and the rest

3