Stock tactic of arms-length footprint expansion seen again.
Vodafone has 'still got it' for challenger partners, despite questionable competitive record.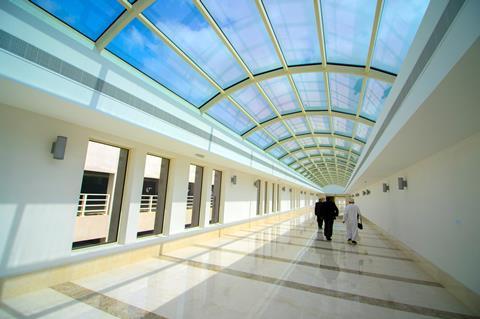 Vodafone's Partner Markets federation regained some lost ground in the Middle East after confirming the creation of a "strategic partner agreement" with Oman Future Telecommunications Company (OFT), the Sultanate's new telecoms entrant.
The deal was stressed as a "non-equity" arrangement – despite previous reports in the local media that Vodafone was making a direct play in Oman (Vodafonewatch, #175).
At the same time, it appears a closer relationship than most other Partner Markets tie-ups. It spans 15 years, against the typical three or four, and OFT looks to have gone for a wide range of options in the Partner Markets catalogue, including use of the Vodafone brand, and Group support on infrastructure and services procurement and deployment.
"We are going to bring the best of Vodafone's innovation, services, and expertise to Oman. We will build Vodafone Oman to provide the best possible customer experience. The launch of Vodafone Oman will be delivered by a joint team of Vodafone and local Omani personnel, as upskilling of the Omani workforce is a key focus of our partnership."

– Jacek Passia, Regional Executive and Programme Director, Vodafone.
Vodafone brand retains some weight, despite regional setbacks
OFT – which signed a deal to become Oman's third operator in May 2019, after what appears to have been a prolonged and disrupted licensing process (Vodafonewatch, #175) – is expected to launch services commercially in the second half of 2020, operating as "Vodafone Oman".
It will seek to challenge Ooredoo Oman and Oman Mobile, the mobile arm of national operator Oman Telecommunications (Omantel), and does not appear to have been put off by Vodafone's less-than-stellar record in a challenger role – which includes struggles to cement a number-two play in nearby Qatar, and its eventual exit in 2018 (Vodafonewatch, #163).
Partner is well connected
OFT has not yet outlined ambitions beyond mobile services, or revealed anything regarding either broader strategy or the resources underpinning its platform (including finance and spectrum).
The business is backed by a consortium of (reportedly local) investors, led by Itqan Tech Development – a telecoms and IT solutions provider that sits within Oman 70 Holding Company, a Muscat-based conglomerate with interests in construction, hospitality, real estate, retail, technology, and telecoms.
One of Itqan's sister businesses within Oman 70, Burooj Telecommunication Networks, is a telecoms infrastructure specialist that controls Oman Tower Company (OTC), the Sultanate's sole passive infrastructure provider, with a 56%-holding. Established in 2018, OTC is reportedly set to begin the first phase of its network construction, involving installation of around 600 towers. It seems reasonable to assume that OTC and Vodafone Oman's network buildouts will dovetail to some degree.
A recent Times of Oman report suggested that as well as being backed by Itqan, OFT will receive investment from "pension funds, as well as government investment funds and investors from the private sector".
Oman market at a glance

Indicators

Figures for Q4 2018 and end-2018 (unless otherwise stated)

Sources: TRA, Vodafonewatch.

Population

4.55 million (mid-2017)

Households

585,000 (mid-2017)

Penetration
rates

Fixed telephony: 12.27% of inhabitants

Mobile subscriptions: 141.25% of inhabitants

Fixed internet: 72.43% of households

Service
providers

MNOs:


Fixed telephony:

Omantel
Ooredoo
TeO
Connect Arabia International.

Mobile virtual network operators (MVNO):


Fixed internet:

Mobile
market share

Oman Mobile (45%)
Ooredoo (43%)

MVNOs (12%).

Service revenues

Fixed telephony: OMR 25.4m.

Fixed internet: OMR 34.8m.

Mobile: OMR 138.3m.
MENA reset
As noted previously, the new foothold in Oman provides Vodafone with a partial reversal of recent years' trend of retrenchment in the Middle East and North Africa.
This has seen the (second) breakup of a multi-country Partner Markets relationship with Zain Group, the sale of Vodafone Qatar (VfQ) with relegation of local ties to a Partner Markets arrangement, termination of Partner Markets deals in Iran and Libya (Vodafonewatch, #163 and passim). Current presence is limited to three Partner Markets agreements in the region – with VfQ, Tunisie Telecom, and the United Arab Emirates' du – as well as Vodafone Egypt. There are ongoing doubts over future Group ownership of the Egyptian business and if and how it fits into Vodafone's focus on Europe and Africa, however (i.e. whether 'Africa' merely means 'Vodacom Group').
The Group appears to have long had feelers out regarding opportunities in Oman. Vodafone was on the shortlist when Oman offered out its second mobile licence, back in 2004, with the concession going to a consortium led by VfQ incumbent rival Ooredoo (then Qatar Telecom) and TDC Group (Vodafonewatch, 2004.07). The Group was also previously mooted as a potential strategic partner of Omantel (Vodafonewatch, 2008.08).