Pickup seen following revenue slump, but leadership still focused on asset sales to reduce debt and preserve cash flow.

Read primes stakeholders for multi-billion euro tower reorg.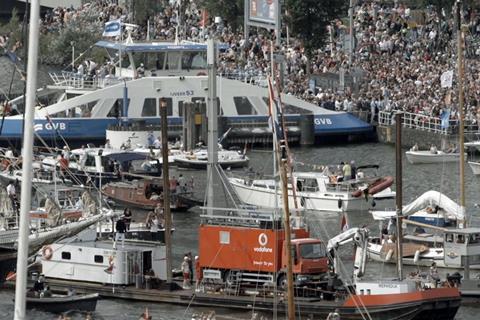 Clear-out stepped up as Liberty buyout goes through
The yard sale buzz was back at Vodafone as the Group reported its commercial and financial numbers for the quarter to 30 June 2019 (Q1 FY19-20).
There was little to escape Vodafone's need for hard cash in the accompanying presentation, as leadership touted the various parts of the business that it is looking to clear out in order to offset the cash flow pressures of the four-country Liberty Global unit acquisition (now completed – see separate report) and ongoing competitive struggles in key territories.
Group Chief Executive (CEO) Nick Read had evidently been working on his market day patter ahead of the presentation. He made clear that Vodafone's inventory of sellable assets is not yet exhausted, despite the series of minority investments and peripheral OpCos offloaded over the past decade or more.
After the recent sale of Vodafone New Zealand, and ongoing infrastructure divestments in India, Read reiterated intent to find an M&A solution in Australia, despite regulators' lack of enthusiasm for the blocked TPG Telecom merger.
He also updated on numerous programmes aimed at extracting value from assets previously seen as a key part of the Group's raison d'être, including regional and national tower business divestments and new-wave 2G/3G roaming alliances (see separate reports). "I think we have demonstrated that we are active managers of the portfolio", stressed the CEO.
Vodafone's share price jumped more than 10% on the day of the presentation, as Read highlighted the multi-billion-euro potential of the tower asset reorganisation and sales plan. While still in a slump, long-term, the bounce returned the shares above levels seen before Read and Chief Financial Officer (CFO) Margherita Della Valle announced that they were 'rebasing' the Group's dividend in mid-May 2019 (Vodafonewatch, #175).
Some positivity, but changes and challenges ahead
Whether Read's minimalist vision of an even more stripped-back and focused Vodafone will stay the course remains to be seen.
Completion of the Liberty deal – the last act of predecessor Vittorio Colao – has evidently provided a big boost to Group leadership by giving it greater heft in two areas (Germany and wireline) that for several years have been masking weakness in other parts of the business (Vodafonewatch, passim). Read and Della Valle also continue to express positivity regarding an uplift in performance in other markets over the coming quarters.
However, this is by no means the first time that claims of revival have been made, and the strength and longevity of any uptick remain debatable in light of the macroeconomic and regulatory clouds in Europe and Africa – the territories where Vodafone has chosen to concentrate resource.
In Vodafone's recent Annual Report and Annual General Meeting, leadership made brief references to hopes of forming a new "social contract" for European operators. This would see concessions on service quality and coverage apparently offered up in the hope that regulators will in return "reassess their approach to the sector". Whether this can be achieved in the current political and regulatory environment remains to be seen. The costs and conditions attached to 5G licences in Germany and Italy have not invoked optimism, and have instead increased focus on how well the 5G services that Vodafone initiated towards the end of Q1 are received by end-users.
Other questions are rising over whether Read's strategy is built-to-last. He is by no means bedded in as CEO, and in the next few months will likely have high-level internal politics to navigate as Vodafone searches for a successor to outgoing Chairman Gerard Kleisterlee (Vodafonewatch, #174 and #175). Vodafone's Annual General Meeting, held just before the Q1 report, saw the Dutchman confirm that 2020's shareholder forum will be his last (evidently with some relief, considering the dissatisfaction on show at this and previous years' events).
There will no doubt be some Vodafone stakeholders pushing for new ideas and approaches, beyond the Read-Kleisterlee fire sale, as a new chairman comes in. Vodafonewatch continues to wonder whether the perennial leaning-out of Vodafone is being conducted with a bigger M&A agenda in mind, with AT&T remaining one of the more obvious potential bedfellows.
Disjointed data
Q1's figures – limited, as normal, to commercial metrics and top-line reporting – saw the Group remain in reverse gear in terms of go-to-market, and continue to be hamstrung by an inability to get major OpCos firing in unison (including across markets where leadership has spent vast sums of cash expanding its presence over recent years).
The quarter saw Vodafone report a 0.9%-"organic" drop in revenue, to €10.7bn (£9.9bn) – but this at least represented an improvement on the 1.9%- and 1.3%-reversals seen in Q4 and Q3 FY18-19, respectively (Vodafonewatch, #172 and #174).
It remained management's narrative that Vodafone has bottomed out, at least for now, in terms of sales performance. Della Valle repeated the line issued in May 2019, during the Group's last annual results presentation, that the coming quarters will see uplift in top-line trend, albeit at "gradual" pace.
Although much of this rests on 'lapping' of the poor quarterly figures reported in the first half of FY18-19, as downturns hit in Italy, Spain, and then South Africa (SA), she pointed to "moderating competitive intensity" in Italy, "quite robust" retail growth in Germany, and apparent above-inflation growth in Egypt, Turkey, and other emerging markets as more concrete props for the Group.
Contrasting markedly with the patchy figures on Vodafone's spreadsheet, Q1's presentation even saw revived claims of "broad-based" recovery ambitions, harking back to how Group leadership jumped the gun on go-to-market optimism when Read was in his days as CFO (Vodafonewatch, #139 and passim).
Emphasising Vodafone's need for much more extensive growth foundations, Read said that Q1 had "demonstrated the start of an improving trend and we expect a gradual recovery in service revenue growth to continue". Nonetheless, he noted that, commercially, the three-month period had been a "really important quarter for the business, with the biggest line-up of new pricing plans and product launches that I can remember for many years".
Vodafone Group, revenue summary, Q1 FY19–20

Q1 FY18–19

Q1 FY19–20

Change
(y-on-y reported)
Change
(y-on-y organic)

Notes: * The Group revised its reporting segments on 1 October 2018, to reflect changes to its organisational structure. The former Africa, Middle East and Asia-Pacific Region now comprises separate Vodacom Group, Turkey, and Other Markets reporting segments, all aggregated under a "Rest of the World" umbrella. Prior numbers have been restated accordingly.

Organic growth is said by Vodafone to present performance "on a comparable basis, both in terms of merger and acquisition activity and foreign exchange rates".

Sources: Vodafone and Vodafonewatch.

Revenue by geography

€10,902m

€10,653m

-2.3%

-0.9%

Europe

€7,957m

€7,792m

-2.1%

-2.2%

Rest of the World *

€2,652m

€2,547m

-4.0%

3.0%

Other and eliminations

€293m

€314m

7.2%

–

Service revenue by segment

€9,130m

€8,994m

-1.5%

-0.2%

Mobile revenue

€6,709m

€6,551m

-2.4%

-0.5%

Customer

€5,770m

€5,655m

-2.0%

-0.1%

Incoming

€465m

€438m

-5.8%

-3.5%

Other

€474m

€458m

-3.4%

-2.0%

Fixed-line revenue

€2,421m

€2,443m

0.9%

0.7%
Europe Region: Italy reviving but Spain still in pain; Germany holds fort
'Driving' the trend improvement seen in Q1 was slight recovery in the Europe Region, where revenue contraction slowed to 2.2% (from 3.7% in Q4). All major markets apart from Spain regained some momentum.
Primary engine Vodafone Germany remained in forward gear, just, with a 0.4%-increase in service revenue, while top-line erosion at Vodafone Italy (VfIt) reduced significantly (to -3.8% from -7% in Q4). Leadership again pointed to competitor price increases and reducing net portability exits as reasons for optimism in Italy. Mobile churn at VfIt was more than six percentage points lower than in Q1 FY18-19, at 27.8%, and more than 20pp down from the Iliad Italy-instigated peak of Q2. Still, this is a long way off Read's vision of single-digit levels across mature markets (Vodafonewatch, #175 and #176).
Vodafone Spain (VfS) remains the market where the Group seems unable to catch a break, as quarterly service revenue plummeted below the €1bn mark (-9.3%, to €988m) despite recent "commercial re-positioning".
In an interesting note, considering how Vodafone's high-level commercial strategy rests on shadowing incumbents, 'signals' to indirectly 'steer' the market to dampen discounting pain appeared to be lost on Spanish competitors during Q1. Following the launch of new plans by VfS, Della Valle said "our competitors reacted to our new propositions by increasing promotions and we had to adapt accordingly during the quarter".
Nonetheless, Della Valle indicated that the Spanish OpCo had "bottomed out" in terms of revenue trend, citing "normalisation" of commercial performance, helped by its "unlimited" data-infused 5G launch during June 2019 and lapping of the dip at VfS seen in Q2 FY18-19. She did not appear overly concerned at the absence of football programming from VfS' TV line-up as the new season got underway during Q2.
Vodafone Europe Region, service revenue summary, Q1 FY19–20

Q1 FY18–19

Q1 FY19–20

Change
(y-on-y reported)
Change
(y-on-y organic)

Note: Organic growth is said by Vodafone to present performance "on a comparable basis, both in terms of merger and acquisition activity and foreign exchange rates".

Sources: Vodafone and Vodafonewatch.

Service revenue by segment

€6,896m

€6,782m

-1.7%

-1.7%

Mobile

€4,748m

€4,602m

-3.1%

–

Customer revenue

€4,095m

€3,994m

-2.5%

–

Incoming revenue

€334m

€307m

-8.1%

–

Other revenue

€319m

€301m

-5.6%

–

Fixed-line

€2,148m

€2,180m

1.5%

–

Service revenue by geography

€6,896m

€6,782m

-1.7%

-1.7%

Germany

€2,257m

€2,265m

0.4%

0.4%

UK

€1,229m

€1,233m

0.3%

0.1%

Italy

€1,245m

€1,198m

-3.8%

-3.8%

Spain

€1,094m

€988m

-9.7%

-9.3%

Other Europe

€1,097m

€1,128m

2.8%

2.1%

Portugal

€231m

€238m

3.0%

3.2%

Ireland

€211m

€209m

-0.9%

-1.1%

Greece

€202m

€218m

7.9%

3.7%

Romania

€158m

€159m

0.6%

0.2%
And the Rest: Vodacom not past challenges
In the Rest of the World Region (RotW Region), there was a similarly mixed results picture. Trends continued to revolve around Vodacom Group, especially after the partitioning of Group Indian interests from Vodafone's figures through the 2018 Idea Cellular-Vodafone India mega-merger.
Vodacom remained affected by macro malaise and regulatory pressures in its SA home market. Q1 was the first full quarter in which users gained new protections around out-of-bundle billing. Allied with roaming deal transitioning, this witnessed Vodacom South Africa dip back into reverse gear on service revenue (-1.2%). A strong performance (+8.6%) at Vodacom's International business cancelled this out, giving Vodacom 1.1%-growth as a whole. Nonetheless, the operator's challenges fed a slight slowdown in RotW Region revenue growth for Q1, from 3.9% to 3%.
Vodacom gained another show of confidence from Read, who emphasised Africa's place in Vodafone's "core footprint" – but the performance dip and ongoing uncertainty over spectrum licence allocation in SA remain significant headaches (Vodafonewatch, #172 and passim). Della Valle stressed that the "upcoming spectrum auction [in SA] is very important for us. It will unlock significant additional capacity, allowing us to further reduce the unitary cost of data". She indicated that Vodafone now sees the long-delayed 4G/5G auction taking place "towards the end of FY19-20".
Elsewhere, Vodafone Turkey (VfT) and Vodafone Egypt continued to perform strongly, with 17.2% and 13.6% 'organic' ' service revenue increases, respectively.
Despite Della Valle's assurances of easing inflationary impact, currency weakness continued to have a major influence on the RotW Region's takings. Both Vodacom and VfT saw service revenue drops when translated to euros (-3.1% and -7.5%, respectively).
India – while now increasingly at arms-length from both the Group P&L and results discussions – remained another major sore spot. Amid ongoing intense competition and churn, Vodafone Idea posted a 4.3% quarter-on-quarter decline in revenue, in local currency. Full-year comparisons are not yet available, given the joint venture's youth.
Vodafone Rest of the World Region, service revenue summary, Q1 FY19–20

Q1 FY18–19

Q1 FY19–20

Change
(y-on-y reported)
Change
(y-on-y organic)

Notes: The Group revised its reporting segments on 1 October 2018, to reflect changes to its organisational structure. The former Africa, Middle East and Asia-Pacific Region now comprises separate Vodacom Group, Turkey, and Other Markets reporting segments, all aggregated under a "Rest of the World" umbrella. Prior numbers have been restated accordingly.

Organic growth is said by Vodafone to present performance "on a comparable basis, both in terms of merger and acquisition activity and foreign exchange rates".

"Vodacom" refers to Vodafone's interests in Vodacom Group and its subsidiaries, including those located outside of South Africa.

Service revenue by segment

€2,132m

€2,114m

-0.8%

5.3%

Mobile

€1,909m

€1,889m

-1.0%

–

Customer revenue

€1,669m

€1,655m

-0.8%

–

Incoming revenue

€150m

€142m

-5.3%

–

Other revenue

€90m

€92m

2.2%

–

Fixed-line

€223m

€225m

0.9%

–

Service revenue by geography

€2,132m

€2,114m

-0.8%

5.3%

Vodacom

€1,113m

€1,078m

-3.1%

1.1%

Turkey

€469m

€434m

-7.5%

17.2%

Other Markets

€1,019m

€1,036m

1.7%

10.0%

Egypt

€248m

€313m

26.2%

13.6%