Vodacom and Safaricom given licence to pursue "M-PESA 2.0".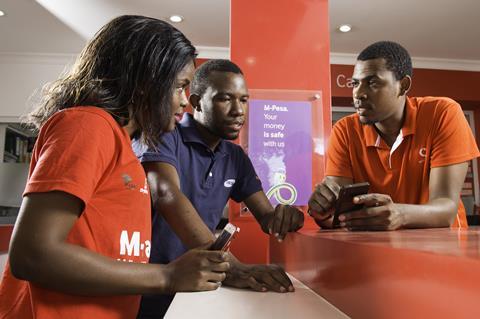 Vodafone continued to delink itself from non‑European assets by palming‑off intellectual property (IP) rights to the high-profile M‑PESA m‑money service.
The deal — possibly the start of a broader restructuring of M‑PESA's ownership — will see Vodacom Group and Kenyan associate Safaricom create a joint venture with control of the M‑PESA brand. The move ends a long‑running arrangement under which they pay Vodafone royalties linked to revenue associated with the service (thought to be pegged at around 2%). Vodafone will reportedly receive just €12m (£10.6m) under the deal — an outlay Shameel Joosub, Chief Executive of Vodacom, described as "token".
The transfer does not yet appear finalised, but Joosub indicated it was set to be wrapped up in "the coming days and weeks".
Vodafone Sales & Services, the central financial entity that provides M‑PESA-related services to Group businesses, received €10.2m in associated revenue from Safaricom — its largest in‑Group user — during the twelve months to 31 March 2018 (FY17–18), the last year it reported figures. This was a sizeable drop from the €23.8m generated in the previous year, but the unit did not explain why takings had fallen at a time M‑PESA revenue continued to expand. It is possible that Safaricom has simply become more independent in the way it operates M‑PESA, and less reliant on central support. Further, Vodafone and African OpCos — particularly Safaricom — have long been involved in a tussle over control and ownership of M‑PESA assets, so there is also the possibility of a renegotiation of fee structure. Safaricom is still M‑PESA's main proponent, despite the service having been launched by multiple other OpCos within Vodafone, and generated KES 75bn (£587m/€662m) from related offerings in FY18–19.
A new 'M‑PESA 2.0' ecosystem — alliances, tech, and new finance
Flexibility appears the change's main driver.
For Vodafone, the move continues a de‑centralisation push seen in recent years, to alleviate financial risk, open up "optionality" regarding local ownership, and provide more autonomy in local markets. This has been seen with numerous transactions in Africa and Asia‑Pacific, including 2017's transfer of control of Safaricom to Vodacom Group (Vodafonewatch, #156).
For the African OpCos, the move is another 'win' in a long-running battle to persuade central Vodafone functions to relinquish control of M‑PESA. The Group agreed to transfer the service suite's underlying technology infrastructure from Europe to Africa in 2015, freeing the way for an associated, Huawei Technologies‑supplied upgrade — but the suggestion now is that this move provided only a limited boost to local autonomy (Vodafonewatch, #136 and passim).
Now, executives of all three parties to the transaction claim that the latest move will help free the way for new operator partnerships to expand M‑PESA beyond Vodacom's footprint — although they have repeatedly claimed in the past to have new tie‑ups in the pipeline, without mentioning brand ownership as a particular barrier.
When Vodafone Chief Executive Nick Read flagged the IP deal in Vodafone's May 2019 annual results discussion, he noted that the service's "unique scale" gave Safaricom and Vodacom an "opportunity to leverage strategic partnerships [and] to accelerate the platform's development to be the payments platform of sub-Saharan Africa".
Beyond carrier tie‑ups, Joosub suggested the move could also help the African operator accelerate development of the M‑PESA platform and the services run on top of it. He said that with the new arrangement, "we could build a strong platform and open up the platform to more developments".
"And so it's what we're calling M‑PESA 2.0, and it's basically, what does M‑PESA look like two years from now, three years from now, and so on… I think that's going to be quite an exciting part for us. So we're going to be putting a lot of focus on M‑PESA and financial services in the years to come as it's becoming a very material part of our business. And I think the way we think of ourselves now is both a telco and a financial service source. "

— Joosub, via CQ FD Disclosure.
Spinout back on cards?
Safaricom Chief Executive Bob Collymore echoed Joosub's comments in a subsequent interview with Reuters, saying that "more important than the significant savings is about us determining the future, the roadmap of M‑PESA because at the moment the roadmap is determined by Vodafone".
Yet another angle on the ownership transfer — and one that may be reflected in Safaricom and Vodacom's decision to form a joint venture on M‑PESA's IP — is the possibility of a new financial and/or strategic partner to help drive the service's expansion. Rumours of an M‑PESA takeover by Facebook were played down by Safaricom in 2016 (Vodafonewatch, #148), and although Vodafone has repeatedly come out against a spinout of M‑PESA in the past, the picture may well have changed now control has been exported to Africa.
There was a hint in Joosub's commentary that the deal could preface a financial restructuring of the M‑PESA business. "We're going to capitalise it further and make sure that we can get the requisite success, including making sure that we don't duplicate assets in different countries", Joosub said.