Arguably still in the shadow of his father, the renowned Li Ka‑shing, Li Tzar-Kuoi may prove easier to do business with than Read's other billionaire-dollar guests profiled here.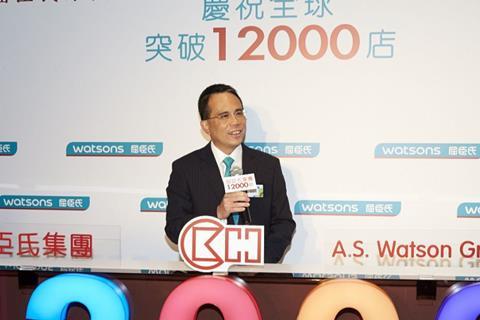 Name: Victor Li Tzar-Kuoi
Age: 55
Net worth: Unknown, but likely billions of dollars.
Troublemaker rating: 🤝 🤝 🤝 🤝
Wheelings and dealings
Victor Li in 2018 succeeded his father Li Ka‑shing as Chairman of two vast family holding companies: CK Hutchison Holdings and CK Asset Holdings.
Li Ka‑shing built up Cheung Kong Holdings, a Hong Kong-based multinational conglomerate, over seven decades. It morphed into CK Hutchison Holdings after a 2015 merger with subsidiary Hutchison Whampoa (an investment company with interests in telecoms and ports) that also spun out property unit CK Asset Holdings. Li Ka‑shing is known affectionately in Hong Kong as chiu yan, or superman, for his business and deal-making prowess. His net worth, according to Forbes, is around $26.5bn, and the family business' is estimated at $100bn.
How far Victor Li has taken the lead during his 30 years working for the family firm is difficult to determine. His father clearly sees his eldest son as a safe pair of hands, however. In a typical display of forward planning, he was officially named successor in 2012.
Victor Li's remit is a broad one. CK Hutchison's vast interests are focused on five areas: energy, infrastructure, ports, retail, and telecoms. CK Asset is one of Hong Kong's biggest property developers. The empire has around 300,000 employees and operates in more than 50 countries.
One deal Li is unlikely to recall with much fondness occurred in 1996. On his way home from work he was kidnapped by notorious gangster Cheung Tze‑keung. Li Ka‑shing reportedly paid the ransom demand of HK $1 billion directly to "Big Spender" (Tze‑keung's nickname). After one night, Li's ordeal was over. The kidnapper was later executed in China.
Vodafone connection
Vodafone Hutchison Australia is a 50:50 JV between Hutchison Telecommunications Australia (a CK Hutchison subsidiary) and Vodafone. The JV's impending merger with TPG Telecom (see David Teoh, 'Man of Mystery') looks likely to reset relations with a possible exit by one or both partners.
Li Ka‑shing has a long and lucrative history with Vodafone, including playing kingmaker in multiple formative deals. He was enabler of both the Group's 2000 defining €190bn acquisition of Germany's Mannesmann (which also saw him repeatedly arbitrage the then-UK Orange mobile business), and the 2007 $11bn purchase of India's Hutchison Essar (a constituent of Vodafone Idea).
Snapshot
Victor Li remains in the shadow of his father. First mentions of the 55-year-old's name are usually partnered with an explanatory clause about where he fits into the business world — "the elder son of Hong Kong's richest man". A paragraph or two later, his younger brother Richard Li is invariably wheeled in to give Victor Li a bit more context. Richard Li built up his own business empire and is Chairman of telecoms company PCCW and insurer FWD. He is better known and considered richer than his older brother.
One reason why Victor Li has yet to establish himself in his own right — notwithstanding that Li Ka‑shing is a hard act to follow — is that he is positioned as Mr. Continuity. "When I return to work tomorrow, it will be the same", he told investors, on formally taking over the reins in 2018.
Nor did it go unnoticed that Li Ka‑shing, nearly 90-years-old at the time, seemed only too happy to interrupt his eldest son at the handover press conference. In a separate interview, Li Ka‑shing gave an endorsement of his son, but it was not entirely ringing. "Victor has followed me for more than 30 years, and he should do well", he said somewhat cautiously, and "I believe Victor will do the job". The elder Li remains as Victor Li's adviser, which fuels suspicion that the son is still a subordinate.
That said, Li is unlikely to have risen through the family firm for more than three decades — occupying various key positions — without displaying acumen. He is, for example, seen as the driving force behind CK Hutchison's push into overseas utilities, including major investments in Australia (Australian Gasworks), Canada (Husky), and Germany (Ista). Moreover, as a relatively young man, he still has time to make his own mark.
Likely to say: "No massive change in strategic direction at the moment."
Unlikely to say: "I'm leaving the family business."
Troublemaker rating: 🤝 🤝 🤝 🤝 Minor tiffs


Ken has been writing about developments in the fixed and mobile markets for over twenty years. He has been a contributor to Market Mettle and TelcoTitans since 2015.