Executives dig-down for evidence of "operational" progress as top-line slumps.
Revenue momentum dissipates in Germany; Spain and Italy remain in reverse.
Emphasis still geared to savings rather than much-needed growth uptick.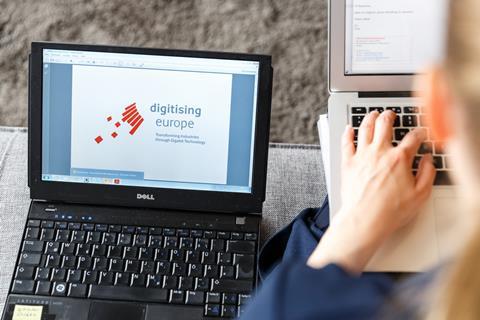 Vodafone's Europe Region ended the financial year to 31 March 2019 (FY18–19) with another sketchy set of results, again highlighting how the Group's leadership has (deliberately) increased reliance over the last decade on a domain where it lacks a halfway‑decent growth platform.
Previous FY18–19 quarters had witnessed fluctuating rates of top-line contraction in the Europe Region (Vodafonewatch, #172 and passim), and this theme continued in the final three months of the year (Q4 FY18–19), with service revenue dropping by an accelerated 2.1%, to €6.8bn (£6.0bn).
Even that picture was flattered by the Group's highly caveated metric of "organic growth, excluding the impact of settlements" (i.e. altered to account for M&A, exchange rate, and one‑off legal impacts). On pure "organic" terms, the Region's service revenue fell 3.5%.
The bots are seeing growth, at least
Again evident was the Group's enforced focus on cost-cutting, to offset the top‑line malaise — now bracketed under leadership's headline ambition of reducing Europe Region and Common Functions operating expenditure by €1.2bn across FY18–21 (Vodafonewatch, #165).
Margherita Della Valle, Chief Financial Officer of Vodafone, said the operator had progressed "more than halfway towards this goal" by the end of FY18–19 (i.e. after one year), aided by automation-infused in‑sourcing to (and consolidation of) Shared Services functions. It also looks to have a full savings agenda going forward, with the reorganisation and downsizing initiatives that have been flagged in markets such as Italy, Spain, and the UK, as well as the Group's drive to refresh infrastructure-sharing relationships in Europe (Vodafonewatch, #174 and passim).
Nonetheless, these measures were not enough to prevent a one percentage point-fall in adjusted core earnings margin for the Europe Region in FY18–19, to 31.6%, and it is increasingly clear that more Group stakeholders have now wised up to the importance of more top-line impetus, to drive profitability and cash flow — not just another round of salami-sliced cost savings.
To help produce 'growth', as well as open up more 'synergy' extraction opportunities, Vodafone remains in sore need of the sticking plaster offered by its pending buyout of German cable operator Unitymedia, as well as other Liberty Global businesses in Czech Republic, Hungary, and Romania (Vodafonewatch, #165 and see separate report).
Vodafone Europe Region, service revenue summary, Q4 FY18–19
Q4 FY17–18
Q4 FY18–19
Note: Organic growth is said by Vodafone to present performance "on a comparable basis, both in terms of merger and acquisition activity and foreign exchange rates".
Sources: Vodafone and Vodafonewatch.
Service revenue by segment

€7,072m

€6,840m

Mobile

€4,846m

€4,692m

Customer revenue

€4,187m

€4,082m

Incoming revenue

€335m

€303m

Other revenue

€324m

€307m

Fixed-line

€2,226m

€2,148m

Service revenue by geography

€7,072m

€6,840m

Germany

€2,366m

€2,267m

UK

€1,255m

€1,257m

Italy

€1,330m

€1,234m

Spain

€1,092m

€1,002m

Other Europe

€1,064m

€1,103m

Portugal

€224m

€227m

Ireland

€215m

€218m

Greece

€183m

€214m

Romania

€158m

€149m
Germany and Italy: waiting for change
Other takeaways from the Region's results included:
Lack of a mainstay: recent times have seen largest Europe Region OpCo Vodafone Germany (VfD) helping pick up some of the slack left by Vodafone's struggles in Italy and Spain. However, in Q4, all of the Region's 'big four' — VfD, Vodafone Italy (VfIt), Vodafone Spain (VfS), and Vodafone UK — saw service revenue go backwards "organically", with further major falls seen at VfIt (‑7.0%) and VfS (‑7.9%).
Germany faltering: largest OpCo VfD snuck into service revenue growth on the Group's more favourable, proprietary form of measurement (with exclusion of legal settlement impact, as well as M&A and currency movement). However, even on this measure, the German business' growth has steadily reduced throughout FY18–19, and reached just 0.3% in Q4 — increasing the spotlight on how well VfD will be positioned after machinations over the Liberty takeover and market changes due to accompany Germany's 5G licence auction. Vodafone blamed wholesale revenue contraction for dragging VfD's top line and reached for the cliché of highlighting "operational momentum" (i.e. on infrastructure upgrades and digital transformation) to give some gloss to the results. There was also some positivity on the savings side, with VfD forming the only major Europe Region OpCo to increase adjusted earnings before interest, taxation, depreciation, and amortisation (EBITDA) across FY18–19.
Cluster maintains lustre (despite Romania fluster): for management purposes, Vodafone bundles smaller Europe Region businesses — as well as Vodafone Turkey — within its so‑called "EU Cluster", and has characterised the grouping, led by Serpil Timuray, as a strongly-performing major business, when viewed collectively. This theme continued in Q4, with the Group reporting 1.1%-service revenue growth from the Cluster. A blot on the grouping's copybook, however, was Vodafone Romania — where service revenue dropped 5%, and there is increasing focus on regulatory and fiscal policy challenges ahead of VfR's pending UPC Romania takeover (see separate report). Reports increasingly suggest Group arch-rival Deutsche Telekom is seeking an exit from Romania, as Vodafone scales up in the country.
Pain in Spain: the Cluster's rise is shining a spotlight on the 'major OpCo' credentials of VfS. Up till only about a year ago, the Spanish OpCo had a long run of producing between €1.1bn and €1.2bn in service revenue each quarter, but in Q4, it saw takings drop to only €2bn above the €1bn‑mark, and it is seeing a widening gap between its contribution and Vodafone's 'Other Europe' line of OpCos outside the 'big four', which collectively produced €1.1bn in service revenue during the three months. VfS' EBITDA margin dropped by 5.5 pp, to 23%, across FY18–19.
Signs of life claimed in Italy: Vodafone continued to acknowledge the volatile Italian market's "challenging environment", but presented a more optimistic outlook than in Spain. It claimed to have seen mobile number portability volumes "drastically" reduce, following the uptick instigated by Iliad Italy's 2018 entrance. It also again raised the prospect of a favourable "repositioning" of mobile rates, with Della Valle mooting Iliad's €7.99 plans as "margin negative on a variable basis". Read echoed Della Valle, citing Vodafone's belief that Iliad was "structurally unprofitable at current levels" of pricing. In the meantime, VfIt remains a totem of the European mobile telecoms malaise, reporting huge data traffic growth (+71.8% year-on-year in Q4) but failing to translate this into increased average revenue-per-user (‑€0.90, to €13.90).
Mobile data usage for selected OpCos, Q4 FY18–19 (TB)
Q4 FY17–18
Q4 FY18–19
Change (y-on-y)
Notes: "Vodacom" refers to Vodafone's interests in Vodacom Group and its subsidiaries, including those located outside of South Africa.
Data figures represent the "sum of downlink traffic and uplink traffic, all APNs (for example web, wap, corporate APNs, MMS), femto traffic (if applicable), inbound roamers, and MVNOs, excluding data resulting from voice-over-LTE traffic".
Sources: Vodafone and Vodafonewatch.
Group

1,035,571

1,446,655

39.7%

Turkey

217,919

296,870

36.2%

Italy

146,791

252,164

71.8%

Germany

145,425

178,022

22.4%

UK

93,169

135,383

45.3%

Spain

98,530

133,700

35.7%

Vodacom

79,301

108,041

36.2%

Egypt

59,819

89,660

49.9%

Romania

46,316

71,421

54.2%

Portugal

30,735

36,431

18.5%

Greece

9,795

13,464

37.5%