Anti-trust agency lays out tough sale conditions to América Móvil's Claro.
Anxious wait to see if Mexican group plays ball.
Both Telefónica Móviles El Salvador and Telefónica Multiservicios up for sale in deal reportedly worth $315m.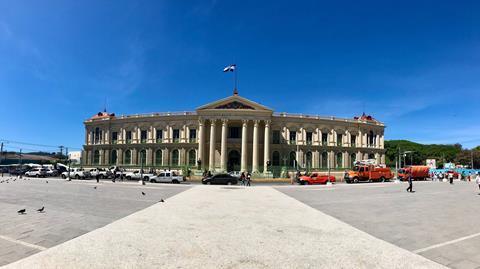 After recently agreeing a number of exit deals in Central America, ostensibly to cut Group debt, Telefónica got the thumbs-up from the Superintendencia de Competencia de El Salvador (SC), the country's competition watchdog, to sell a 99.3% stake in its mobile operation to rival Claro El Salvador, owned by América Móvil.
Certain conditions have to be met, however, and América Móvil's compliance is not guaranteed.
According to Reuters, SC stipulated that Claro must waive the rights to nationwide spectrum concessions that Telefónica Móviles El Salvador (Movistar) has in the 850MHz (25MHz) and 1900MHz (30MHz) frequency bands.
Another restriction, which might prove more difficult to enforce, is that for seven years after any transaction is completed, the marketing strategies developed separately by Movistar and Claro must remain in place.
These measures, insisted SC, were necessary to safeguard competition. América Móvil is understood to be running a fine-tooth comb over the demands made by the anti-trust agency.
Aside from the majority stake in Movistar, the proposed transaction — reportedly worth $315m (£239m/€264m) — includes Telefónica Multiservicios, which provides fixed telephony, internet access, and cable TV services. It is not clear if América Móvil, should it push ahead with a deal, will fully own Telefónica Multiservicios or not.
Both Telefónica Móviles El Salvador and Telefónica Multiservicios — which operate under the same Movistar brand — belong to Telefónica Centroamérica Inversiones, which the Spanish Group is intent on trimming back.
Long, drawn-out affair
Telefónica has withdrawn from various central American markets during the last 18 months or so, the latest coming in Costa Rica where the Group agreed a $500m deal — subject to regulatory approval — with Liberty Latin America. Other divestments in the region include Guatemala, Nicaragua, and Panama — for $1.4bn — after securing the relevant regulatory approvals (Telefónicawatch, #137).
El Salvador is proving a hard exit nut to crack, however. As far back as January 2019, Telefónica agreed to sell operating businesses in both El Salvador and Guatemala to América Móvil, for $648m (Telefónicawatch, #132). Although the sale of the Guatemala unit has gone through, América Móvil has been repeatedly knocked back by regulators in attempts to shore up its interests in El Salvador.

Ken has been writing about developments in the fixed and mobile markets for over twenty years. He has been a contributor to TelcoTitans since 2015.